Reality TV star Sam Thompson will be joined by his celebrity friends, Twitch stars, and gamers as he hosts a 24-hour livestream in aid of Barnardo's. The 28-year-old will be broadcasting on the live streaming platform Twitch from 11.59pm on Friday June 4th to 11.59pm on Saturday June 5th.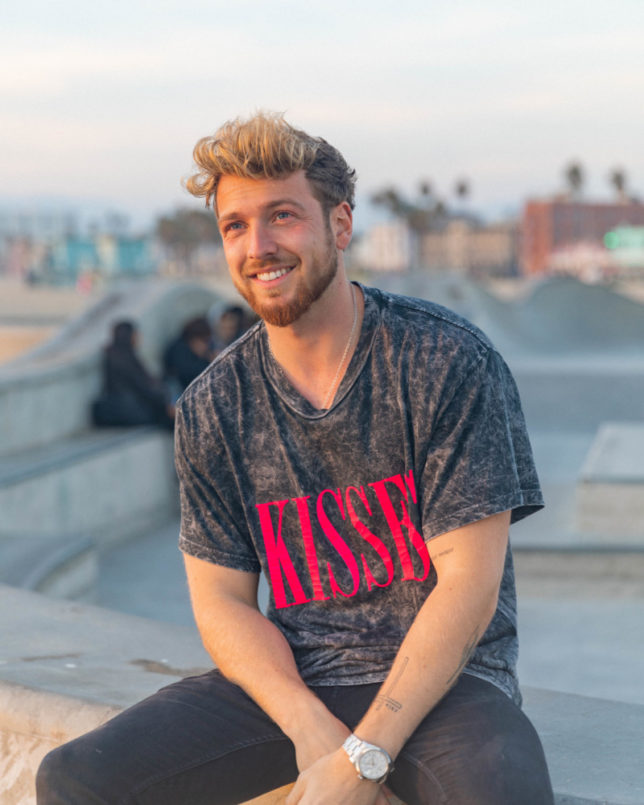 What is Ready Player B?
Ready Player B is a streaming challenge for Barnardo's. So, whether it's Fortnite, Call of Duty or even Among Us, gamers can play whatever game they like, at whatever difficulty, and become Player B by holding a stream and raising money for the UK's leading children's charity – to fund mental health support and other services.
People watching the stream can donate to Barnardo's and know that their donations are going towards supporting children suffering with their mental health, and other issues.
I'm taking part by hosting a 24-hour stream on Twitch from 11.59pm on Friday June 4th to 11.59pm on Saturday June 5th.
Why are you involved with Ready Player B?
When I first began suffering from serious anxiety in my early-20s I didn't understand it. I was really tired and lethargic, to be honest I didn't feel very nice at all. I had always thought anxiety was a bit of a myth – like something you just 'get over'.
Thankfully I was able to explain to my mum how I was feeling, and she said she thought I might be suffering from anxiety. That conversation changed everything for me because it was the first time, I was able to tell someone how I was feeling and be understood.
From then on, I was able to get help and even though I still experience anxiety now it is nowhere near as bad as it was back then.
That whole experience made me realise just how important it is to talk about mental health issues, which is why I became Barnardo's Emotional Health & Wellbeing Ambassador.
When I saw Barnardo's launch their Ready Player B fundraising challenge, I knew it was one I wanted to get involved in. I think most people are streaming for an hour or so but I wanted to make it a real challenge for myself and push for a full 24-hour non-stop stream. The money raised will help the charity to continue its great work supporting children who are experiencing anxiety and other issues.
How has gaming helped you get through the past year?
When the pandemic started, I used gaming as my way of winding down.
For me, immersing myself in a game has been a great way of coping with, and gaining some perspective on the stresses of daily life.
While everything was closed, it was reassuring to know that there is an online world that is always open. Whether I was playing Call of Duty or FIFA, it was my way of connecting with people.
It has been a massive help to be able to play against people all over the world knowing that even though their lockdown rules are different, they are experiencing similar emotions and anxieties to myself.
How are you feeling about staying up for 24 hours?
When I was on Celebrity SAS: Who Dares Wins for Stand Up to Cancer a few years ago the sleep deprivation was really tough, like every muscle in my body ached like I didn't know they could. Back then finding the mental strength to carry on was a battle but I had the support of all the other participants to get me through.
This time I will instead be joined by some Twitch streamers and friends of mine playing with me throughout the day, and night. Having them all there with me will definitely keep my spirits up.
What advice would you give to children who are suffering from mental health issues?
A lot is said about how it is okay to not be okay which is true but I also want to share the message with children that if you are not okay it is okay to ask for help.
You can talk to a trusted adult about how you are feeling whether that be a parent, carer or a teacher. If there isn't anyone obvious, or if it feels easier, then calling ChildLine is also an option. The important thing is not to feel that you must cope alone – it is okay to be not okay, talking about it can help and it can also help you get the right support to feel better.
Who else can we expect to see on your 24-hour stream for Barnardo's?
I'm really excited that I'm going to be joined by Bobby Brazier, Emmzy Plays (Ems), Rickie Haywood Williams, Adam Savage, Loeya, Terry Mynott, Jack Saunders, Amun, Jordan Comolli, MiaxMon (Mia), The Amazons, Anto Sharp and Pierre Novellie.
How can people watch your stream?
Follow me on the Twitch site by going to www.twitch.tv/samthompsonuk and you can drop in at any time throughout the 24 hours for a lot of gaming fun and chat – that will become increasingly off the wall as sleep deprivation kicks in!
How can people donate to Barnardo's if they are watching the stream?
When they are watching the stream there will be a donate button in the corner of the screen, they just click that and donate via JustGiving: www.justgiving.com/fundraising/sam-thompson34