Developed by Snugpak® with input from professional navigators, mountain leaders, climbing instructors, meteorological staff, and military personnel. The new functional Snugpak® Search and Rescue Smock has been created to support the individual when exposed to cold weather.
The Snugpak® Search and Rescue Smock is ideal for both mountain and lowland ventures, all year round, from hill-walking, scrambling and rock climbing to summer Alpine mountain walking and Winter mountaineering. If the main environmental considerations are wind and cold weather, the Snugpak® Search and Rescue Smock will protect you in a diverse range of environments, terrain and weather.
The Snugpak® Search and Rescue Smock is a tri-layer garment and uses both Paratex Micro as a face fabric, and an internal Softie® Premier fill, encapsulated with a Paratex Light lining. Designed to provide excellent thermal protection against the cold, as well as high protection against wind, the Search and Rescue Softie® Smock is available in a variety of Softie® weights for different temperature ranges.
We tested the Search and Rescue Smock in Softie® 6 which covers you in the mid-range of -5℃ to -10℃. If you looking for a jacket that protects you up to -15℃ then we recommend the Softie® 9 smock.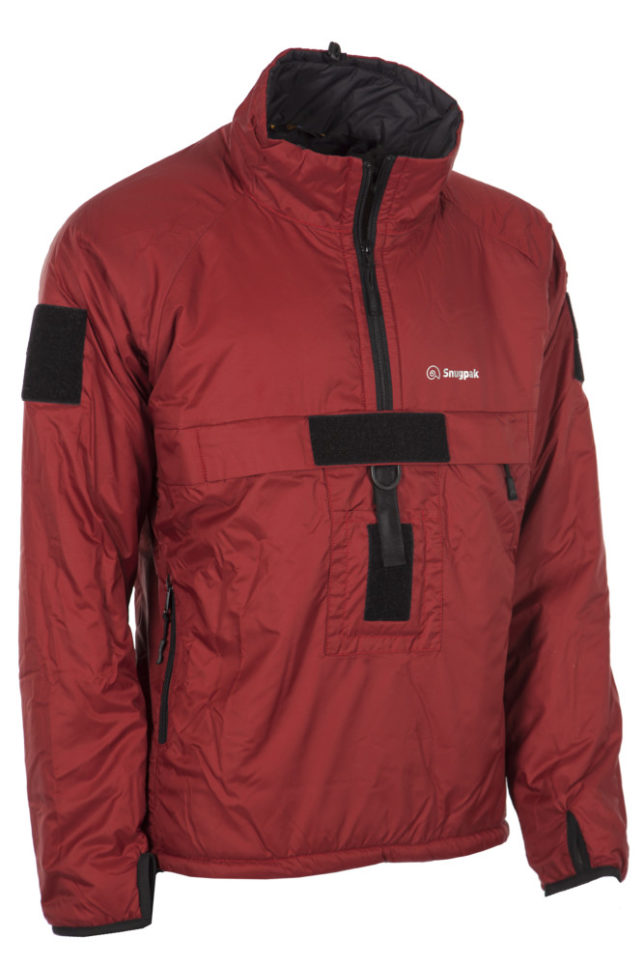 The Search and Rescue Softie® Smock is lighter than regular expedition style jackets and uses water-resistant YKK zips, making it ideal for when size and weight need to be at an absolute minimum. It is ideally worn with a variety of base layers, such as the Snugpak 2nd Skinz Coolmax base layer, to move moisture away from the skin, keeping you dry and regulating core temperature.
The quick drying, Paratex Micro 100% nylon material has a Durable Water Repellent (DWR) finish. Water repellency can be maintained with a cool tumble dry after washing and periodic re-treatment with suitable aftercare products, such as Nikwax and Grangers. The Search and Rescue Softie® Smock will keep you dry in a short, light shower, giving you time to find a safe place to stop and put on more effective (hardshell) waterproof layers, if required. The Search and Rescue Softie® Smock can also be worn under waterproof [PTFE] membrane hard shells in severe weather, still allowing easy access to your essential equipment.
In dry, colder conditions, the cut of the Softie Smock enables you to layer effectively with additional thinner insulation, or warmer layers worn underneath so that core temperature can be effectively managed. In warmer months, the Softie 6 weight is light enough to be worn when static for extended periods, such as on belays, as well as an extra layer when wild camping etc.
The Search and Rescue Softie® Smock allows essential equipment to be carried centrally, with easy access when wearing a day sack, expedition pack or climbing harness and maintains its core functionality with other crucial outdoor equipment. Complement the Search and Rescue Softie Smock® and wear with the Sleeka Salopettes for complete thermal insulation in extremes of temperature.
Each jacket is supplied with one APALS® (All Purpose Adhesive Light Strips) which can be seen up to 1 mile away with a runtime of around 200 hours making it ideal if the worst happens during your outdoor adventure. The velcro backing makes it quick and easy to use and the light strip is waterproof, dustproof and shockproof which means it can withstand the toughest of unfavourable conditions.
The Snugpak® Search and Rescue 6 Softie® Smock is £189.95 and is available from www.snugpak.com
For more of our favourite outdoor gear, check out the Active Affluent page in the 18th edition of SLOAN! Magazine