STK London is modern steakhouse that blends dynamic dining with chic lounge vibes to offer meat-loving guests reimagined steakhouse favorites with the focus on the social experience with a sleek, contemporary design and high-energy vibe which attracts city boys and girls about town thanks to the Instagrammable interior, stylish signature menu and pumping party beats of the in-house DJ.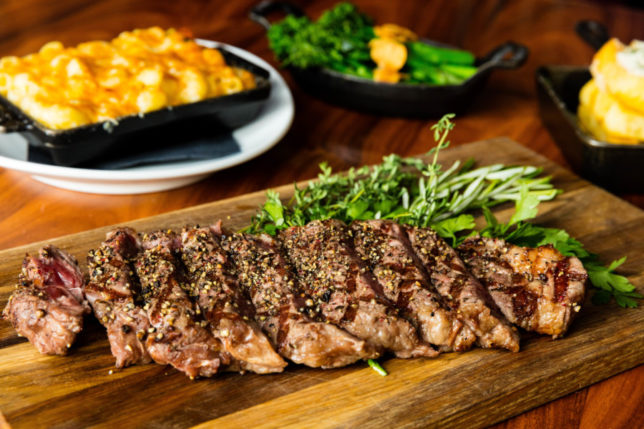 The new summer menu brings fresh and vibrant flavours to the heart of The Strand featuring dishes made using the finest seasonal seafood, meats and hearty salad ingredients, alongside the extensive signature USDA steak selection. Executive Chef Vincent Menager has taken the classic American steakhouse menu and shaken things up with flavour combinations and contemporary twists that suit this trendy restaurant. Expect Asian flavours like wasabi, ponzu and star anise sitting alongside luxe European touches like truffled sauce, black sesame seed pesto and charcoal crisps.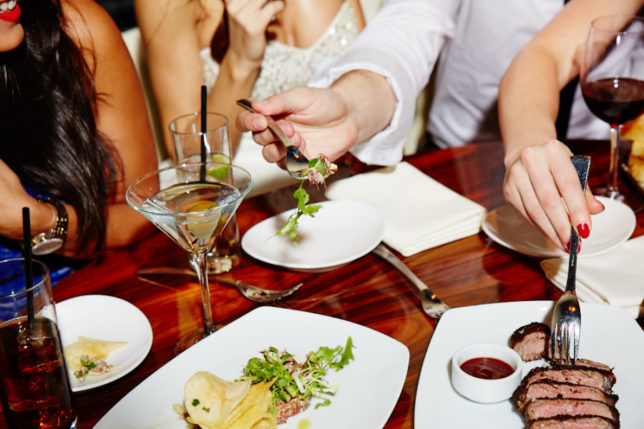 To start your meal at STK London, we recommend the Brioche drenched in Blue Cheese Butter to whet the appetite ready for the feast ahead. STK have a decent wine list and don't miss their #ChampagneThursday promotion where Laurent-Perrier and Taittinger are both half price on Thursdays. The brioche is served with a moreish dipping sauce made of chives, olive oil and garlic.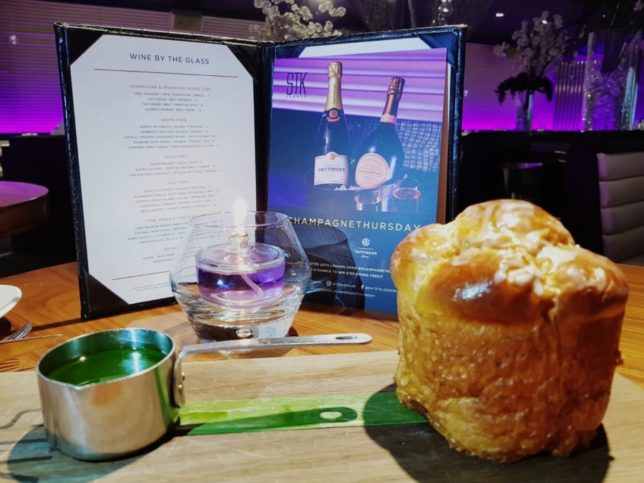 Another great option for nibbles are the nocellara olives – crisp and buttery, they are great as a cocktail snack or just on their own. We enjoyed the brioche and olives as we waited in anticipation for the main event…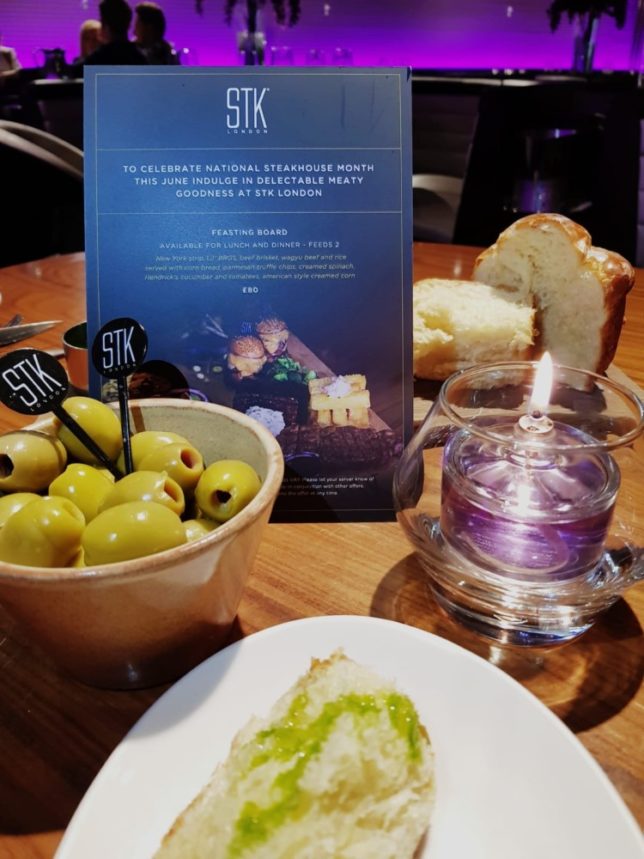 June is National Steakhouse Month and to celebrate the occasion, STK London invites guests to indulge in what the menu describes as "delectable meaty goodness" with their new Feasting Board for two to share priced at £80. The Feasting Board offers a feast of flavours with a choice selection of dishes from across the STK A La Carte Menu.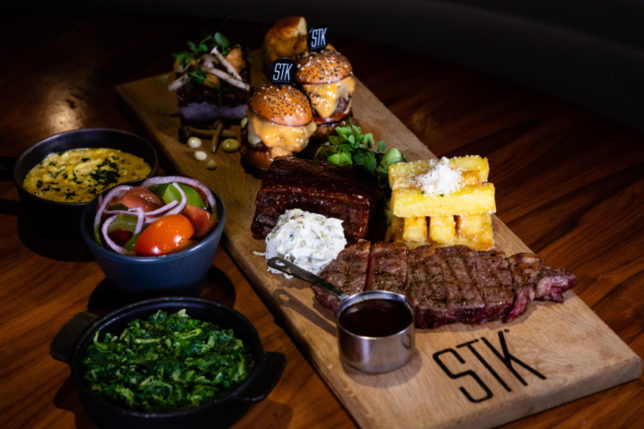 A deliciously juicy and tender Beef Brisket sits alongside New York Strip Steak which arrived medium rare although we ordered medium. The meat is served with the restaurant's signature STK sauce which is a mixture of Asian and American influences – not as sweet as Hoisin sauce and not as smokey as Barbecue sauce but the best of both worlds. The Parmesan Truffle Chips were chunky with great flavour but disappointed expectations with an undercooked texture and pallid appearance.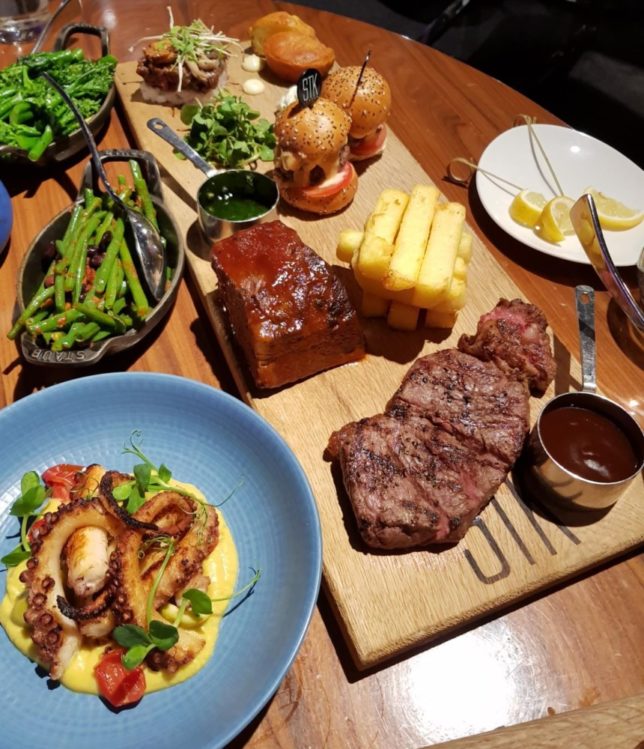 Saying this we had ordered some extra dishes from the new summer menu and were impressed by the perfectly cooked Roasted Octopus served on a bed of creamy chickpea purée with olives and sundried tomatoes. The generous portion and expert preparation made this a lovely dish to share between two.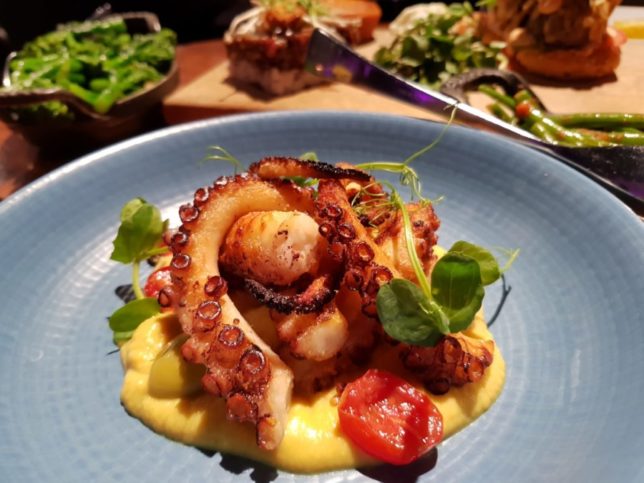 One of the new summer dishes which is also featured on the Feasting Board is the brand new Wagyu beef and rice – a delicious dish of nori scented rice, soy ginger beef, enoki and wasabi mayo. The soy infused beef may not be to everyone's liking – it divided opinion at our table with a Marmite-like love-hate relationship.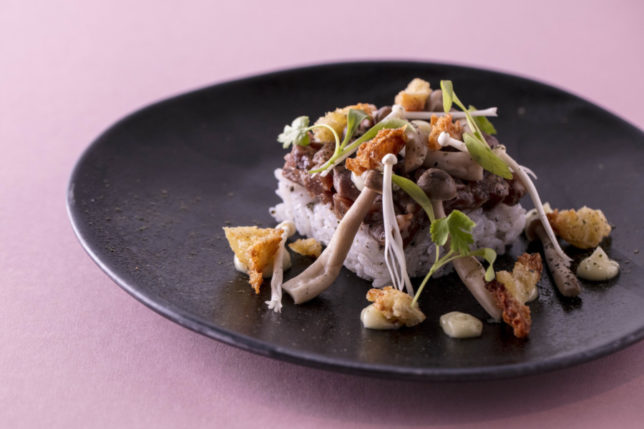 Returning to the Feasting Board we were looking forward to STK's signature Lil' BRGS – USDA Beef mini burger patties with Truffled Special Sauce, and sliced gherkins served in little sesame seed buns. The burger meat itself was a tad overcooked for our liking with a very firm texture and perhaps not as juicy as they could have been. Apparently a popular choice withour fellow diners, the Lil' BRGs are impossible to eat by hand due to being filled way beyond capacity but the tasty Truffled Special Sauce was the one thing about these not so lil' burgers that we did enjoy.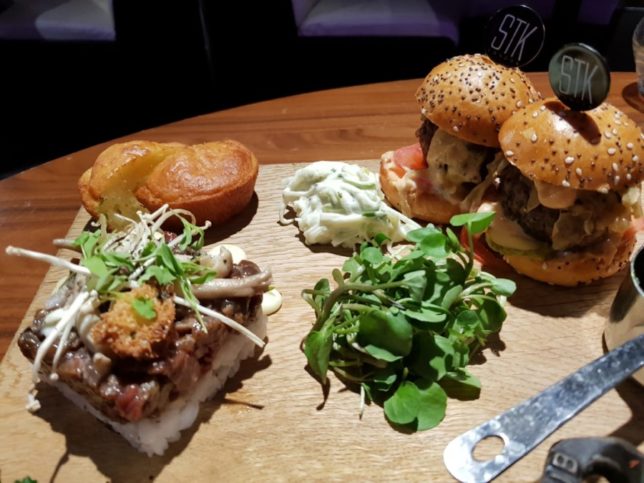 The Lil' BRGs missed the spot in terms of texture although the flavours were great which was a shame as we had asked to swap them for the Soft Shell Crab Sliders but were told by our waiter that this was "not allowed". Having ordered them separately, we found them to be appeatising to the eye and the palate although perhaps with a tad too much wasabi remoulade.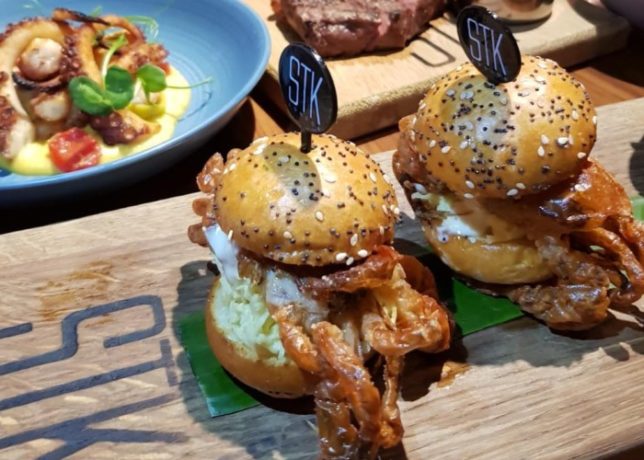 We also continued the seafood mood with an order of the new Sea Bass Tartare served with citrus, spring onions, chillies and puffed rice cracker. The crispy texture of the cracker complemented the tender texture of the raw sea bass however we found the predominant addition of green chillies added an unpleasant bitterness to the tartare which could not be masked by the otherwise bright citrus flavours of the pink and white grapefruit salad.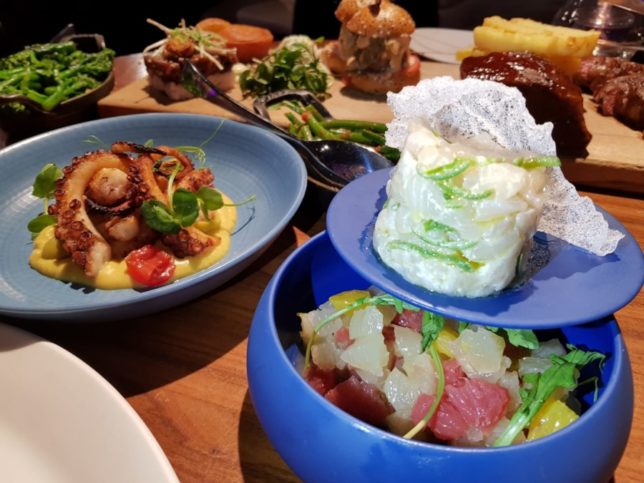 Alongside the meats on the Feasting Board, the accompanying side dishes consist of cornbread, creamed spinach creamed corn and Hendrick's Gin Cucumber & Tomato Salad. The gin treated cucumber is a lovely idea but in reality looks and tastes wrong. The tomatoes on the other hand were fresh tasting and plentiful.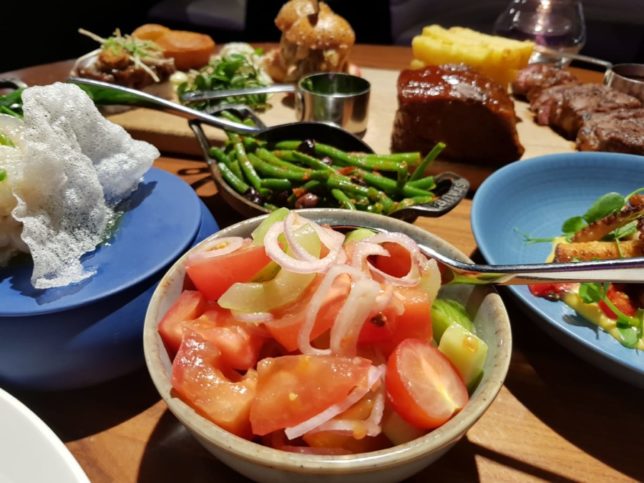 If you wished to sample one of the new main dishes on the summer menu, we liked the sound of the Barbary duck breast with star anise honey glaze served with baby carrots and orange puree.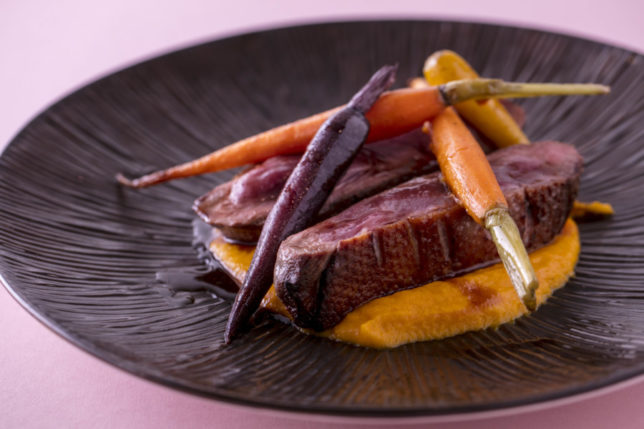 For fish lovers, another good looking dish might be the North Sea Cod served with grilled asparagus, sugar snaps, capers popcorn and pickled cockles.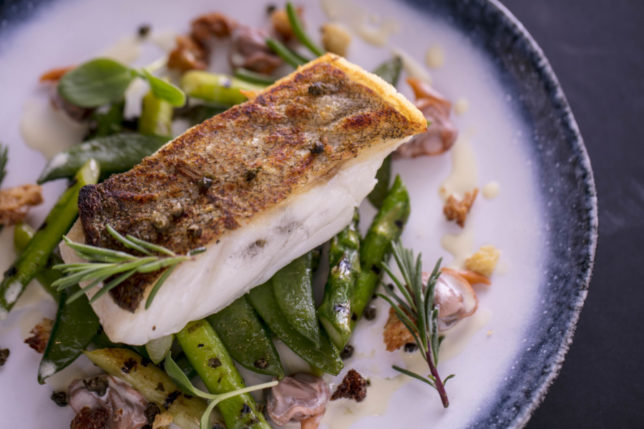 Diners can choose from a selection of toppings such as the zesty lime and chilli twin King Prawns. The prawns were cooked to perfection. Unfortunately the Grilled Lobster Tail arrived overcooked which is confusing considering how STK produced such an excellent roasted octopus which is a much more complex dish to prepare than grilled lobster.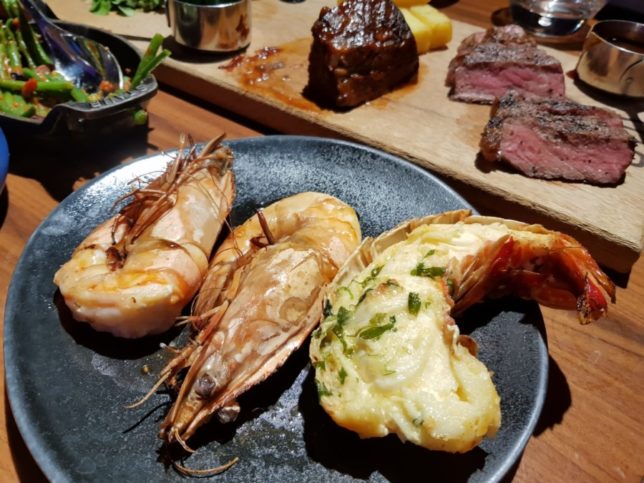 If you're saving room for dessert, classics like New York cheesecake have been given a tropical twist with mango and rosemary compote, mango crisp and mango sorbet sitting alongside the wedge of creamy cheesecake.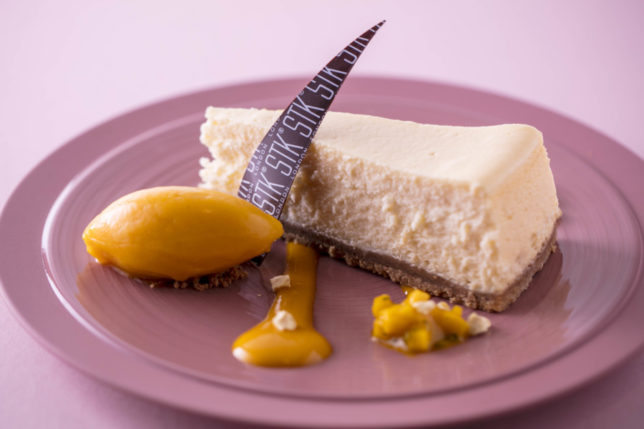 STK London mixes style and substance which often works but sometimes doesn't. However if you're looking for a high-energy atmosphere and choose carefully from the menu then STK London is a great place to go for a fun dining experience before the club or to celebrate that big win. The hip party vibe and pumping tracks are sure to get you in the mood for summer but this is probably not the place to go if you were looking for a quiet tête-à-tête on a romantic date.
STK's new summer menu is available for both lunch and dinner sittings whilst the Feasting Board is available until the end of June.
STK London
336-337 The Strand, London, WC2R 1HA
020 7395 3450
togrp.com/venue/stk-london/
@STKLondon