Built to provide a featherlight pack weight and high-performance warmth, the Vesper 32F/0C quilt thrives during ultralight, backcountry adventures. The quilt uses thermally-efficient box baffled construction to ensure warmth and comfort in an ultralight package. Designed with high-quality materials and Therm-a-Rest performance features, a snap neck closure, perimeter side baffles, and an insulated foot box provide warmth and comfort in the backcountry. When compared to sleeping bags, the Vesper quilt saves weight and packs smaller by utilising the warmth of your insulated mattress.
Fast and Light Quilt
New for 2019: It's not weightless, but the three-season, 15-ounce Vesper feels pretty darn close. The vesper is engineered for performance and pack-ability. The pack-ability is from the down fill, which is 900 fill Nikwax hydrophobic down, which stays drier and maintains loft (keeping you warm in damp conditions) 60 times longer than untreated down when exposed to water. Dries faster, absorbing 90 percent less water and dries 3 times faster than untreated down. This wonderful effect is created with a water-based (Zero Fluorocarbon [ PFC ] ) formula, which is seen to be safe for humans and the environment. Which can easily be re-applied, and fully re-treated, when washed with 'Nikwax Down Wash Direct'.
The quilt is filled with hydrophobic down (certified by the Responsible Down Standard), RDS certification means the down used, was obtained from an animal which was treated humanely. Safeguarding the welfare of the geese that provide down and feathers for the Therm-a-rest down products. We at SLOAN! feel this is such an important factor when selecting your down-filled items.
The quilt easily integrates with your mattress using the included 'Synergy Link' Connector. This removable strap can join the two items together, and keep the Vesper Quilt on your air mattress or sleeping pad while allowing you to move freely under your quilt. Integrating the two, to minimize cold spots and keep you comfy through the night. This reduces heat loss, maximizes efficiency and utilizes the warmth of your insulated mattress. Which could help you sleep better when your sleeping bag and mattress work together. For optimal comfort and efficiency sleeping. Increasing the versatility of the quilt further.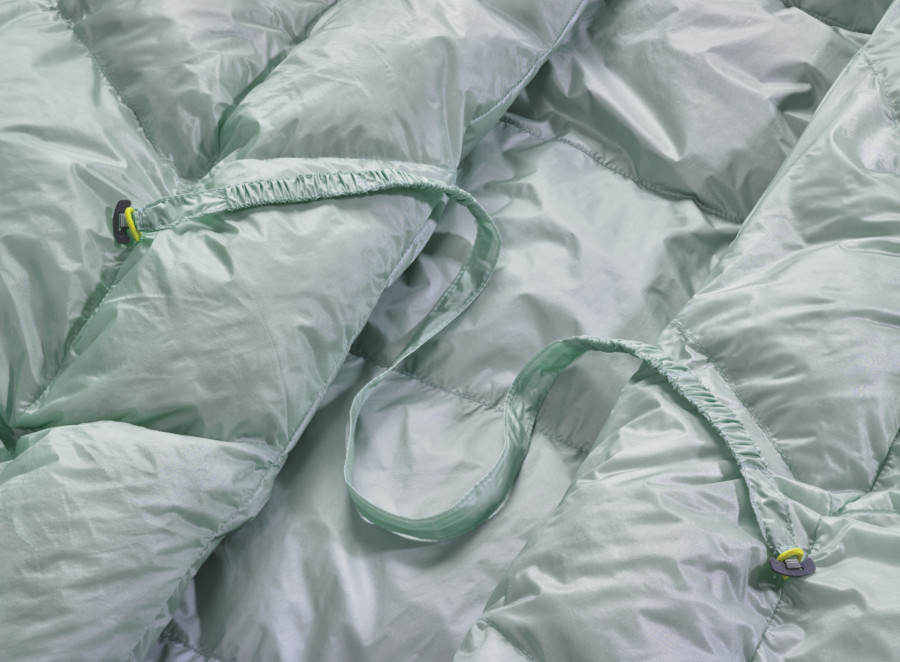 Layering Systems
The quilt can be used as part of a layering system. We discussed this concept before with the Oberon.
'Sleep system customization allows you to have a versatile and efficient sleep system of layering, to be prepared to deal with unpredictable weather or other situations which may arise.'
The Therm-A-Rest sleep system, allows you to match items, piecing together gear for increased warmth, which can provide versatility and comfort.
Combining different sleeping bags, quilts, pads, and blankets, you can create a system that suits the needs of the adventure.
This means the quilt can be used in combination with a good pad/mattress, and even in combination with a sleeping bag, to really protect against the cold.
Our Testing Experience
Warmth:
The quilt is built for fast and light backcountry use. The quilts 'Comfort Range' (The Comfort Rating is the lowest temperature at which the bag will keep the average woman [or "cold sleeper"] comfortable.) is to 5 C, and the 'Limit' (the temperature at which a standard man can sleep for eight hours in a curled position without waking, somewhere within this range is likely the performance limit of the quilt) is 0 C.
The primary purpose of your camp insulation is to keep you warm in camp. This is usually the first thing that quilt skeptics will question and was my primary concern as well. Without the bottom of the bag, how was I supposed to stay insulated and retain heat?
Our first order of business is examining the efficiency of a sleeping bag's bottom insulation. Down and synthetic fills warmth is provided by the loft of the fill. When this fill is compressed, either by weight or moisture, then it begins to lose its thermal properties. When you lay down for a night in camp, your body compresses the down between you and your pad. The insulation under you is provided by your sleeping pad, not your sleeping bag's fill. If you turn in the night, the compressed insulation becomes a cold spot until the fill recovers its loft. This is not a problem for quilts (or Therm-a-Rest sleeping bags with SynergyLink Connectors) which allows you to move freely while your insulation stays in place.
All Therm-a-Rest quilts can be snapped directly to your pad to maximize heat retention by eliminating drafts. Since the quilts also lack a hood, you will want to bring along something to keep your head warm.
A quilt is not as warm as a sizable sleeping bag, as the zipped up sleeping bag would eliminate drafts more effectively. However, the covering of the quilt provides an adjustable top layer of insulation.
Tucking tightly around you, or draping on top, change how you feel and regulate your temperature.
This is a good option for someone who is spending most of their trip in temperatures above the freezing level and is perhaps even more efficient. By eliminating the overheating cycle many campers experience on warmer nights in a sleeping bag.
The quilt does a great job at keeping you warm, and the temperature ratings are fairly accurate, the quilt performed well around the 10 c region, allowing the reviewers to vent heat and cool down when needed naturally as they slept like someone would in bed.
Down to 5 c, the sleep was warm and comfortable, then lower than this, more around 2-3 degrees c and below, the reviewer was waking during the night from the cold, and noticed it as a little less comfortable and generated a less energising sleep. This quilt is best suited for temperatures down to 5 c.
Weight:
What weight! The quilt is going to pack down smaller and weigh less than a traditional mummy bag. For a thru-hiker or alpinist, saving space and carrying a lighter pack are huge bonuses. Even a weekend backpacker knows that leaves room for more supplies and less weight while hiking.
Comfort:
From a comfort standpoint, a quilt offers the same qualities as your bed at home. If warmth isn't a concern, you can sprawl your limbs every which way, unencumbered by a tight-fitting sleeping bag. By adjusting the ventilation or girth of the quilt, you can easily manage the temperature of your sleep system.
Prevents the feeling of too much insulation, overheating, sweat development and preventing to catch a chill.
The reviewers found it very easy to move and turn when sleeping, with a comfortable insulated foot box.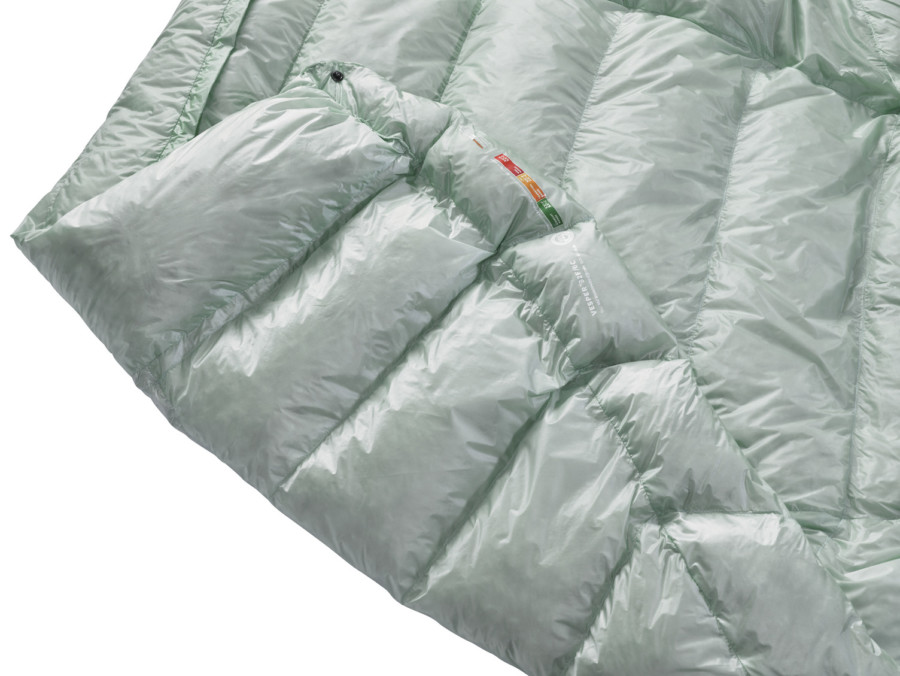 Packed Size:
Unrivaled packability, Lightweight materials, and precise design pack down into a minimalist compression sack. As a quilt eliminates the bulk and weight of having a full zip sleeping bag, without drastically changing the temperature rating.
Compression sack and the storage sack are included. The storage sack meets the needs perfectly for when the quilt is in storage between uses, to prevent the down clumping and loft of the fill being diminished.
The compression sack is perfect, light, protective, and exactly the right size for the quilt, while maintaining the lightweight for fast and light activities.
The reviewers noted how the quilt was easy to pack, takes up little space, and one of them commented that they had never experienced such a small pack size and lightweight sleeping bag or quilt that was still so warm.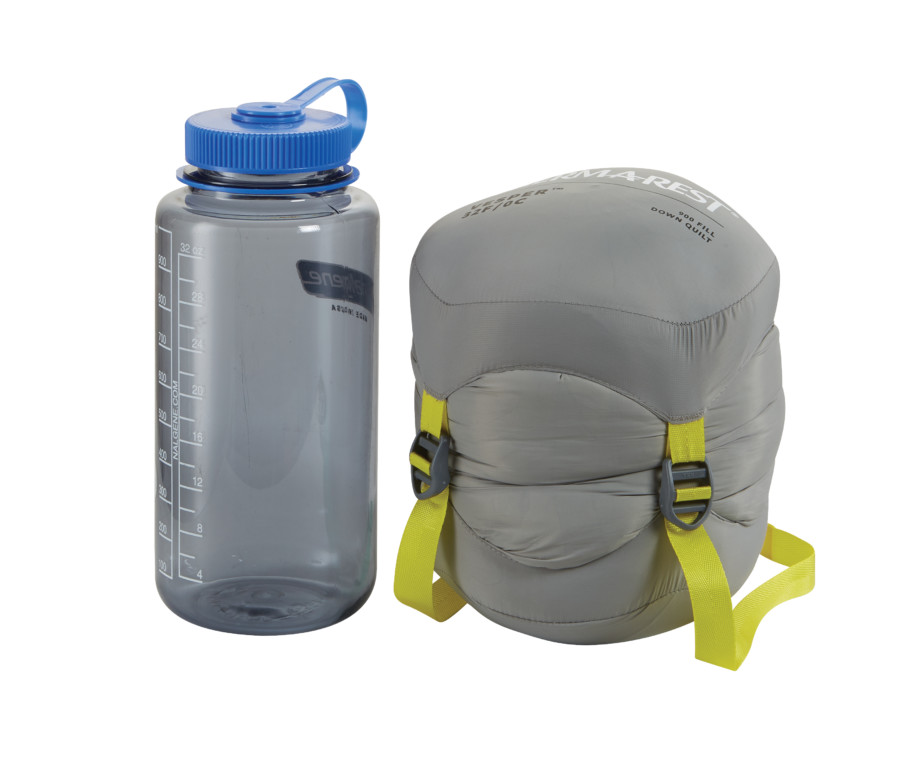 Weather Resistance:
The 900-fill Nikwax Hydrophobic Down™: Stays drier and maintains loft 60 times longer than untreated down. When exposed to water, it dries faster, absorbs 90 percent less water and dries 3 times faster tab untreated down.
What's better is the Nix wax performance lasts, maintaining performance for 5 washes, and is fully retreated when washed with Nikwax ® Down Wash Direct ® .
Application and Uses:
We tested this great quilt through the very variable temperatures of the Namibian winter nights, during a mixture of fast and light adventures near the mountainous and rocky regions, classic camping and additionally steady framed elevated thick mattress tents.
The breathability of the quilt means it can be used for most situations. Being cold at camp is pretty terrible, but overheating the entire night can be just as bad. Resting at camp is not just about sleeping, it's about recovering and gaining energy for tomorrow's adventure.
When your body overheats, it immediately starts taking steps to cool down by sweating. The problem is that once your body is done sweating, the moisture remains and can quickly chill in colder weather. This chilled moisture can cause you to shiver, contracting your muscles as you attempt to warm back up, possibly overheating again. This vicious cycle can sap you of your energy, leaving you drained for the big day that you had planned.
To make sure this doesn't happen to you, the fills used by the Therm-a-Rest quilt is Nikwax Hydrophobic Down, which is an excellent heat regulator. Your quilt can be easily ventilated by folding the top down, loosening the side baffles, or kicking a foot or arm outside the quilt to create a draft.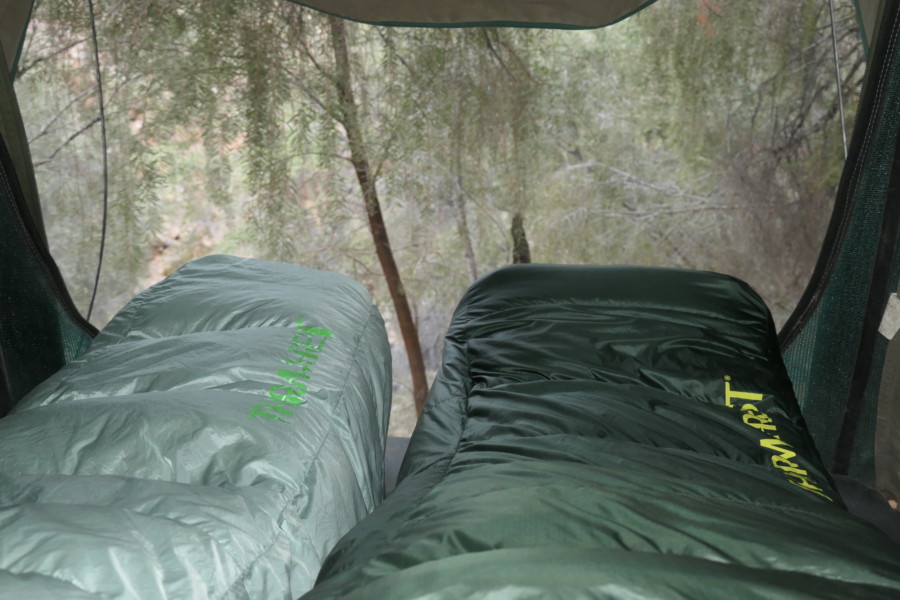 Versatility:
If you still aren't sold on the idea, then the versatility of this piece should have you seriously thinking of making a quilt purchase. Adding a quilt to your sleep-system quickly expands your options for camping year-round.
In the summer, you can use the quilt on its own for a lightweight piece of insulation. When the days get shorter and the nights get colder, combine your quilt with a sleeping bag for a warmer night outside. These layering options immediately expands the conditions that your gear closet can handle.
Theoretically, the quilt would have been made even more versatile, for such situations, if the foot box internal space was of the same size as the dimensions of the fast and light winter sleeping bags therm-a-rest produce so well. This would mean that the same one quilt would then be a tremendous multi-use item for any weather, from a warmer summer night to a cold blistering winter, slipping the quilt over your winter sleeping bag, would bolster against the unpredictable nights that push temperatures lower than your current bags comfort range.
However, we are aware this increase in fabric, even when such lightweight materials, would increase the weight slightly. The reviewer felt this would be an acceptable compromise, as it would then mean the quilt would be an excellent one time purchase for every single person who needs multiple temperature sleep system management.
Also, it is worth noting that the current foot box girth of the size long, is not as large as the foot box size of the regular size ultralight sleeping bag range offerings of Therm-a-rest. An oversite we hope to see corrected.
The camping quilt, which is similar to an insulated blanket, allowing for freedom of movement, and temperature regulation. Able to be used to drape over you, and attach to a camp mattress, letting your mattress insulate your back. Also, placeable over a sleeping back when a layering system is required.
The draft protection of a perimeter side baffles, snap neck closure and insulated foot box eliminate unwanted drafts.
It's not weightless, but the three-season, 15-ounce Vesper feels pretty darn close. With a 900 Fill Goose Nikwax Hydrophobic Down, box baffled into a 10D Nylon RipStop fabric with a DWR coating.
Features and Benefits:
It comes in two size options Regular and Long.
900 Fill Goose Nikwax Hydrophobic Down
Synergylink Connectors: Integrating the quilt with a mattress
Unrivaled Packability: Materials and design allow for a very small pack size
Box Baffled Construction: uses mesh walls to maximize loft and minimize cold spots
Snap neck closure
Draft protected: Perimeter side baffles for unwanted drafts
Insulted foot box
Freedom to move and regulate temperature easier
Compression sack and storage sack included
Limit 0 C (Comfort Range 5 C)
435 g (regular size), 492g (long size)
You can get a long if you are taller and / or wider!
This is a truly fast and light quilt! With high-quality materials and incredibly packable for cool adventures. Next time we plan a fast-paced trip or take an active pursuit, this quilt is going to be coming along! As it is reliable and versatile warmth for your camping.
Therm-a-Rest Vesper™ 32F/0C Quilt RRP £320 (regular size) more information can be found at www.thermarest.com