Wagtail, the 360-degree Rooftop Restaurant and Bar has a brand new menu, offering central London workers a first-class experience, partnered with a backdrop of the City's most iconic buildings. We were delighted to pop in and experience the new menu ourselves.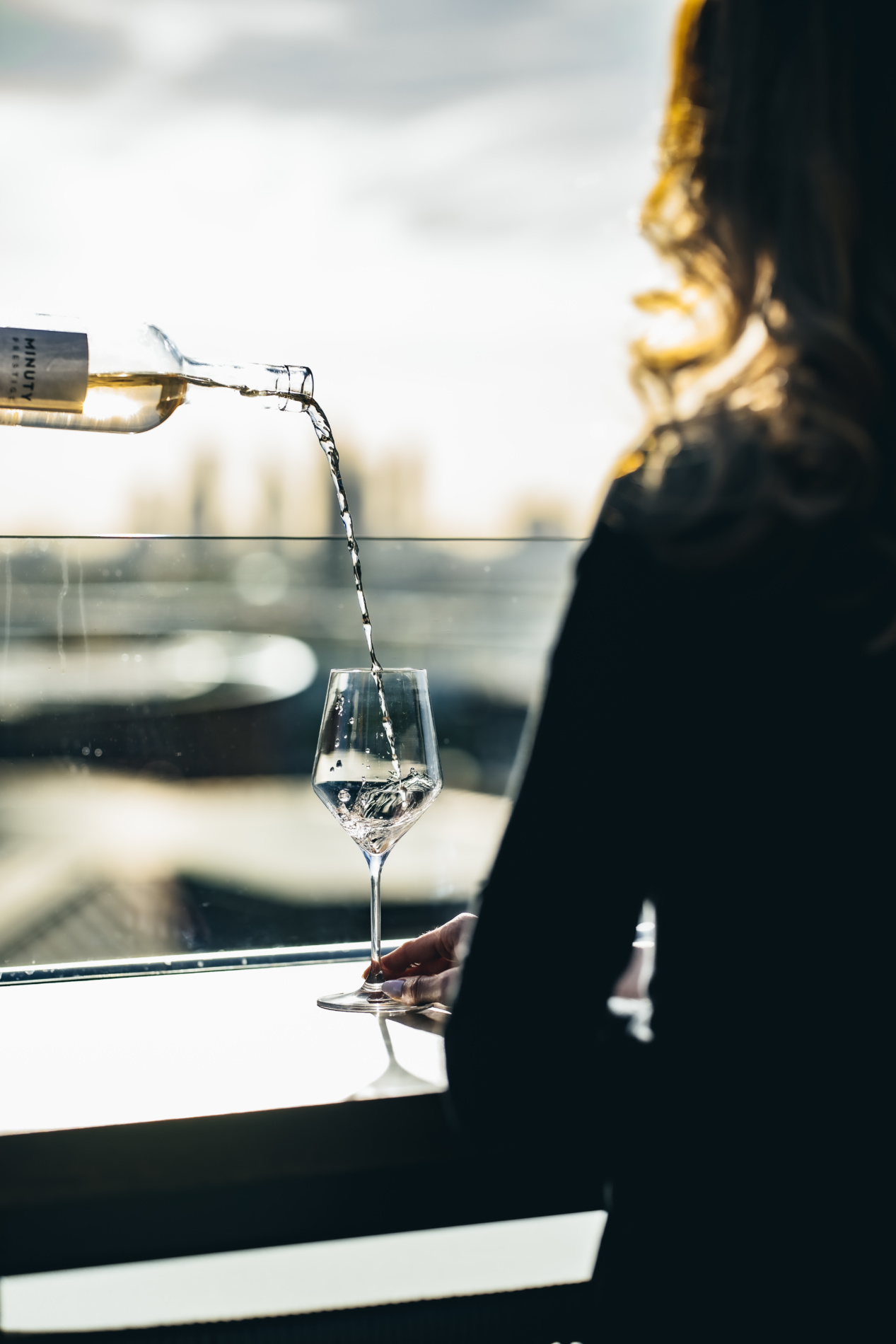 Nestled in the eaves of one of the capital's grandest art-deco buildings and at the gateway to the City of London, foodies and cocktail connoisseurs are invited to escape to the skies morning, day or night for unparalleled views, fine wine, exquisite cocktails and high quality dishes.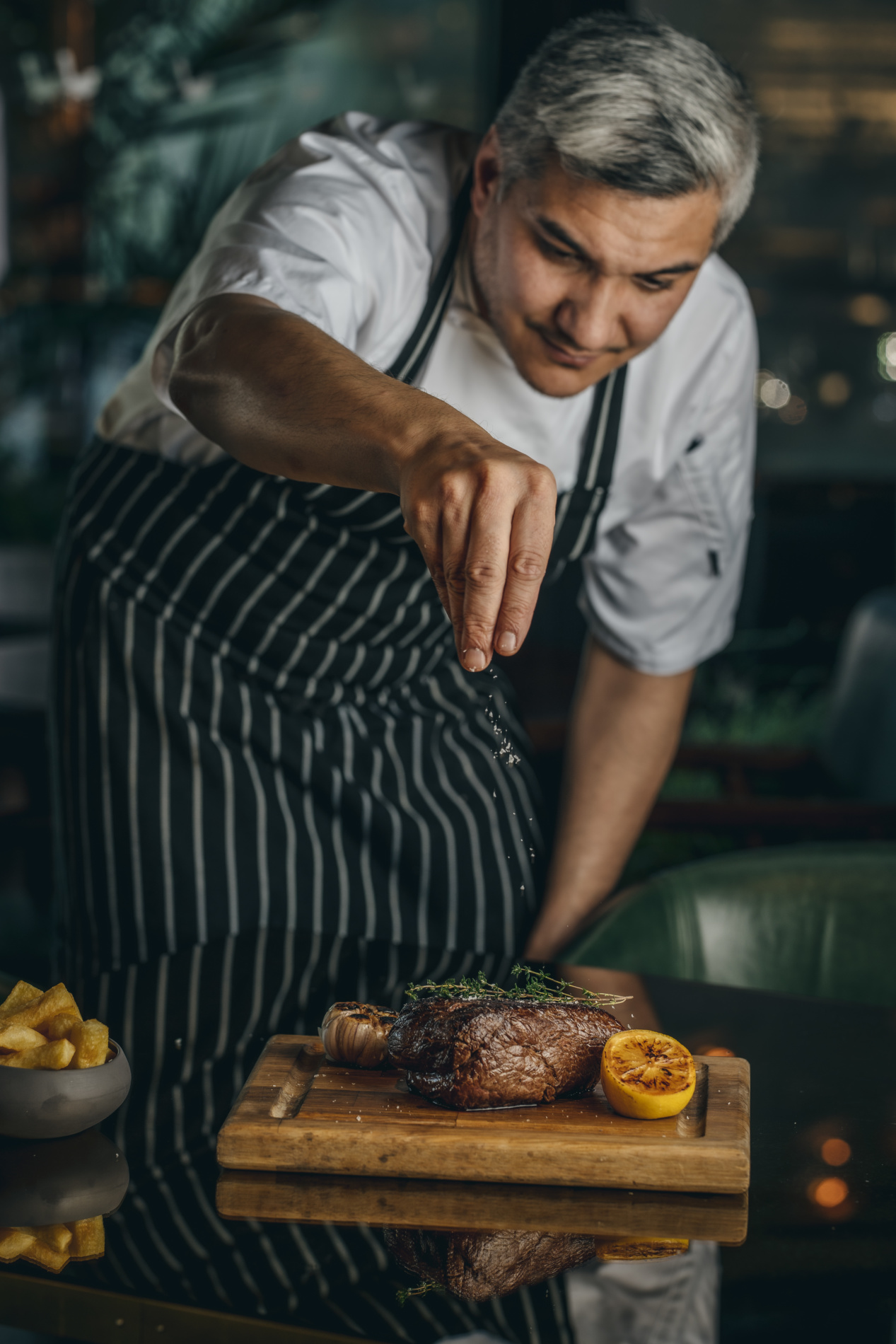 From breakfast to late-night suppers, bottomless brunches and business lunches, the restaurant and bar provides the perfect backdrop for any occasion, particularly for busy local and central London employees.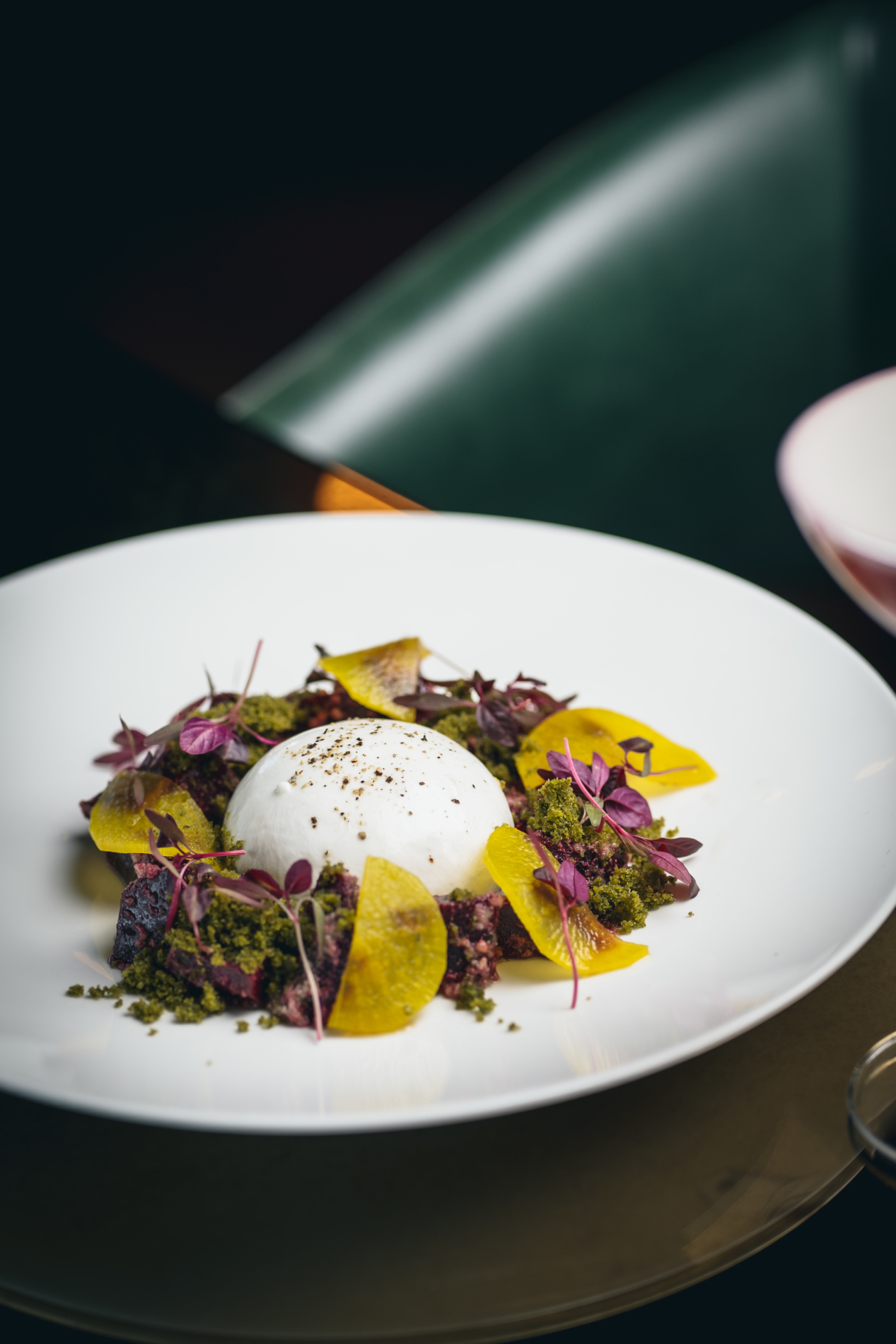 Their latest menu focuses on classic dishes with a modern twist, profiling the best of British produce, provenance, and seasonality.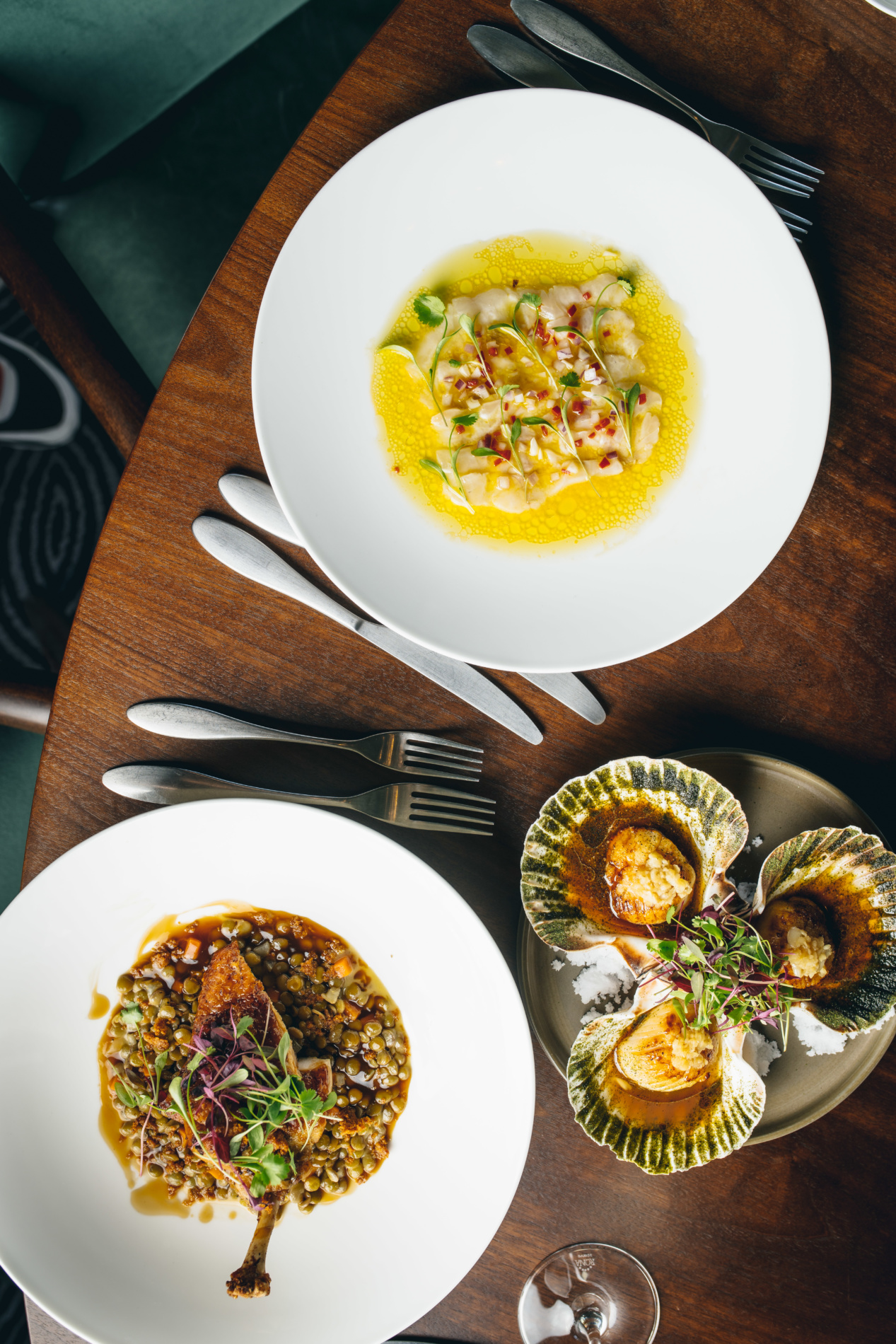 The drinks menu has been curated with London's best mixologists, wine merchants and local distilleries. From classic cocktails with a twist, to an international wine list and live late-night resident DJs every Friday, the rooftop terrace provides the perfect excuse for a bit of after work revelry until the early hours.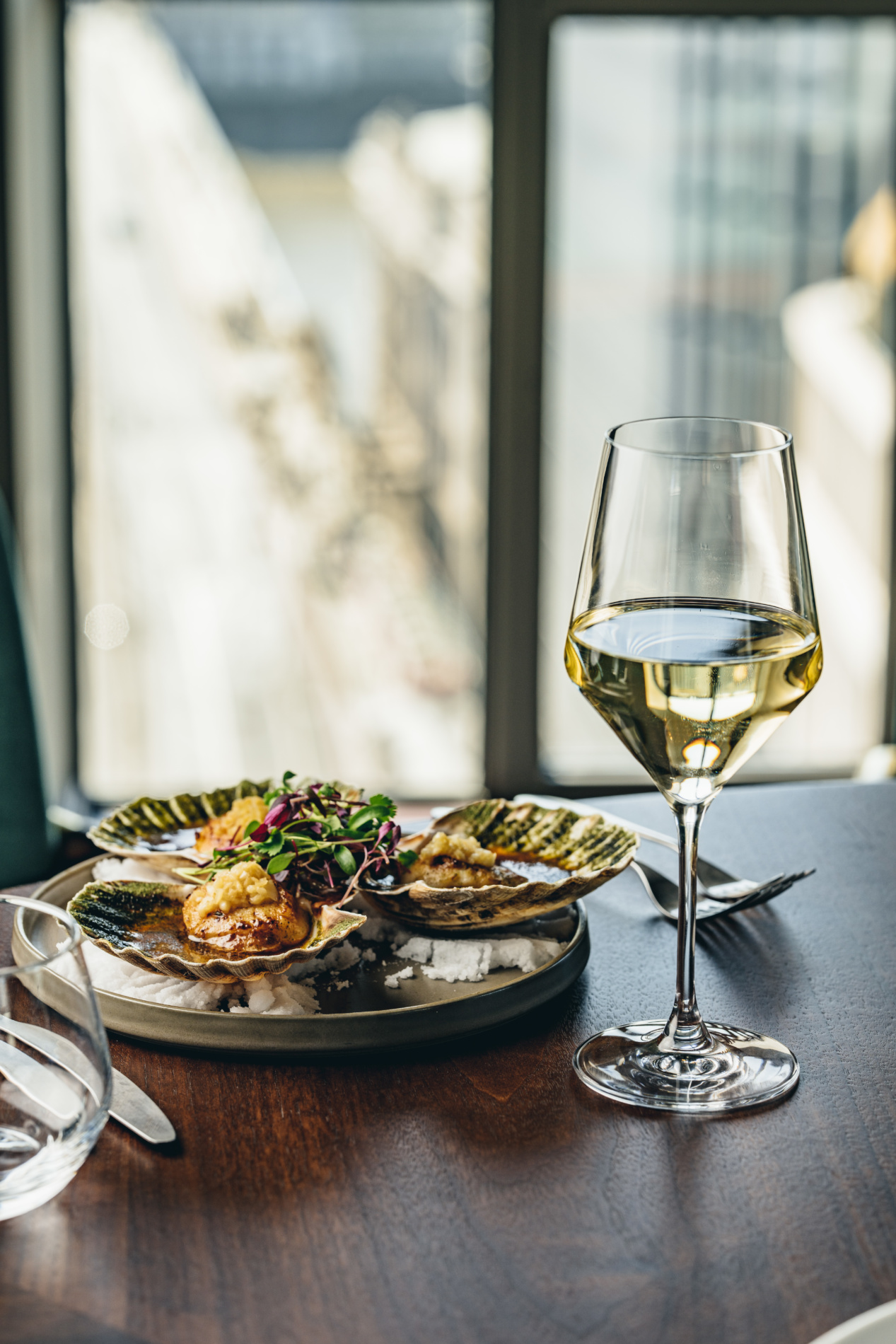 For our pre-dinner drinks, we chose a classic Old Fashioned and the cocktail called Gold –  a delightful mix of coconut, pineapple and rum.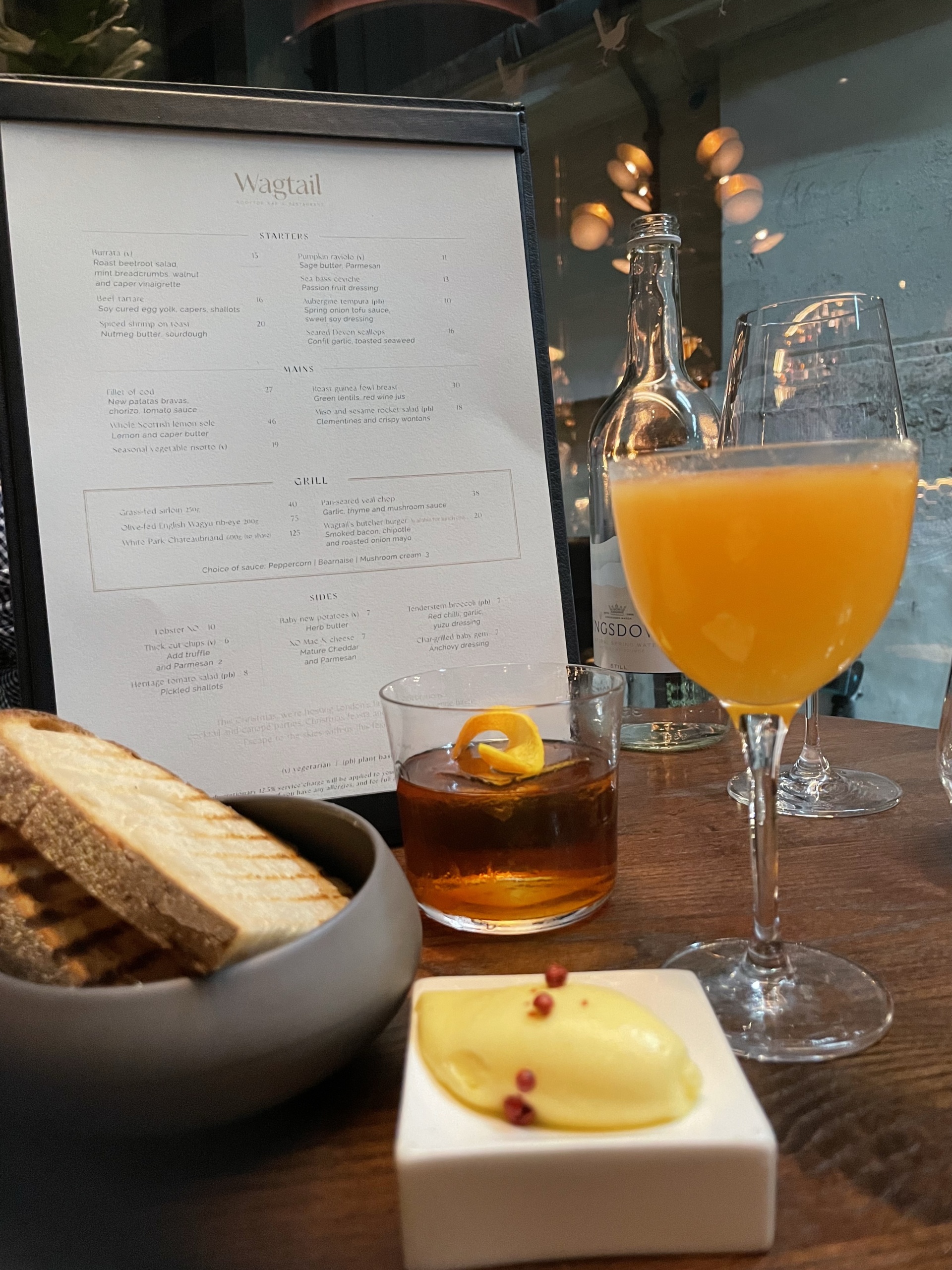 Wagtail has a fantastic selection of starters. The sea bass ceviche was interestingly paired with a passion fruit dressing. Beautifully tart and a fantastic step away from the yuzu dressing that adorns so many menus serving ceviches and carpaccios. A genius move by the chef.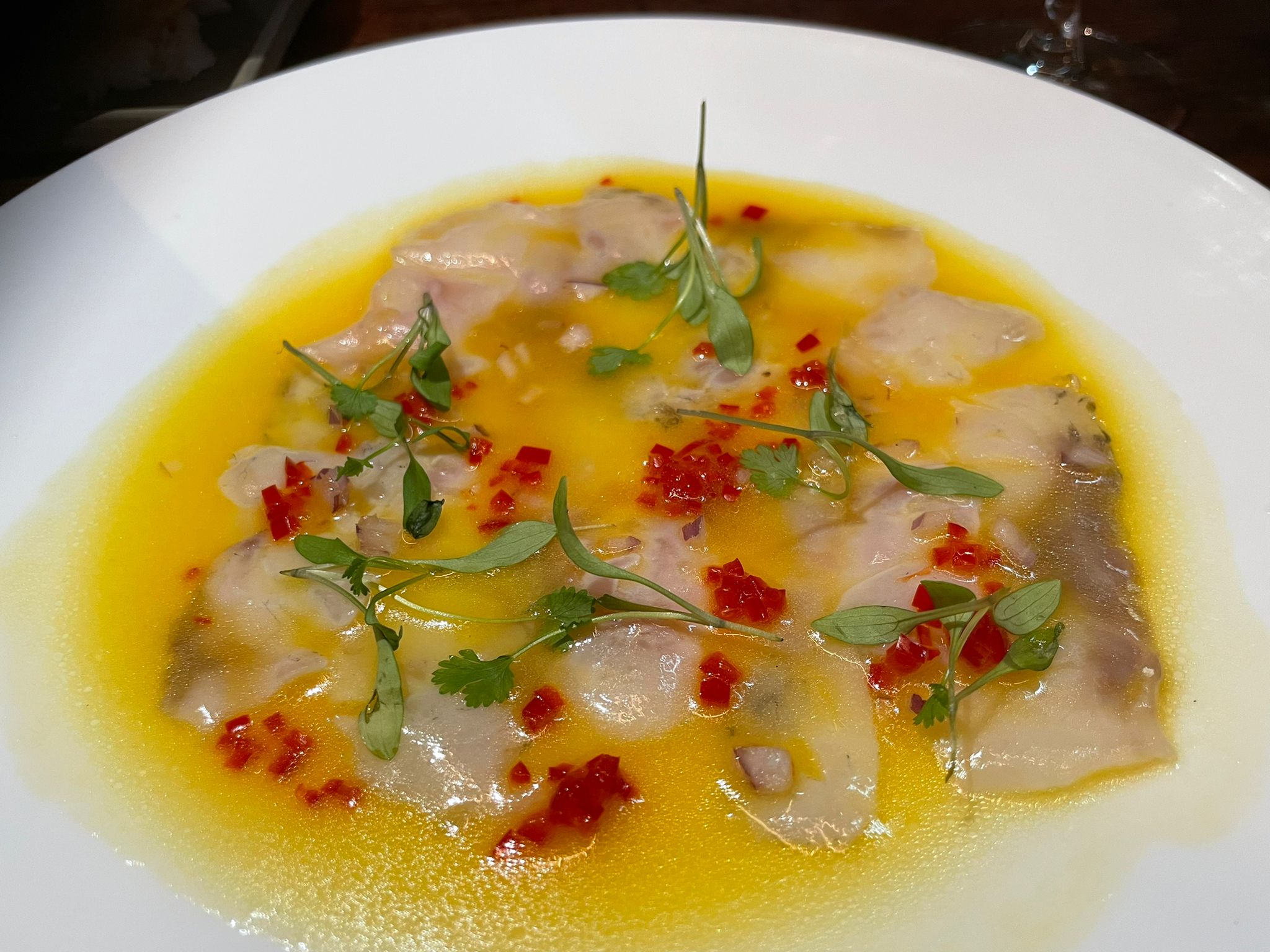 Torm between the aubergine tempura with a spring onion tofu sauce & sweet soy dressing or a taste from the sea with the seared Devon scallops with confit garlic and toasted seaweed my dining companion opted for the sea. For those in the know who want a bit more heat, try drinking the sauce in your scallop shell and then eating the scallop a recommendation from the chef so we were told. Are you brave enough? Either way, these sea creatures tasted divine.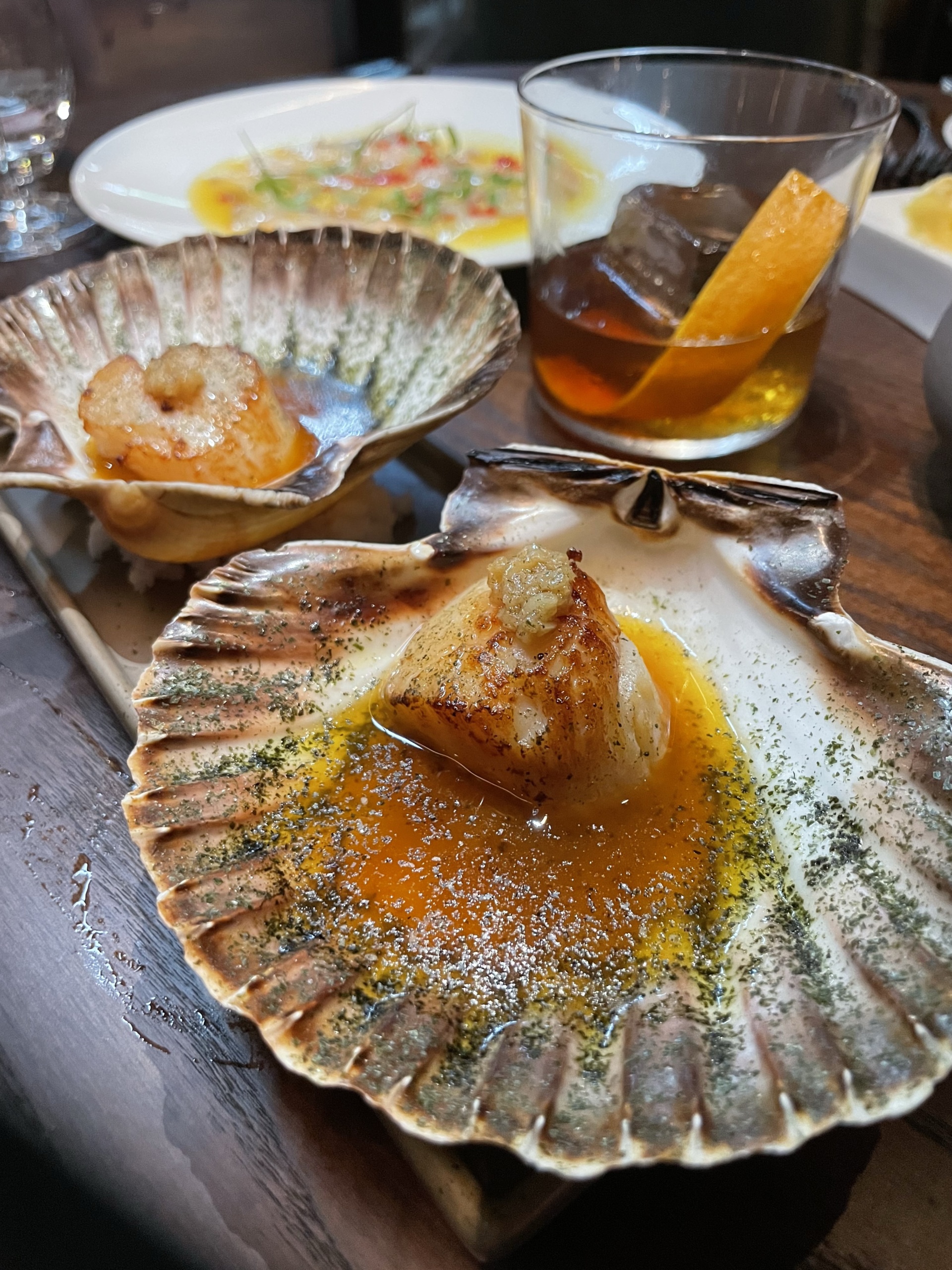 Come in for a closer look at how succulent they are with lashings of saucy flavour.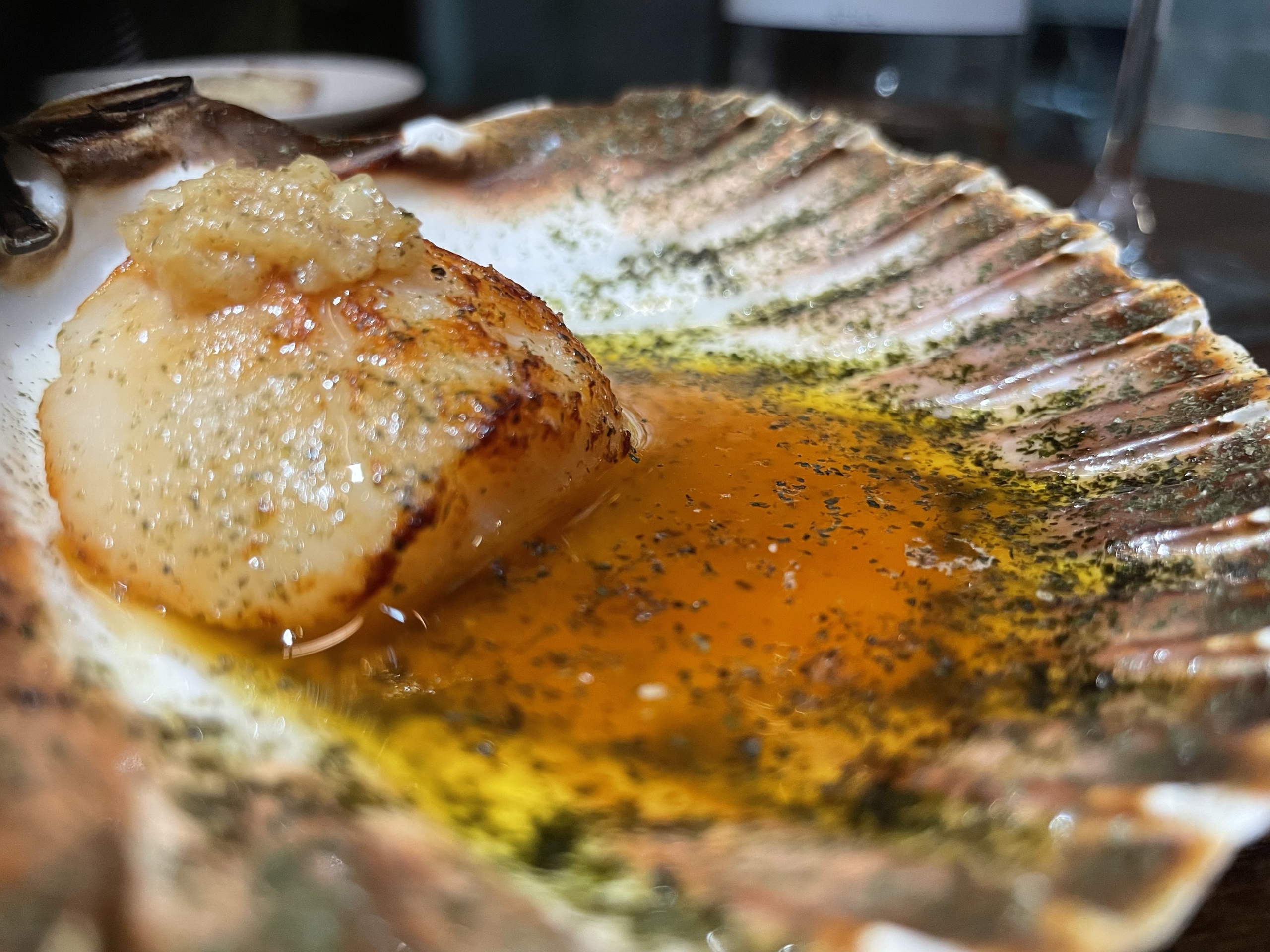 Diners can now pick from a grill menu at Wagtail which showcases Britain's most prestigious cuts including rare ancient beef breed White Park Chateaubriand, as well as Pan-seared Veal Chop, Olive-Fed English Wagyu Rib-eye, Grass-Fed Sirloin, or the Wagtail's Butcher Burger.
The Wagyu Rib Eye is more expensive than the sirloin quite noticeably but for those who love Wagyu and prefer a cut of meat with marbling within not just at the edge it is the clear choice. Steaks come with a choice of three sauces, we choose the Bearnaise.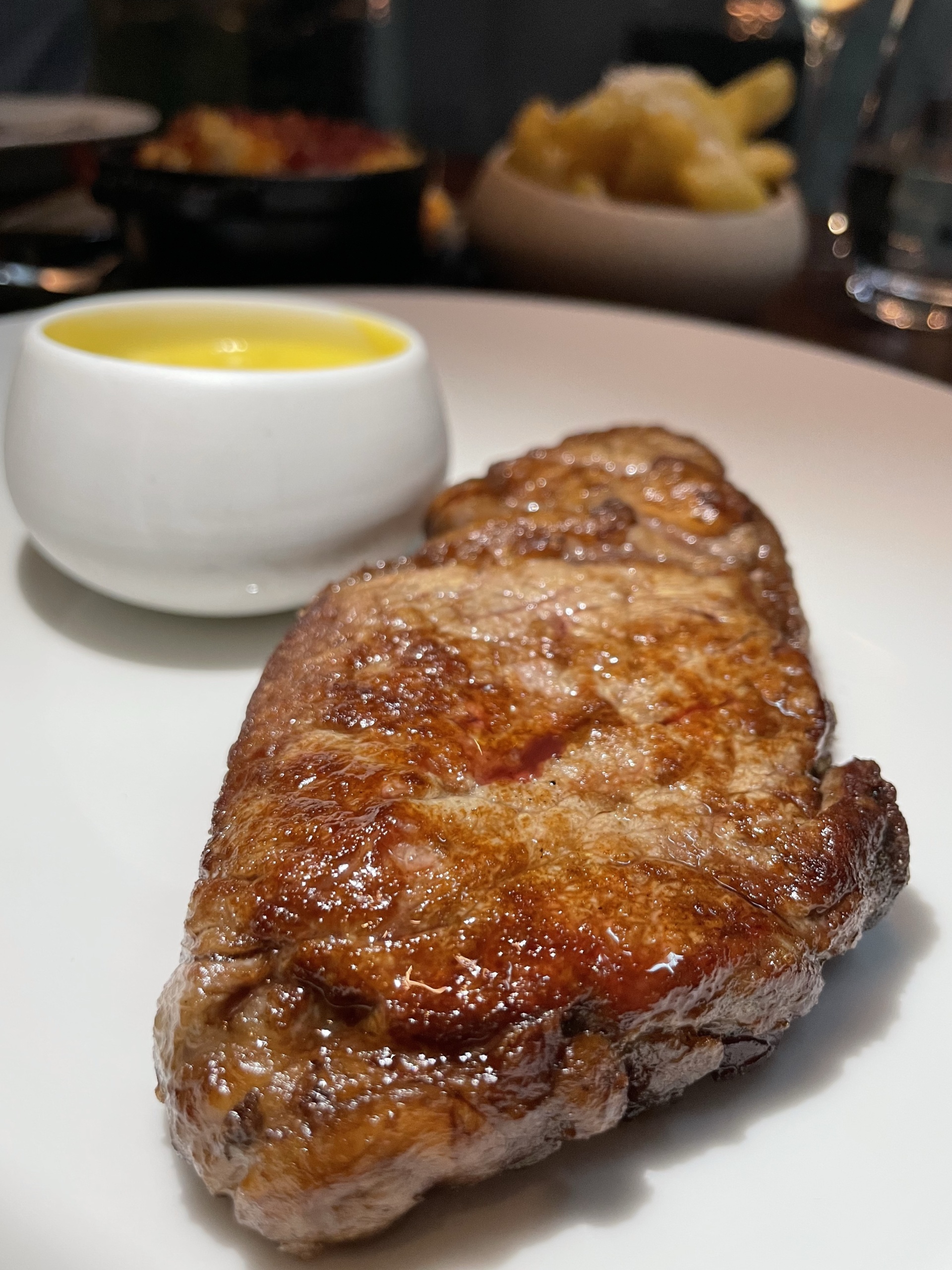 The sides are well proportioned. The Mac N Cheese was not overwhelming, the truffle chips just right but the lobster was an interesting choice.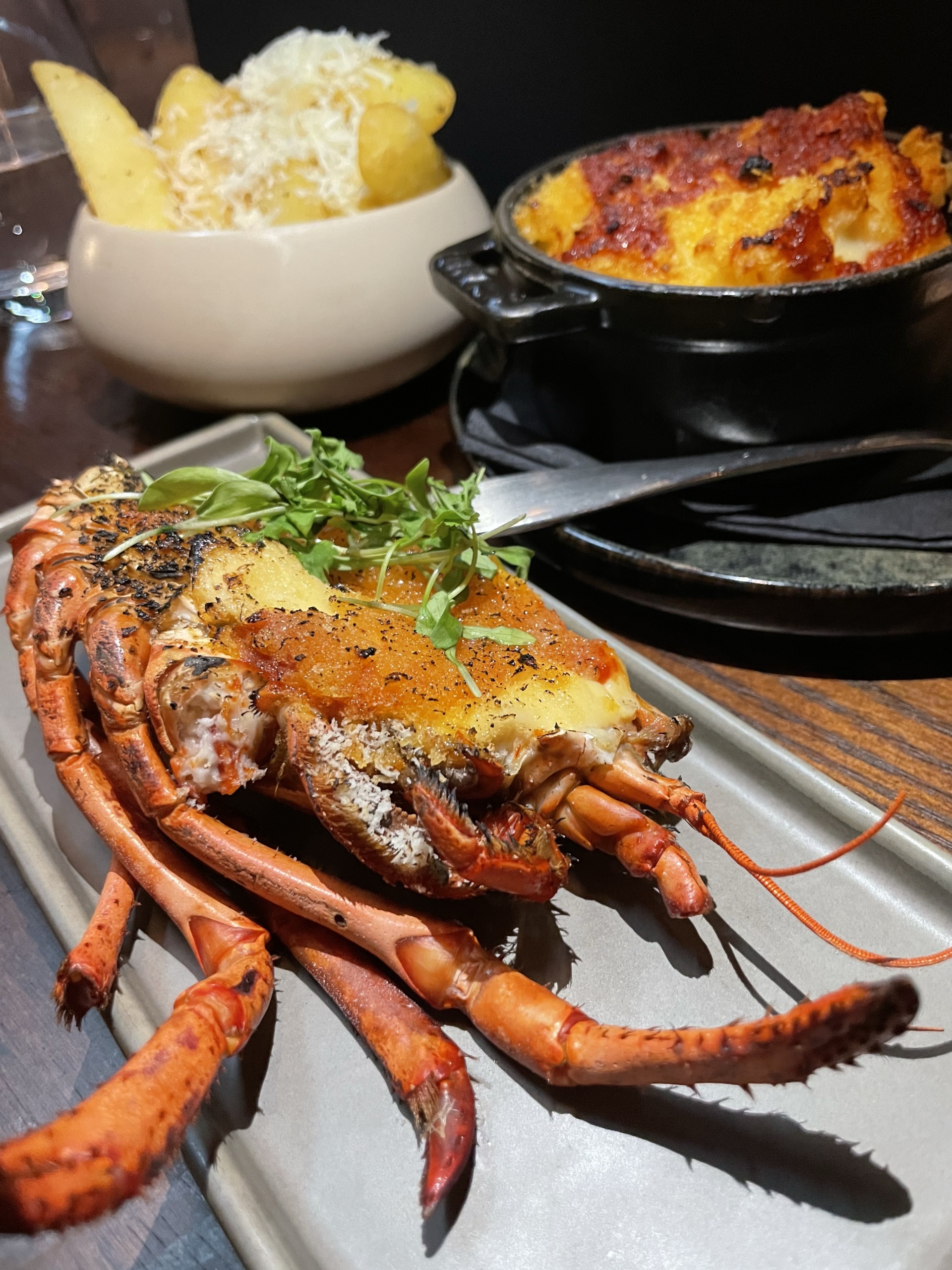 Normally expecting a tail, here the lobster tail had been taken out combined with XO sauce for a bit of spice and delicately placed back in the lobster head. The taste was divine but am still torn between these flavours over enjoying the meatiness of a good lobster tail.
Guests who are not wanting steak can also choose from a number of main courses including the Whole Brill Meunière with Lemon and Caper Butter and Roast Guinea Fowl Breast with Green Lentils and Red Wine Jus. We choose the former. Wow, what a sight when served. It comes on the bone, but after pictures, it was expertly deboned for us meaning no fighting for your fish, although obviously there is the odd stray bone so for those who don't like bones we would suggest opting for the cod instead which comes served with new patatas bravas, chorizo and a tomato sauce.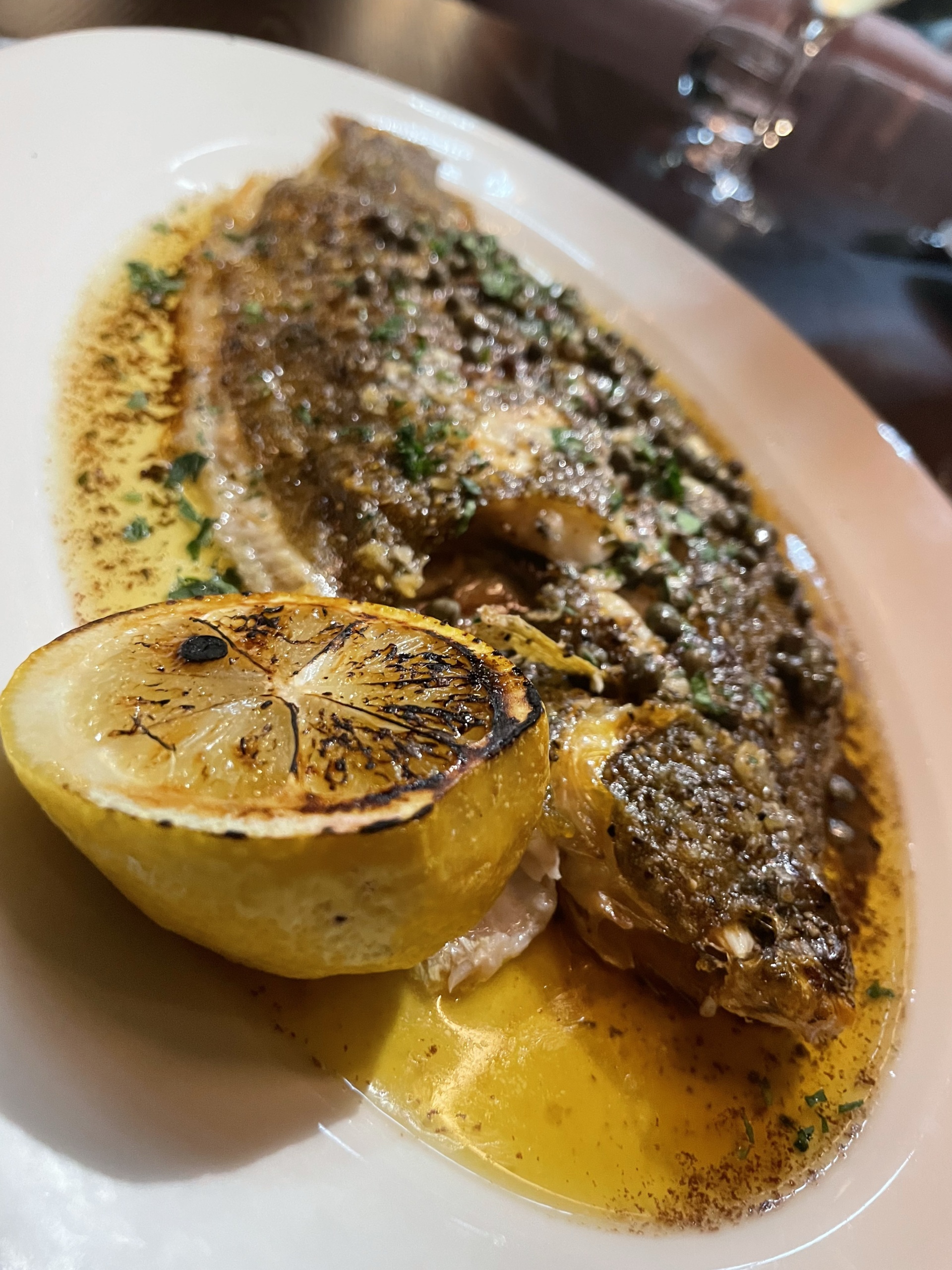 Desserts are a must here. Although not convinced by the sound of a Pumpkin Crème Brûlée, we ordered it anyway as it was recommended. Wow! Absolute heaven on a plate with two different types of crunch from the Brûlée topping and pumpkin seeds. The added twist for the palate was the coconut sorbet. Highly recommended.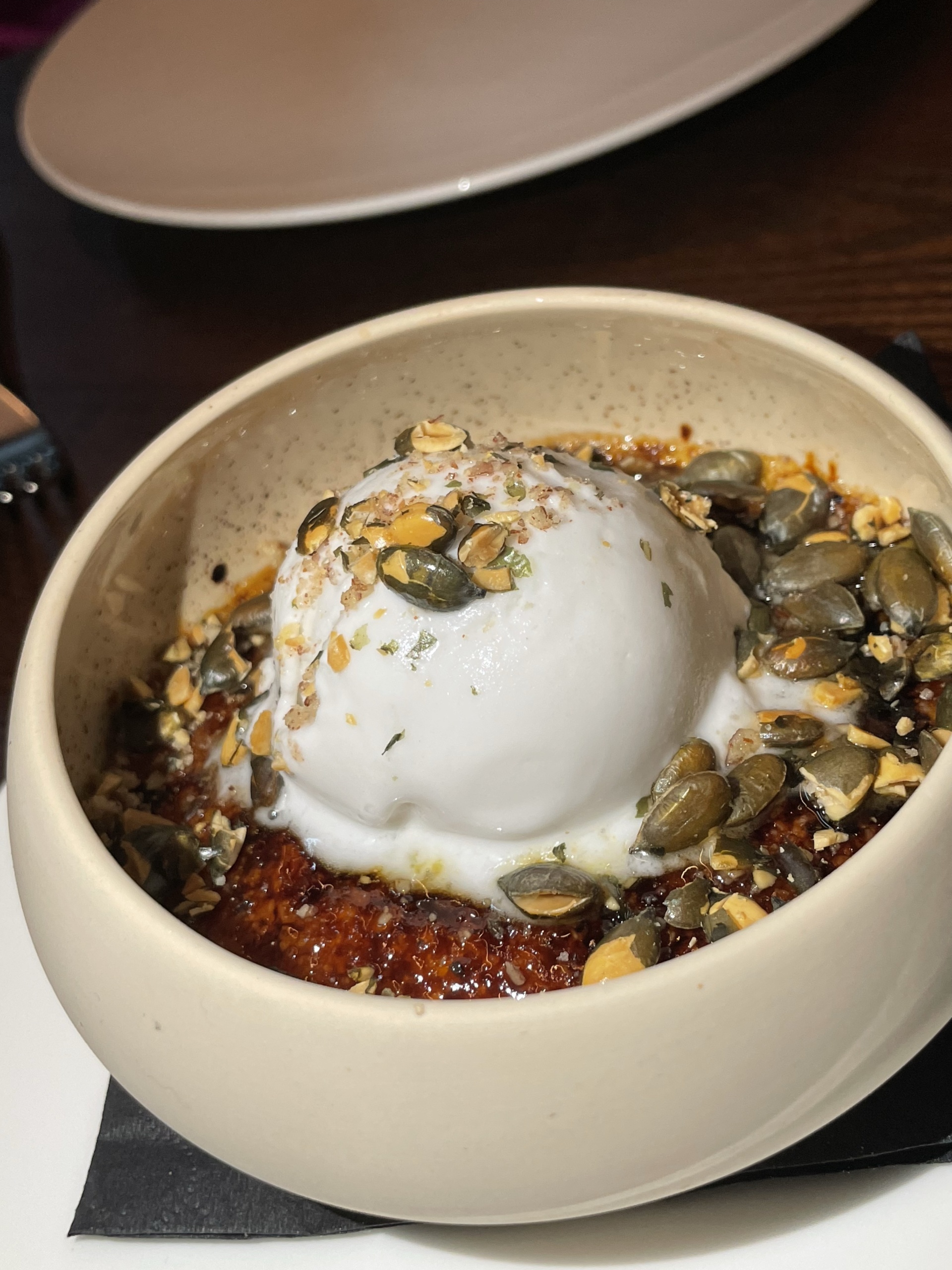 The Baked American cheesecake was also a winning end to a fabulous meal served with a pecan mousse and fresh berries – a delightful combo.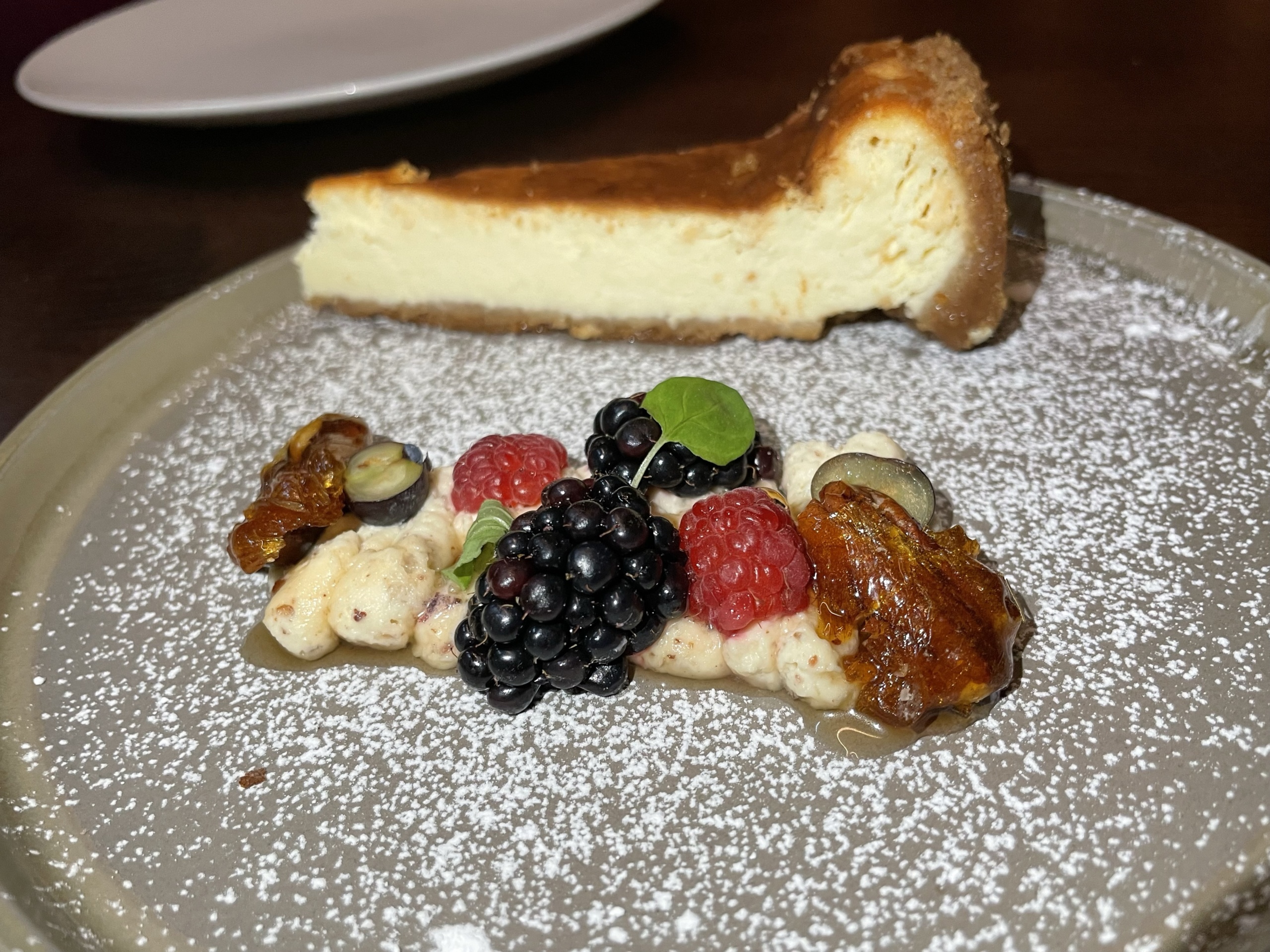 Wagtail offers the perfect setting for business lunch meetings, after work drinks, Christmas parties, corporate and large-scale events, with a mix of bespoke and intimate spaces for up to 400 guests. Split over two floors overlooking the Thames, the restaurant and bar has multiple spaces including two private heated terraces, an elegant rooftop terrace bar with heated seats, and an exclusive eight-person private dining room situated in the cupola, crowning the building.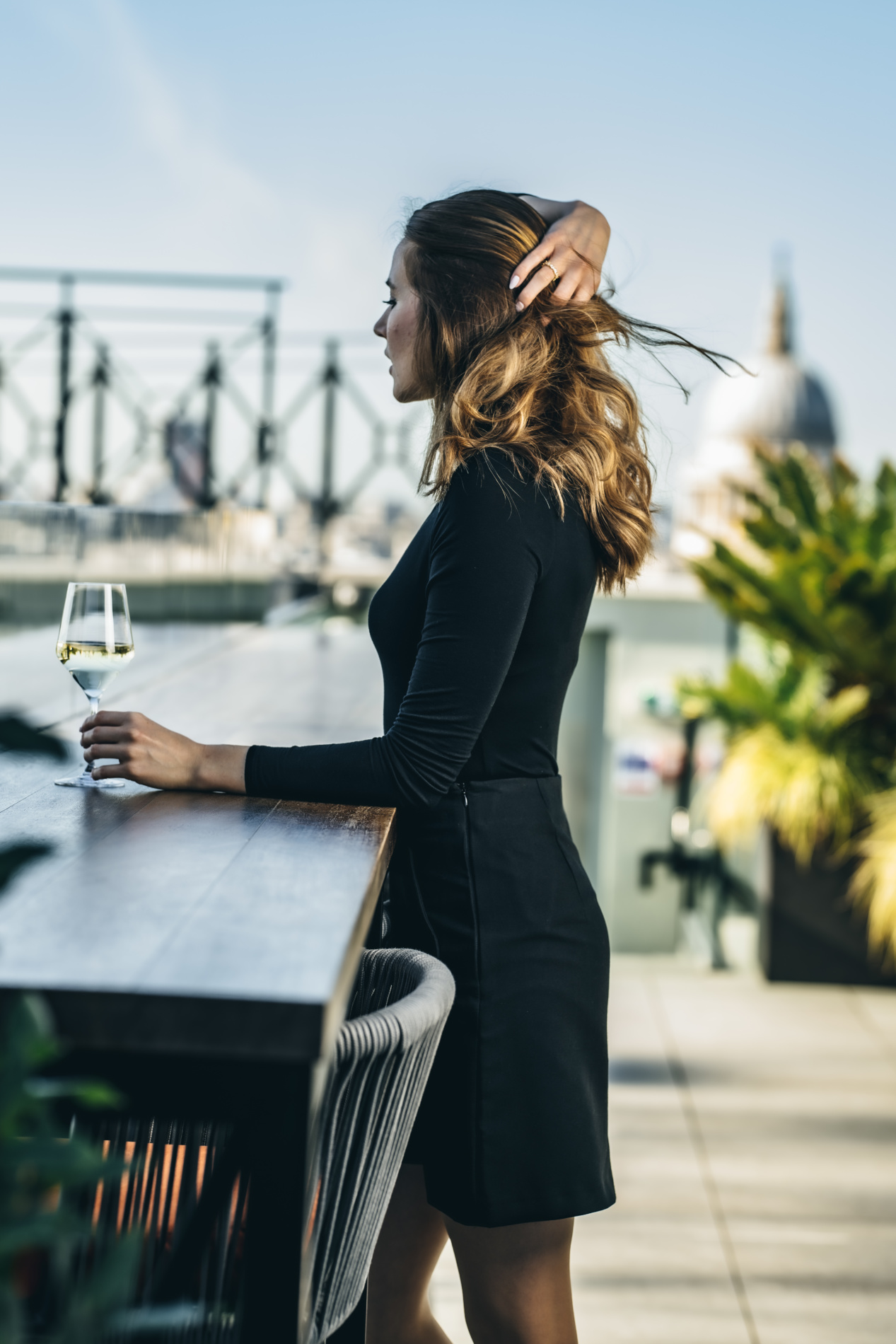 The restaurant and bar also delivers ultimate 360-degree views of iconic London landmarks, such as Tower Bridge, St Paul's Cathedral, The Shard, Gherkin and the Walkie Talkie Building.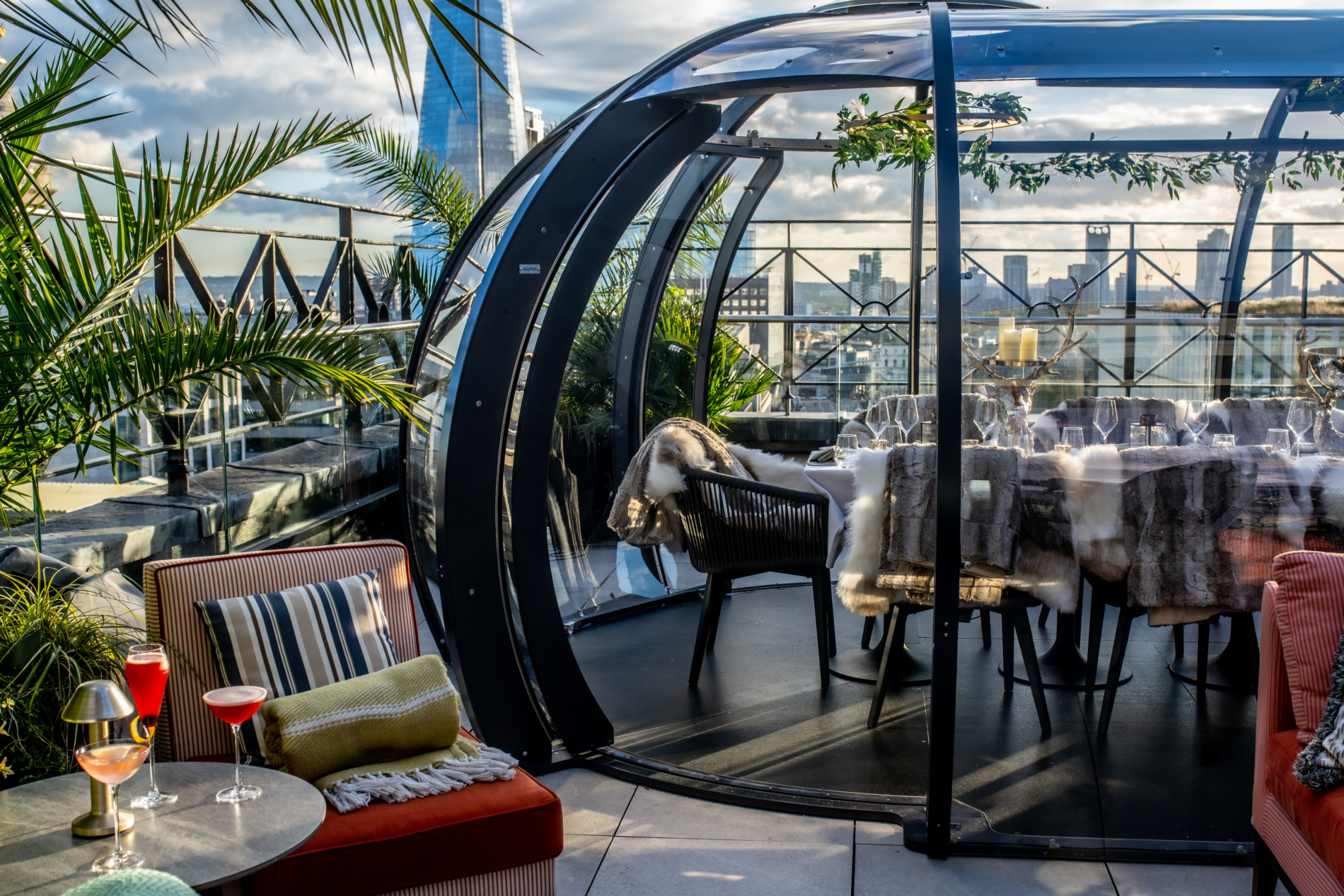 This winter, the awe-inspiring roof terraces will be transformed into an enchanted winter wonderland featuring two luxury igloos.
Wagtail Rooftop Bar and Restaurant
68 King William Street, London, EC4N 7HR
020 8161 4442
www.wagtaillondon.com