By celebrity stylist Ellis Ransom.
By the time you hit your thirties, you will have trialled and errored quite a few trends and pieces in your wardrobe, and have a real idea of what works for you and what doesn't. If you have these staple pieces in your wardrobe, you can work around them and create great looks this summer.
1. The white T-shirt – Always make sure to have a good basic in there so that you can wear these with your best jeans, skirts and trousers. Whether it's a boxy tee or a plain vest, find your shape and make sure to have a few nice quality styles you, don't have to spend lots either.
2. Your fave jeans – Go with what you know, and when you find your fit you go with it!! It's so important to have a good pair of jeans they are your uniform, and they can work in all wardrobe scenarios. There is nothing worse than ill-fitting jeans, take your time trying on all different styles.
3. The treat yourself bag – I think we all get to that point where we have worked so much and we just need to have something that makes us feel good, so why not treat yourself to a classic handbag that you can wear day to night and every time you look at it, you feel so happy inside.. Go for a classic so it's a timeless piece.
4. Leather jacket – We all need a good leather jacket, no matter our age. They are a perfect transitional piece that you will wear over and over again. I always love an All Saints and what is great the more you wear it the better it looks.
5. Good pair of heels – That one pair of heels that have your back throughout any occasion. They work with your dresses, your jeans and your leathers. They are the perfect go-to.
About the expert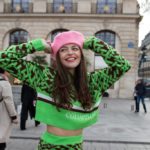 Ellis Ranson is one of the UK's leading celebrity fashion stylists with over 10 years' experience. From magazine covers to iconic red-carpet events, Ellis has acquired an impressive range of clientele and has worked with brands such as Puma, George (Asda) and Easilocks.