Once the Cooling Lawrence & Sons gentlemen's outfitters, who counted Winston Churchill as a regular customer, the impressive 19th century Grade II listed building in Maddox Street, Mayfair, was most recently Brown's restaurant. Roger Payne of the Enhanced Hospitality group acquired the site earlier this year, and following a sensitive interior restoration, Maddox Tavern is now open.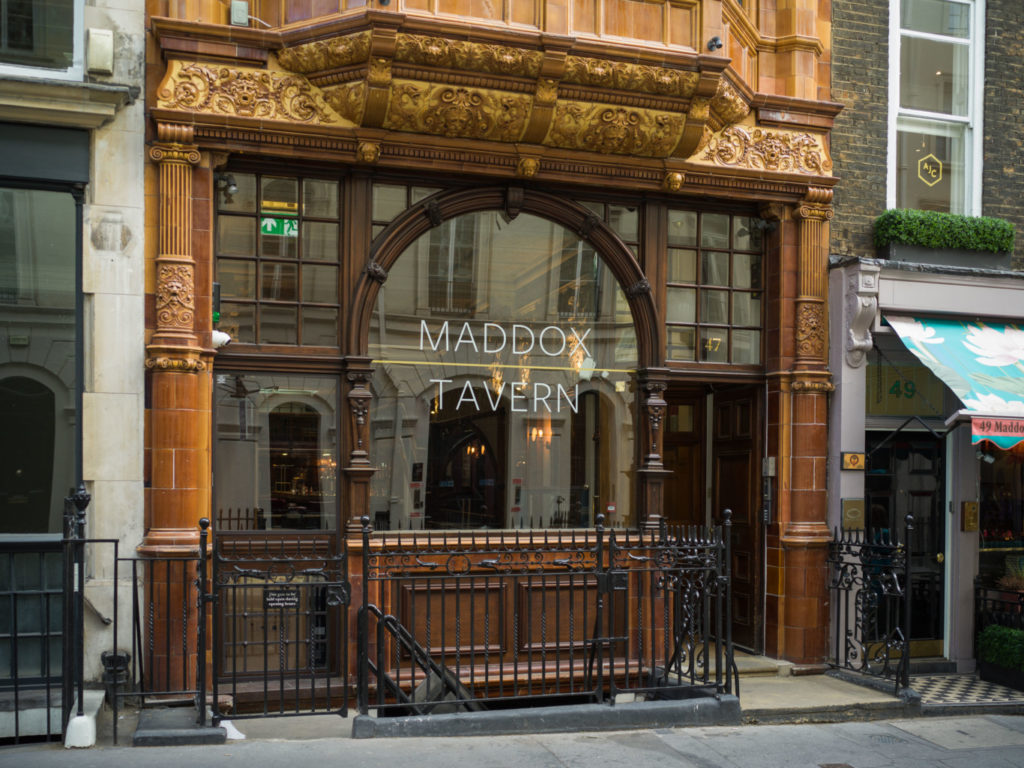 Features of the restored restaurant interior include rich impressive mahogany throughout, a mezzanine accessed by stairways with intricate wrought-iron railings, Versailles parquet flooring, and a copper-topped bar. There is seating for up to 120, spread out through the different sections. There are four private dining rooms, seating from five to 12. Our favourite seats 8 and is wonderful for business meetings, small celebrations or larger family dining.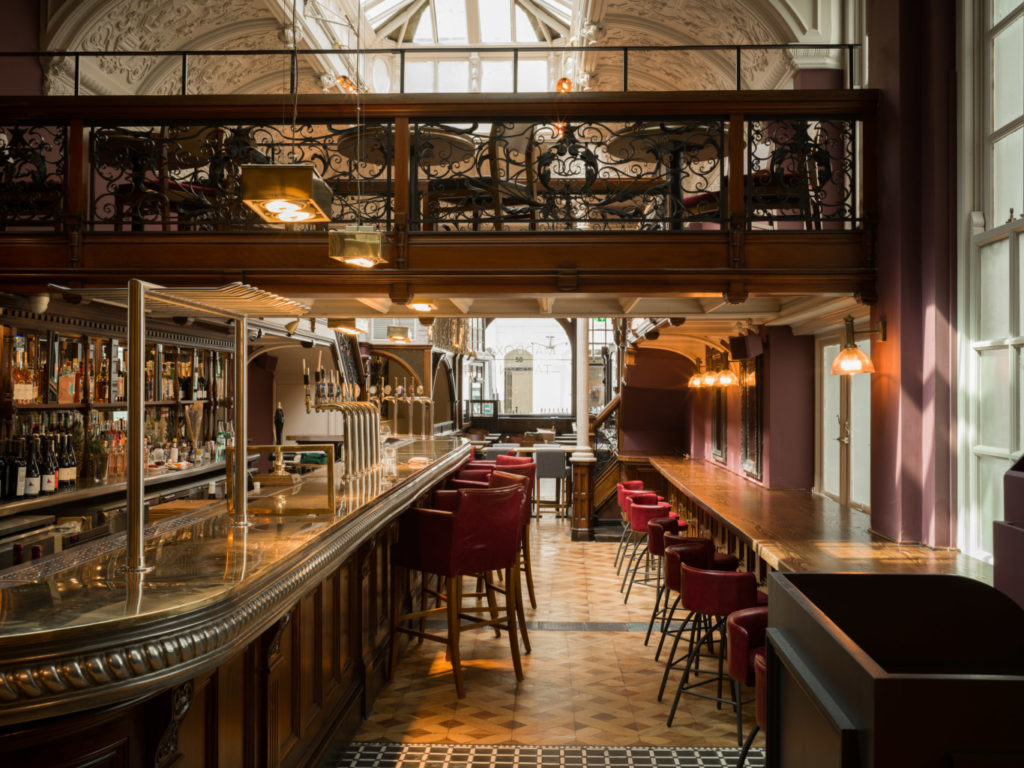 The all-day British brasserie opens daily for breakfast through to lunch, drinks and dinner. The menu of elevated British classics also incorporates some contemporary elements. The broad range of dishes will mean that customers will be satisfied throughout the day with choices for a business breakfast, a quick drink and snack, or a full meal with wine. A set lunch menu (£30 for two courses) is available daily with traditional roasts on Sunday.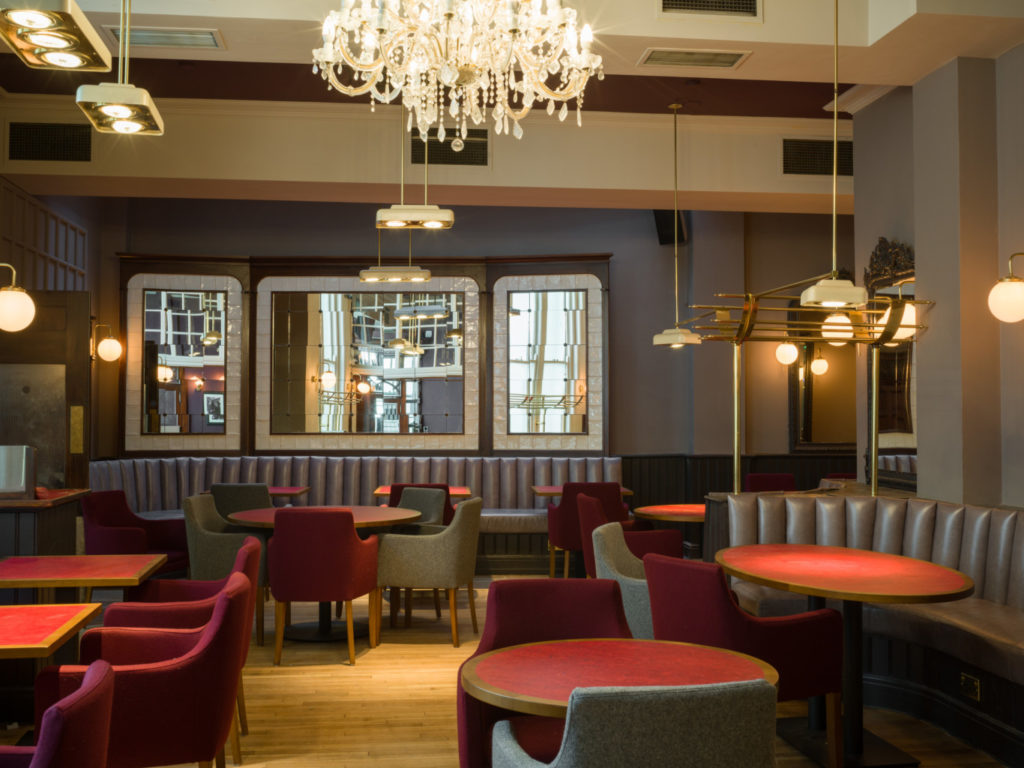 The all-day à la carte menu features a wonderful collection of non-overcomplicated where the freshness of the ingredients can be truly appreciated with the finest of pairings of flavours and textures. So often food is made too complex when what one really is craving is a menu where whatever you order you will be pleasantly surprised. Maddox Tavern has got this balance just right, inspired enough to keep you coming back time and time again and comforting enough that you know that it will hit the right spot.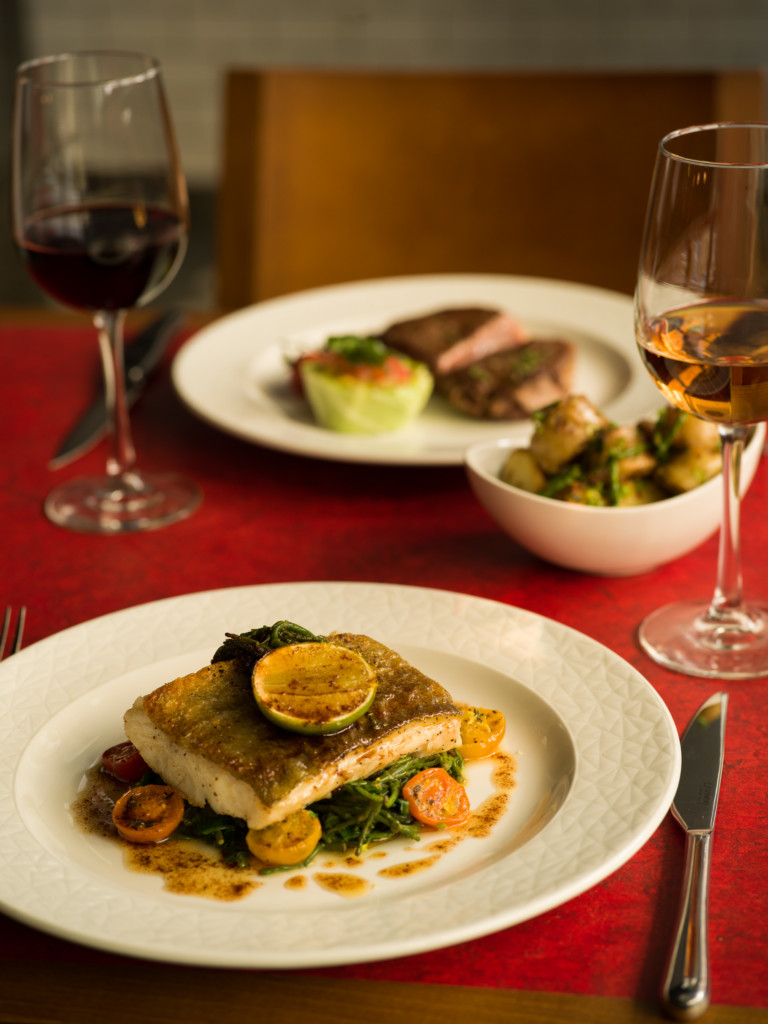 You will find classic fish and seafood dishes from English shellfish cocktail (lobster, crayfish, lemongrass mayonnaise), Pan-fried scallops with samphire & cauliflower purée or Maddox fish pie with gratinated mustard mash. Those wanting a little bit of luxury on the palate can opt for the Pan-fried foie gras with baby leeks & toasted brioche and those wanting comfort and a hearty meal will be delighted with the Middle White pork sausages with olive oil mash. Maddox Tavern also offers a selection of  Steaks – fillet, rib eye, sirloin, as well as larger cuts to share (Note – all meat supplied to Maddox Tavern is by Huntsham Court Farm in Herefordshire).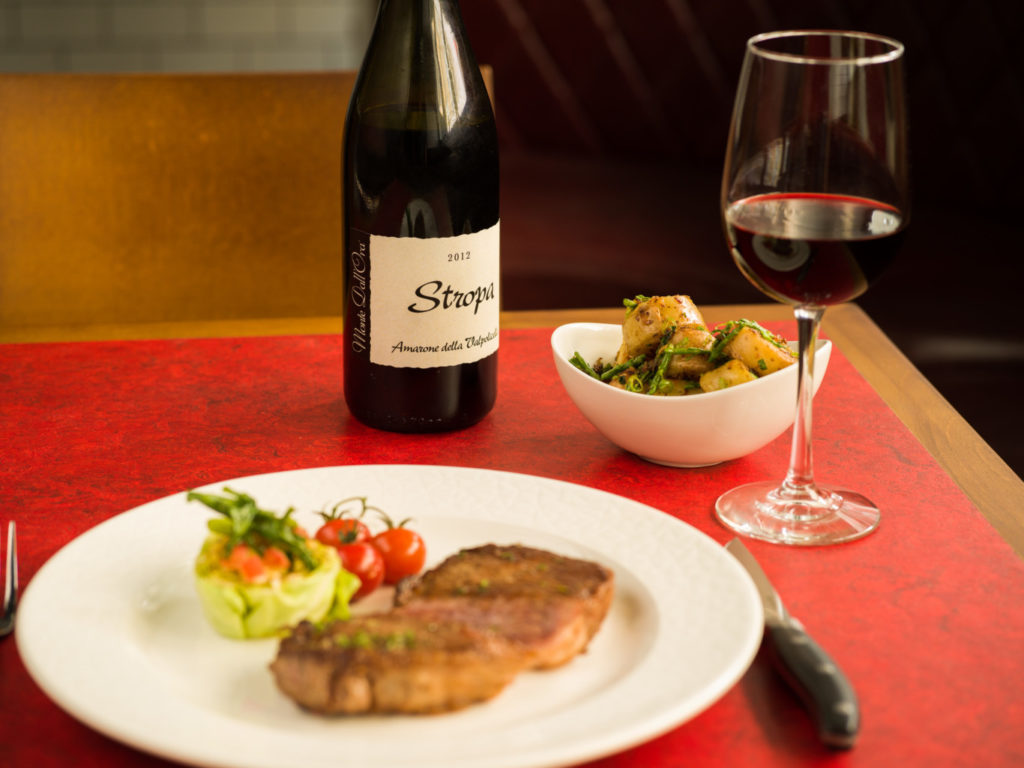 Breakfast is served in the Tavern area (at the front of the restaurant) and includes healthy options, as well as start-the-day traditional dishes, along with homemade pastries. Typical items include: The Maddox Full House Lobster Benedict Soufflé Omelette Benedict Waffle Smoked haddock Blackberry chia set pot Almond milk porridge. In the Tavern area, a menu of 'Light Bites' and sharing boards are clearly goign to be a draw, alongside the full drinks list, available from 11.30pm daily. The standout items on the menu include: Prawn popcorn, Mature cheddar croquettes, Oysters Long Horn sirloin steak sandwich Traditional fish & chips, Coronation salad Sharing boards ( Meat, Vegetarian, and/or Cheese from £14.50)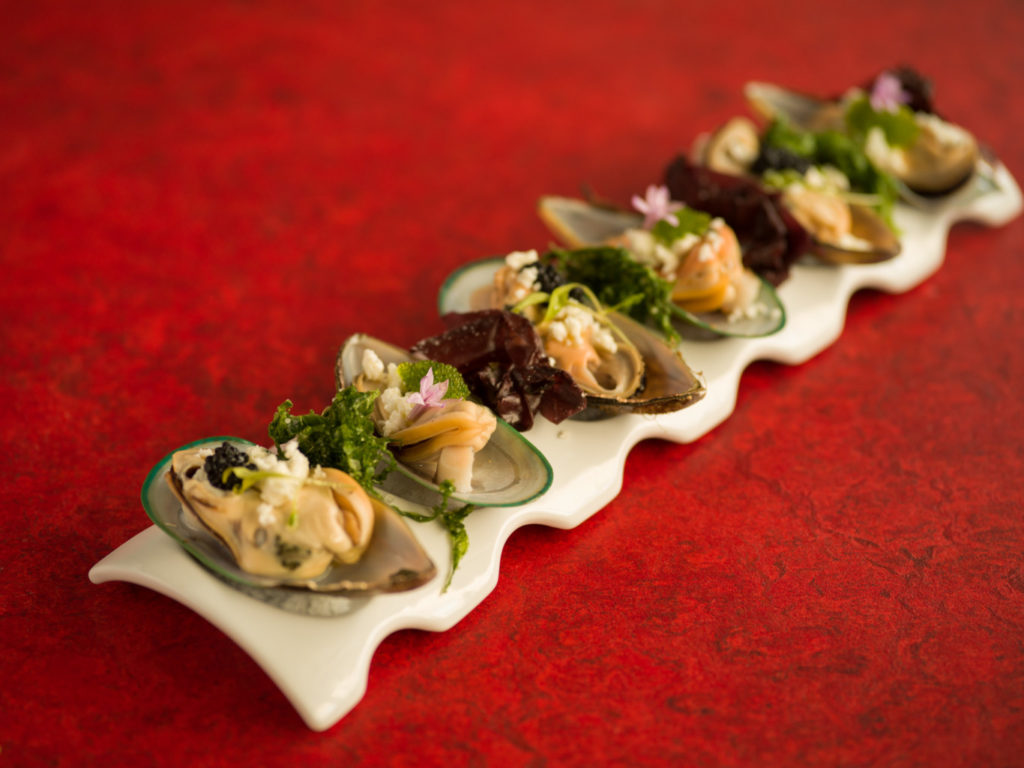 Additionally, the wine list will feature 75 bins (from £28 bottle, and £7 glass), with an emphasis on western Europe, and also a separate fine wine selection. The company's head of drinks, Tony Vega, has devised a cocktail list that mixes the classics with some contemporary options (from £10), such as the New Bond Sour (Beefeater, chartreuse, lemon, mango, egg white and bitters) and the Mezcal Negroni (Koch Espadin, Campari, Rubino vermouth and roasted chilli).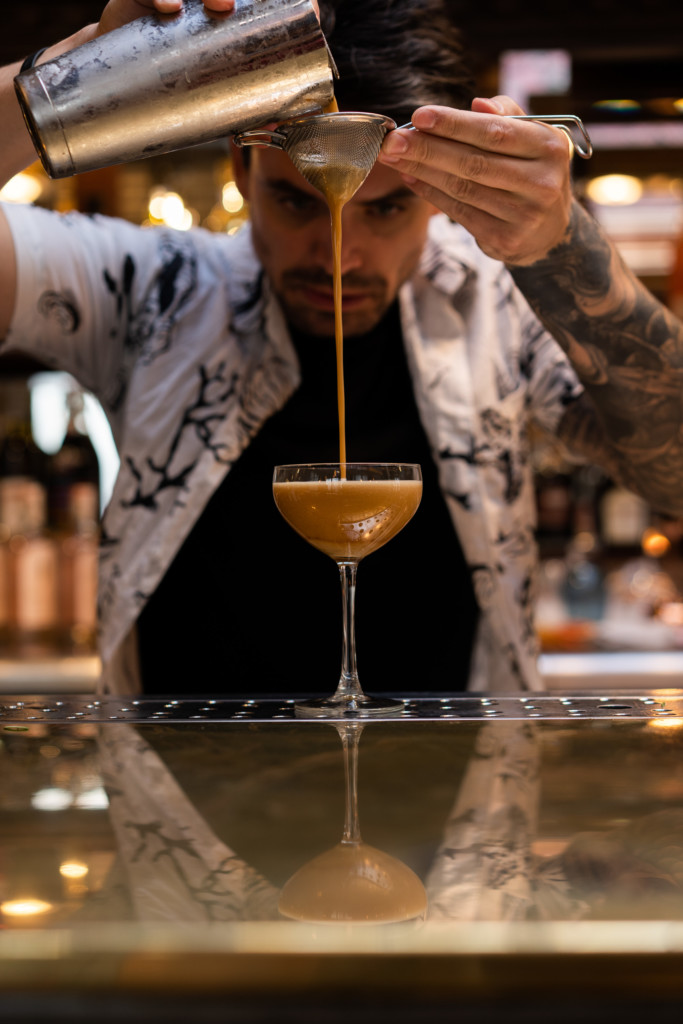 Chatting with Tony, it's clear he believes the drinks should complement the food and also not be overcomplicated. He shares that apart from a Bloody Mary which by its very nature requires over 20 ingredients, his cocktails are kept to a maximum of 5 or 6 ingredients so that each ingredient can actually add to the cocktail and do the job it was designed to do. He is extremely skilled and his twists on classic cocktails should be tried even if like us you are dining at lunch!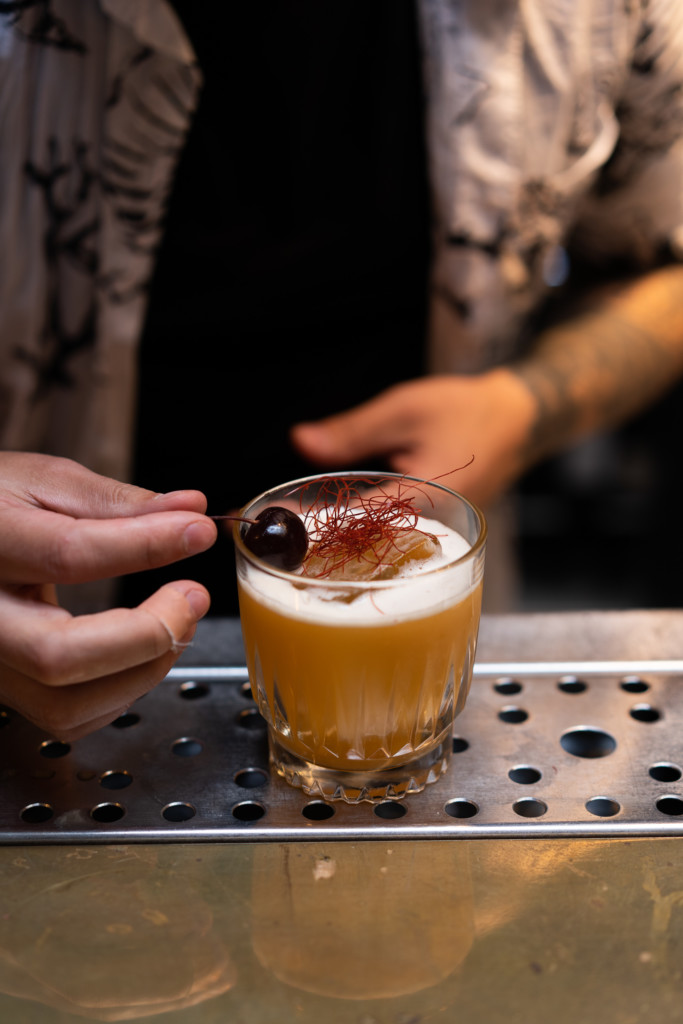 The Head Chef at Maddox Tavern is Jon Grimes, who has a broad background, including at Kobe Jones in Bromley, Aqua Kyoto and Gilgamesh (now closed). Restaurant Manager Denva Pierre previously worked at several of Gordon Ramsay's Maze restaurants, most recently at Gordon Ramsay Bar & Grill in Mayfair. The service is second to none. They know their food and are very much looking forward to knowing their customers, bringing humour and a light-hearted approach with professionalism to the table. This is definitely a place where everybody can know your name if you choose to be a regular. For those who work nearby, this is a true gem that has opened up in Maddox Street after the establishment had been sitting empty for quite some time before being bought by the owner of Maddox Tavern.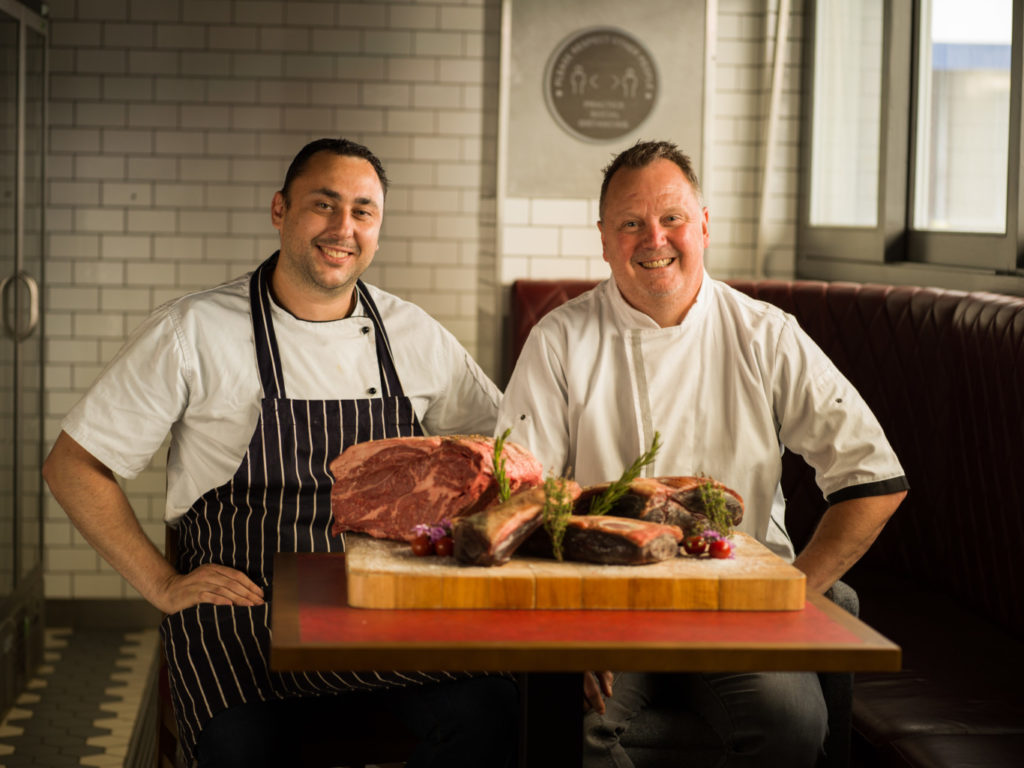 For those wanting to see more about what Maddox Tavern has to offer, we suggest starting with one of Tony's creations. The Old Fashioned (right) is definitely worth trying, there is a twist on the classic but it very much transports you into the world of a classic gentleman's club, a great little number to order to make you feel like you are the world's best closer and are celebrating that big win. The Churchill Sour (left) is also a great starting point for those who like the sound of the combination of Glenlivet double oak, tangerine, honey and bitters. It's first on the menu for a reason and not just because of the Churchill connection that Maddox Tavern shares with the famous ex Prime Minister. For those who want to know more explore the restaurant on arrival and see the multitude of photos from days gone by.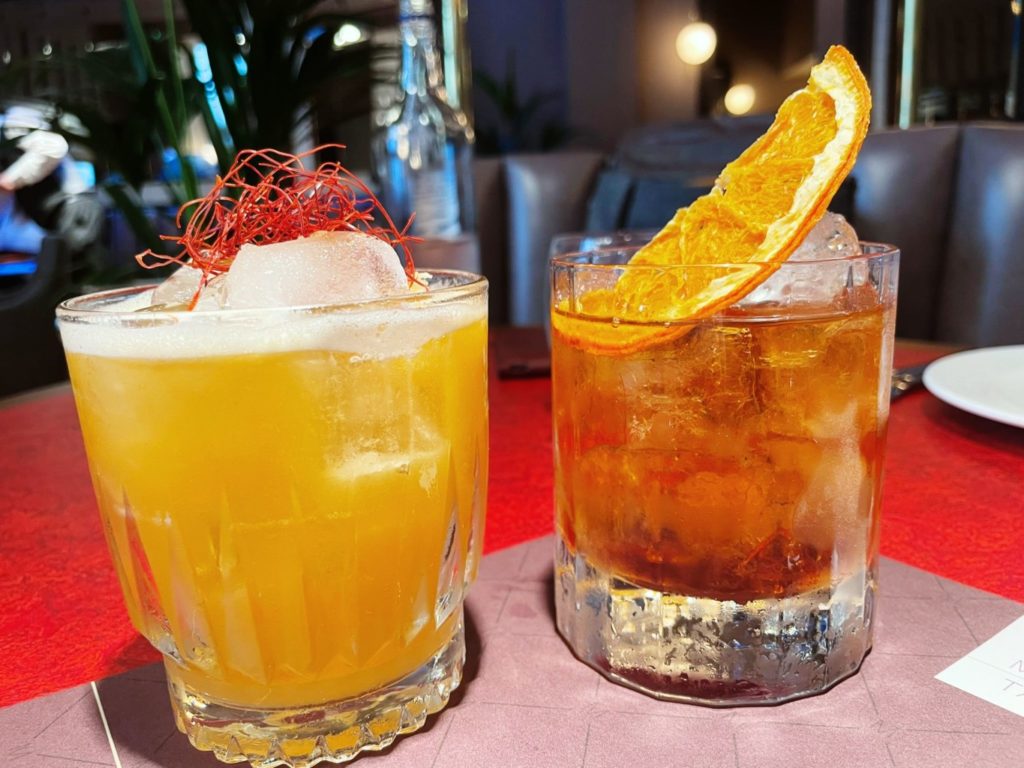 For us, the showstopper of a cocktail was Manhatta Tavern composed of Rye, Cherry Brandy, and chocolate bitters. Although the taste was exquisite the glass really brought conversation to the table. Maddox Tavern has put attention to detail not only as to what they serve but also how they serve it.  This imposing glass stood heads and tails above its Cosmo 58 counterpart, which although a pink drink, was probably the strongest on the table and perfect for those who know their gin. Tony used 58 & Co Gin here and it really did help the Cosmo hold its own against the Manhatta Tavern and the Churchill Sour.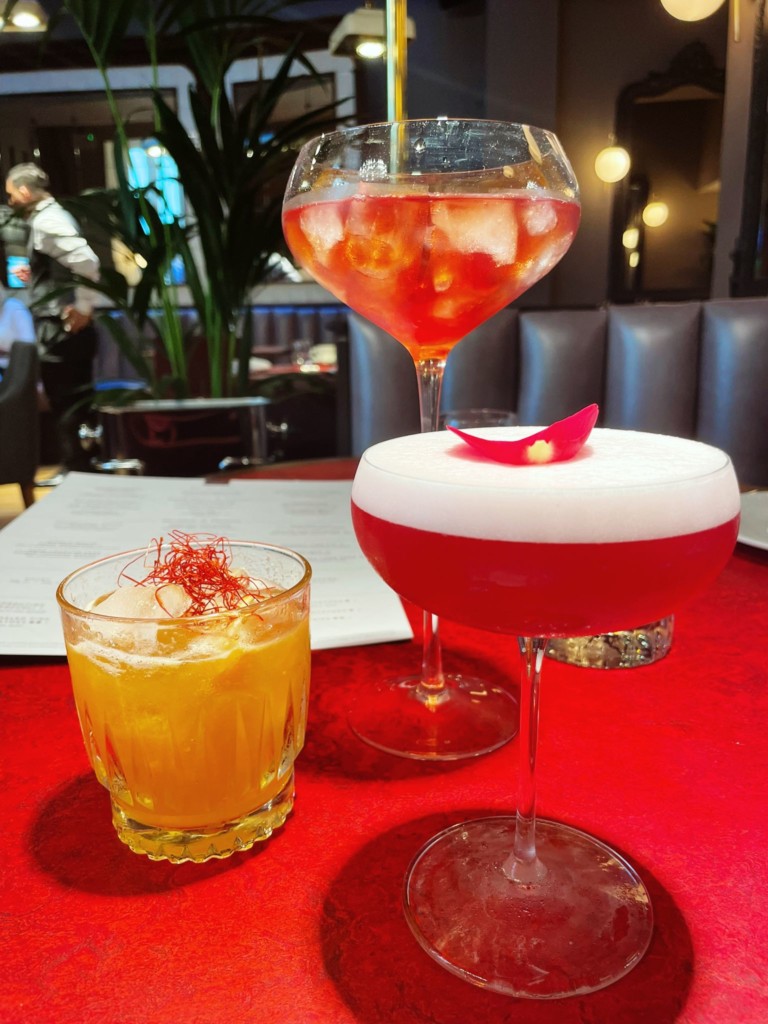 For those looking for a light start to the meal, look no further than the Maddox Tavern Salad, just as delicious as the bowl is beautiful. Well thought out with the freshest ingredients.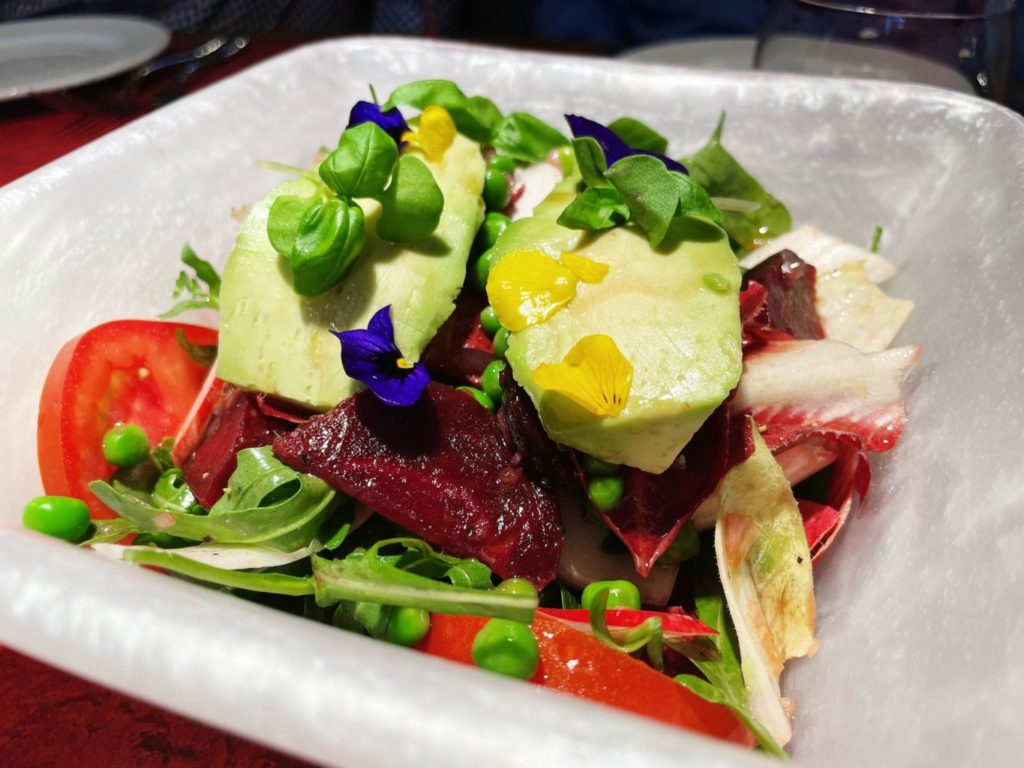 For those looking for something from the sea but still light, the London Cure Smoked Salmon with Lilliput capers, creme fraiche and burnt lime is a classic option and worth ordering.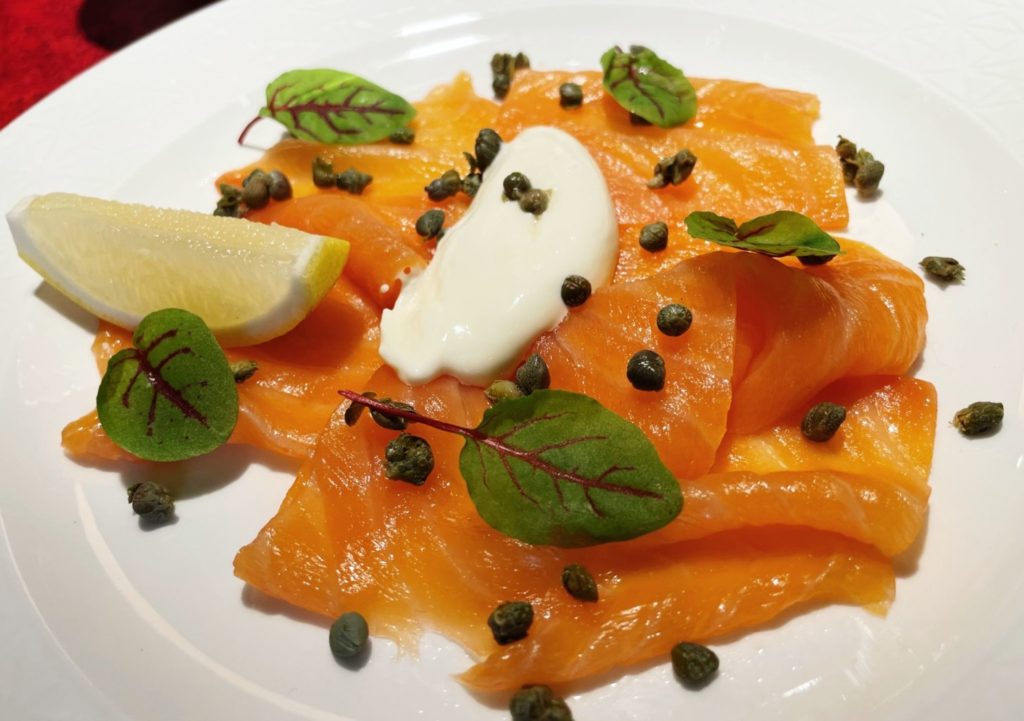 However, our favourite was the Venison carpaccio with pineapple chutney and toast. None of us had tried pineapple with venison before although all of us love venison, so it was really interesting to see how well these flavours work together. A simple three-ingredient meal took centre stage as the planning and preparation really shone through. We definitely will be ordering this again.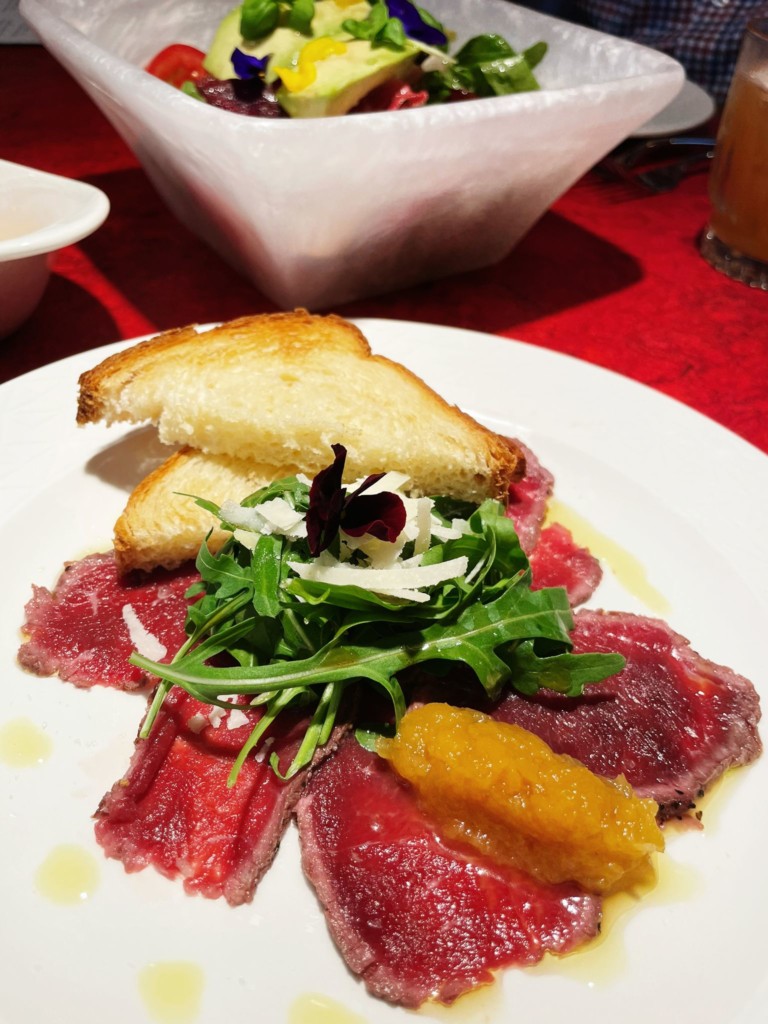 For those wanting just a lighter bite with their meal, the Prawn Popcorn paired with the subtle but substantial heat from the Rose Harissa Mayonnaise is a winner.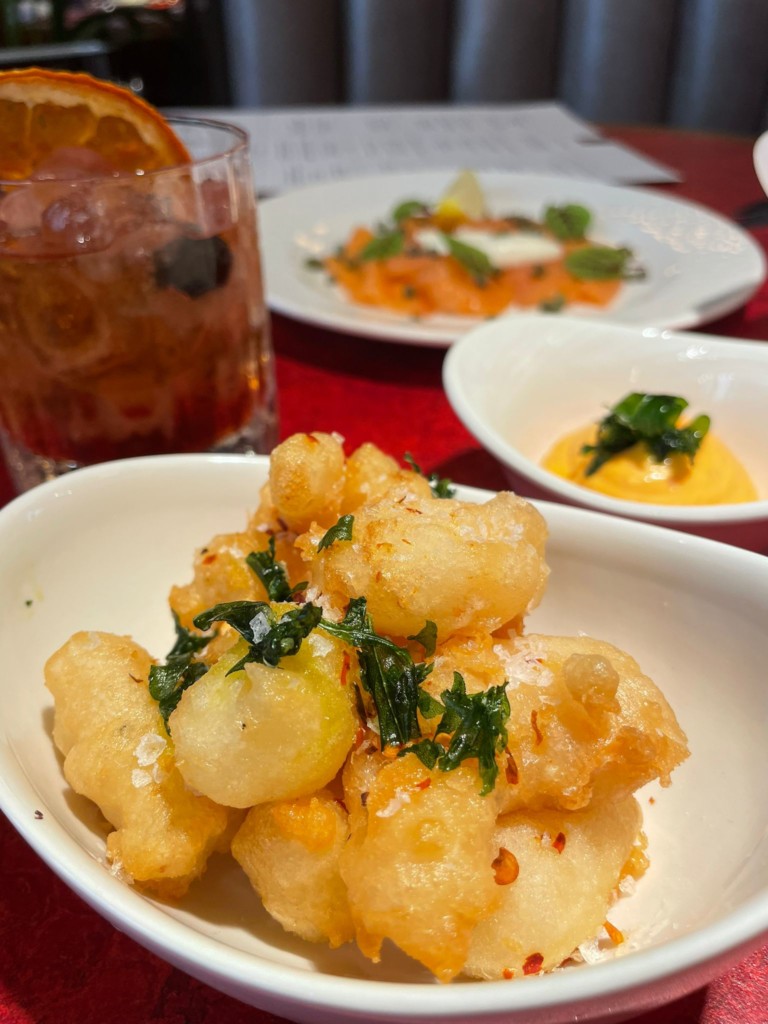 For mains, we ordered slightly out of our comfort zone. Normally one to only eat fish if it is heavily seasoned with spices, I was delighted with the Halibut with salsa verde and sea kale. Again the chef has chosen to not overcomplicate certain dishes and let just a few flavours do all the talking. This was a wonderful texture with a definite feeling that you were by the coast dining on fish caught just minutes before. A much-needed feeling in the heatwave right now, many of us would delight in being transported to the coast on our lunch break and the Maddox Tavern has achieved just that.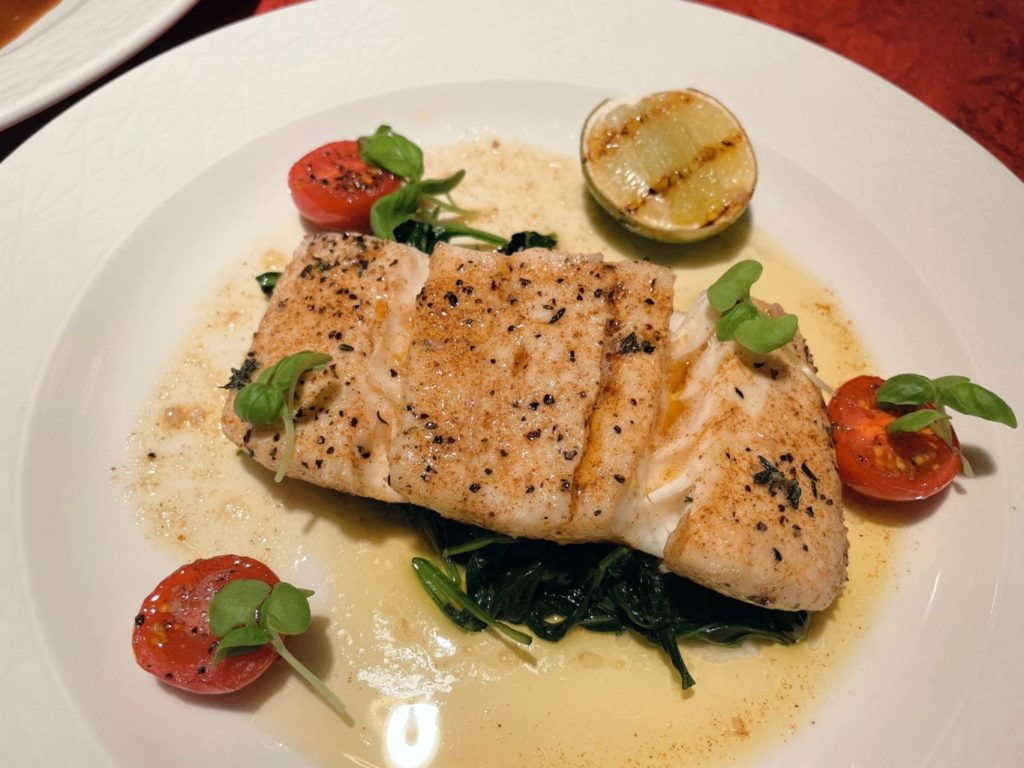 Glazed Te Mana Lamb Rack with artichokes & charcoal banana shallot is a must for anyone who often orders lamb. Served medium rare, this is a dish you can rely on to give you the warm feeling from food cooked to perfection.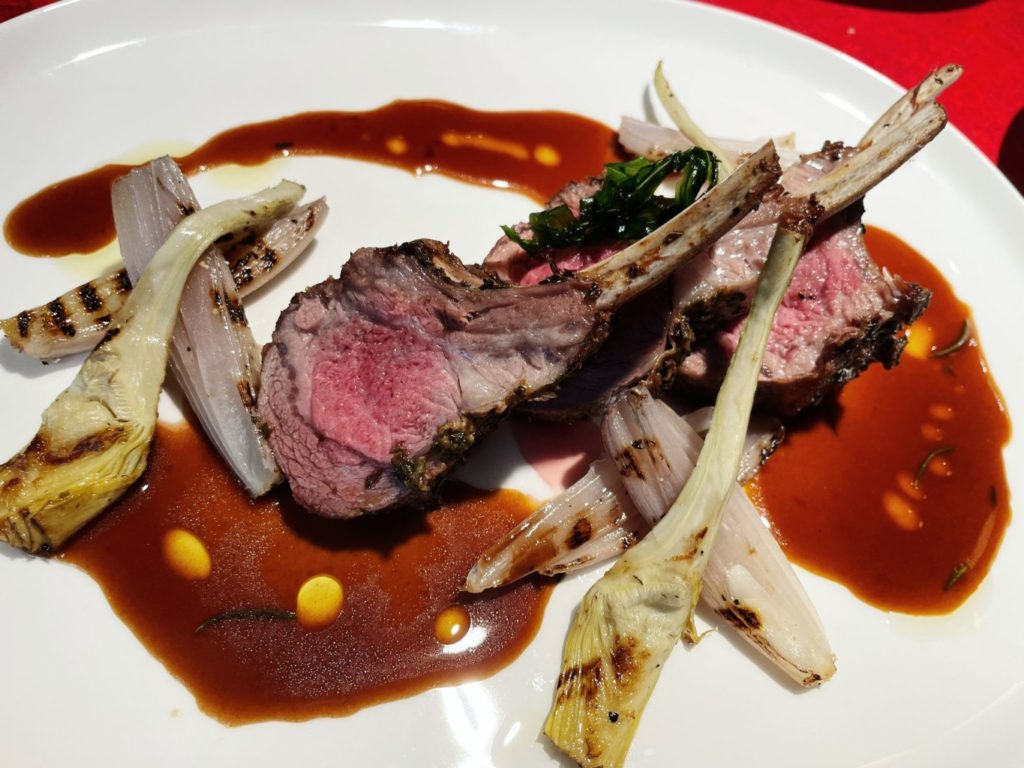 Chicken is an often overlooked meat to order, so we thought we would put Maddox Tavern to the test and see how their Herb Crusted Free Range Chicken Breast with beef steak mushrooms and black garlic. The meat lovers of the table did prefer the lamb but it was a hard contender to be fair. The chicken was however soft and succulent with a deliciously tasty herb crust. Possibly not a first choice as there are so many other delightful things to choose but for regulars who frequent the Maddox Tavern I am sure they would enjoy this to add variety to their order on a repeat visit.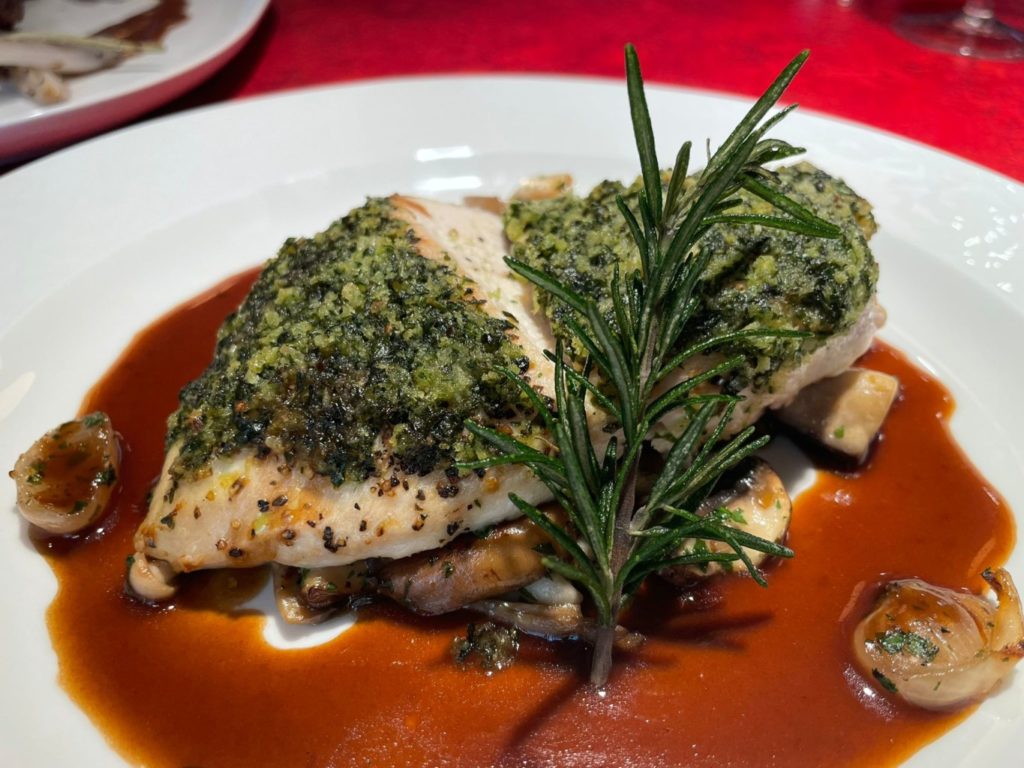 Desserts are slightly more complex than the main courses and offer a nice contrast for some but for others, I think they would like something more simple. For me the Lemon Posset was scrumptious but the seasonal berry compote on top was a little bit much.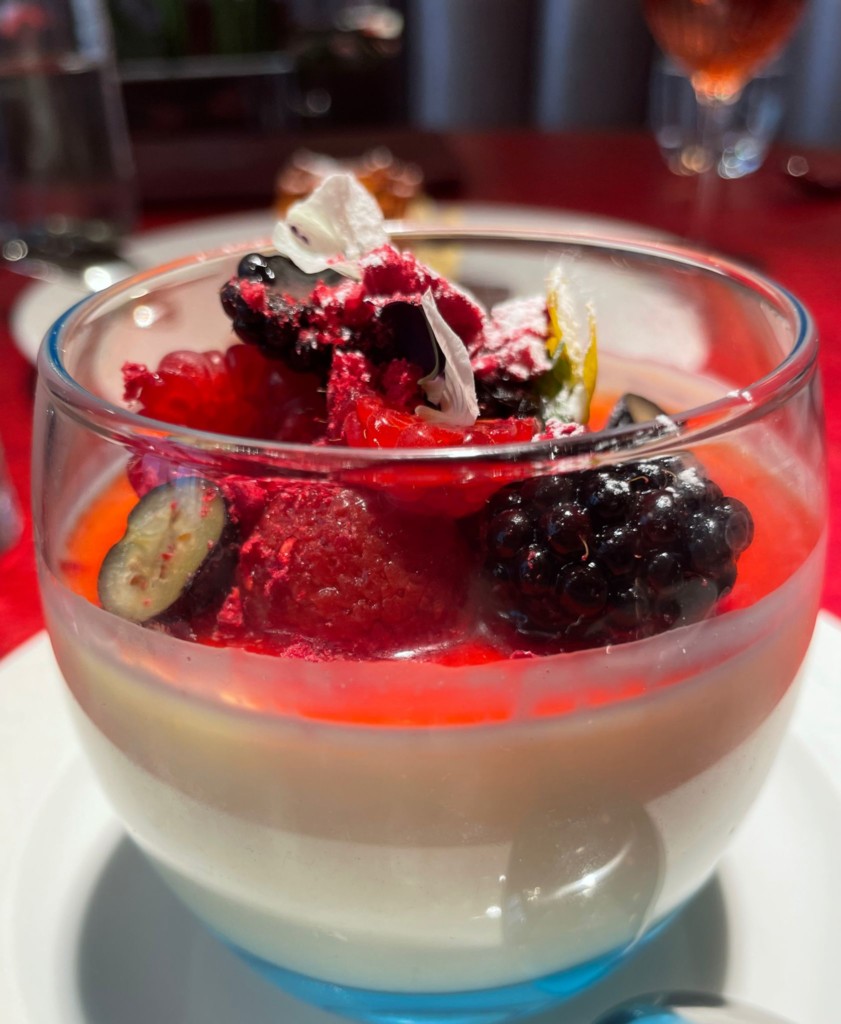 Come in for a closer look and see what you think. The addition of freeze-dried raspberries did bring a lovely texture to balance the smooth posset though. I feel there will be mixed feelings on this and no right or wrong answer.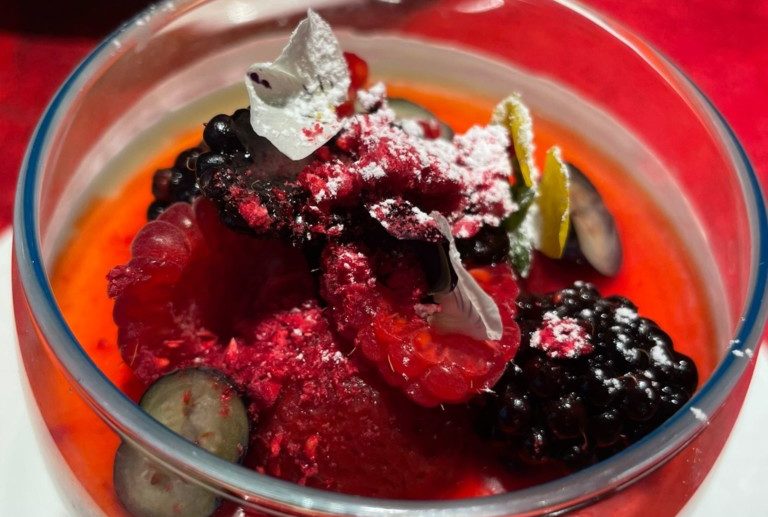 The flavours of the Rose Jelly with seasonal fruit and vanilla mascarpone did work well together in this light dessert. Thankfully there was no artificial rose flavouring used that I dread tasting in some other restaurants. Maddox Tavern definitely got the right balance of a delicate flower rather than the thorn in the side!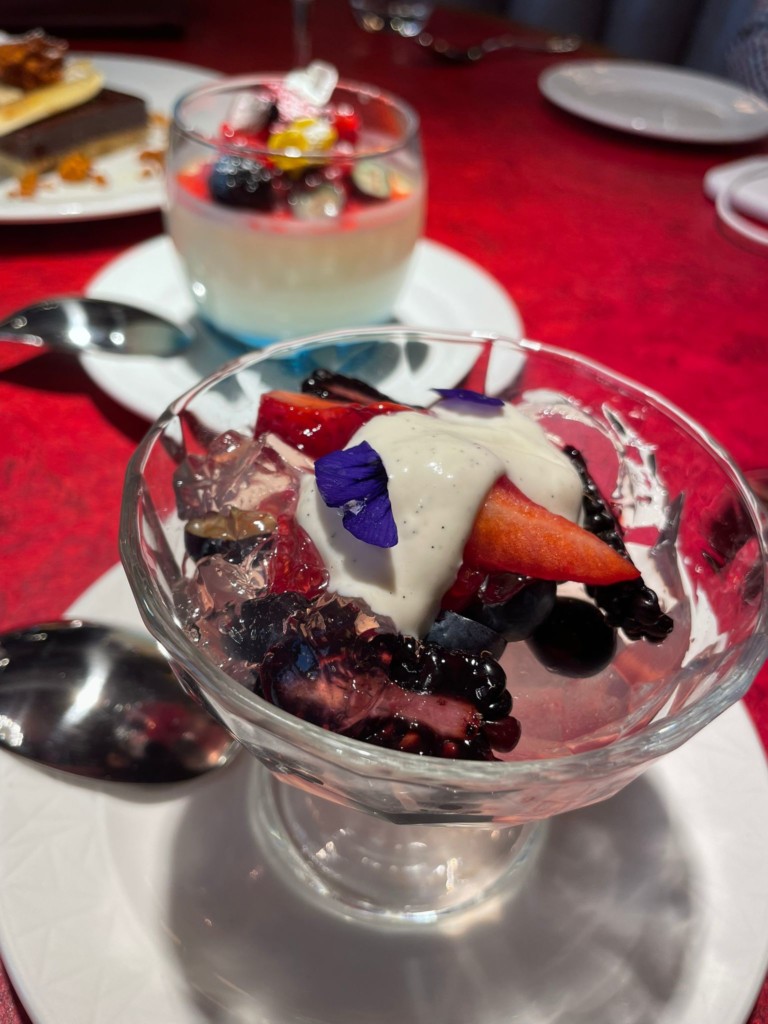 Much loved by the table was the Dark Chocolate Tart with burnt caramelised banana and honeycomb. How could you not like it?!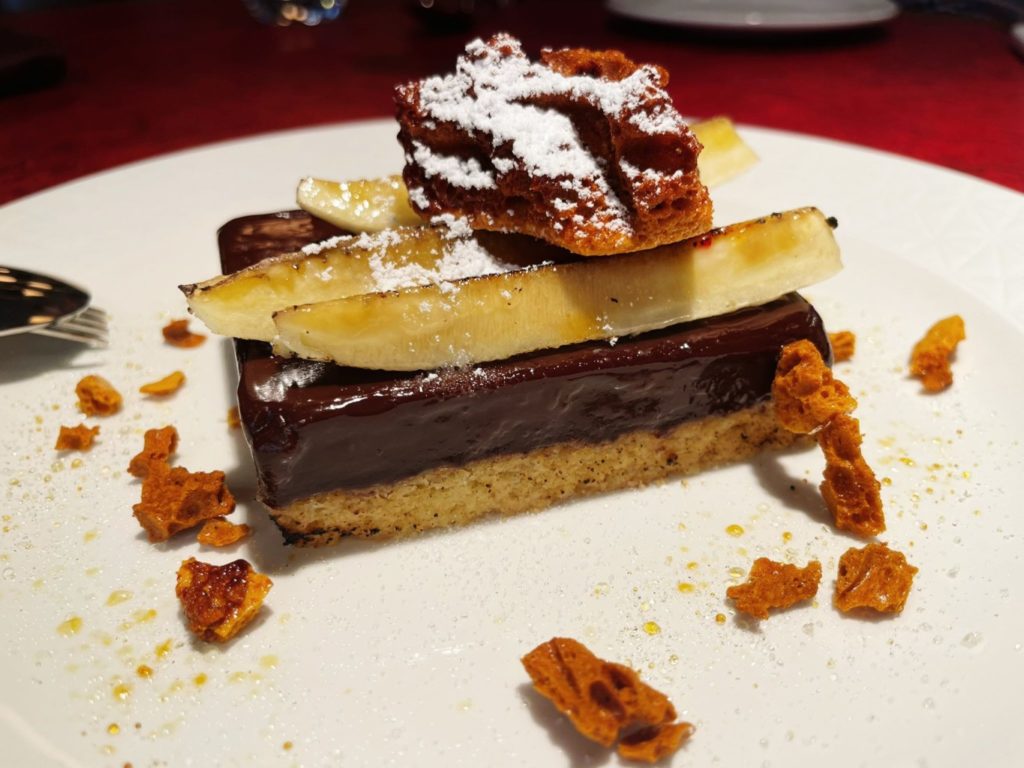 The only question left is what will you order?
Maddox Tavern is open daily from 8.30am-11.30am for breakfast; Noon—4pm for lunch; 5pm-Midnight for dinner (Sunday-Thursday; last orders 10.30pm, and until 12.30am on Friday/Saturday). The bar is open throughout the day from Noon.
Maddox Tavern
47 Maddox Street, Mayfair, London W1S 2PG
020 3376 9922
www.maddoxtavern.co.uk