With so many of us taking the sensible decision to stay in our own gardens and away from the parks this Easter Weekend what better time to try out my new Weber SmokeFire and share how I got on with this new piece of kit. Many of you know I love my food, I have reviewed enough restaurants to know what I like and what I don't but cooking is another matter. Inspired by the likes of any good domestic goddess I do love to dabble in the kitchen but I have often kept away from what I think of as tools reserved for Pitmasters and BBQ Kings and Queens.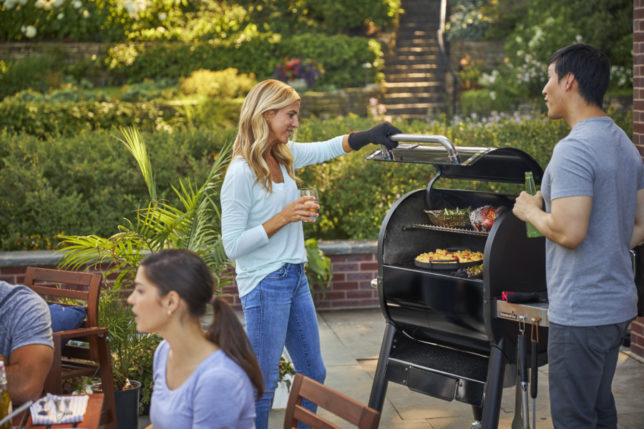 Weber's first pellet grill, SmokeFire, combines over 70 years' expertise and has been developed in collaboration with the iconic brand's army of Grill Masters to deliver superior cooking performance and ease of use. I often tell my clients if something seems like a challenge and you have the wish to explore your abilities then it's time to say challenge accepted. So Weber, challenge accepted. Can the SmokeFire turn me into a BBQ Expert over this long weekend?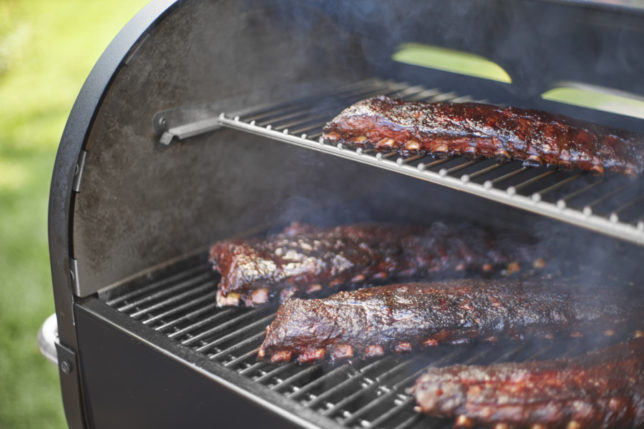 The delightful team at Weber delivered my SmokeFire already assembled – the beauty of a brand collaboration – it was very much appreciated but hasn't biased me one way or another about this product. For those of you assembling yourself, I would probably leave yourself a couple of hours. It seems very straightforward and YouTube has lots of good videos to help you along.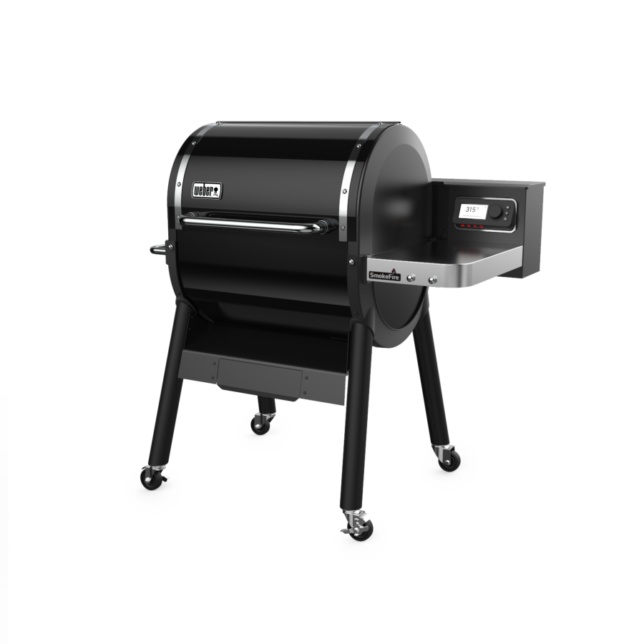 The first thing I did was download the Weber Connect App and power on my SmokeFire EX4. For those who can't find the app, there is a QR code on the Weber display that leads you straight to it. I went to connect via Bluetooth and I had a couple of issues with pairing but nothing a good old-fashioned turn the machine on and off and try again didn't fix. There was a software update which didn't take long and then it was time for the burn-in.
The Weber Connect App offers step-by-step guidance on everything from setup and meal-prep, to smart tips and custom food doneness alerts, even providing an "ETA" on when food will be done based on food temperature readings and integrated grill measurement systems, from your smartphone. I didn't use this as already had my recipe worked out, but this makes the whole cooking process even easier.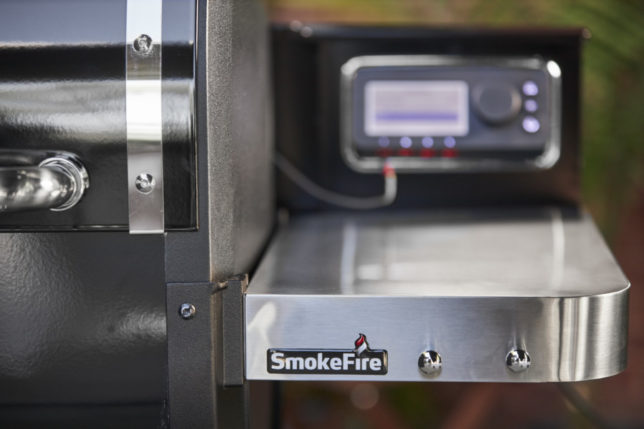 The recently launched SmokeFire grill was designed to let Weber fans discover what's possible with pellet grilling. The all-in-one grill is capable of reaching high-heat searing temperatures of 600℉ as well as the perfect 'Low n Slow' conditions and of course at high heats you can get that perfect reverse sear if you are looking to trap those flavours in for the juiciest of bites. The burn-in should be done at the highest setting so I was keen to see how quickly we could crank this baby up!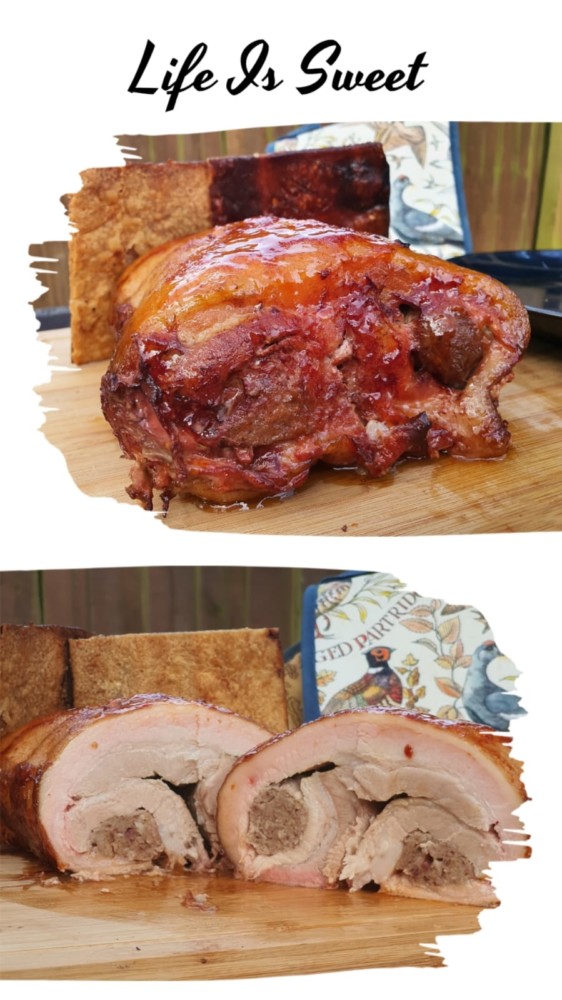 The weather was beautiful and it took just under 16 minutes to reach 600℉. There is something very satisfying about hearing the first few pellets drop into the burn pot and watching the smoke start to form. After the 16 minutes, I waited just over 35 minutes and then I started the shutdown sequence from the display panel. Some say you can start cooking straight away, but I found a little bit of ash (nothing out of the ordinary at all) and I wanted to get rid of it before starting my first cook. You can see this whole process right to the finished result on my Instagram stories here.
Whether you're looking to cook the perfect steak, delicious short ribs, or juicy and tender pulled pork, the SmokeFire gives you the ideal setting at your fingertips. My biggest dilemma had thus far been what to cook. Those who read my magazine cover to cover will know I love Donald Russell meat and as they are still delivering during these times, I was lucky enough to have a beautiful Free-range Pork Belly Roast with Fruity Stuffing in my fridge, which was calling out to be smoked.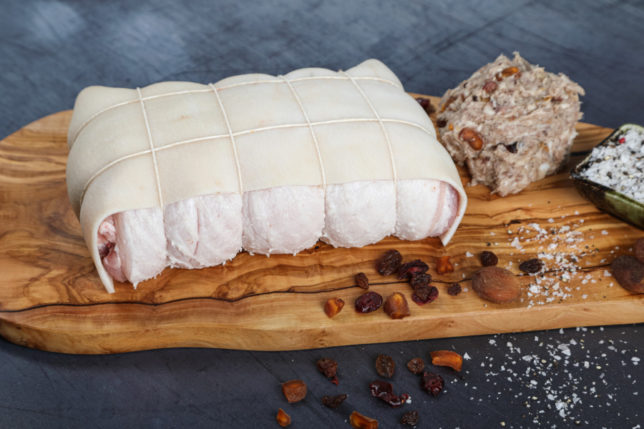 I kept it simple and decided to cook my pork low and slow at 225℉ until the temperature reached 165℉ on the probe when I then covered it and left it in to cook for a total of 10 hours from start to finish. My recipe was also quite simple. I applied my rub to the pork, created a wash which was a little improvised due to low stock in my store cupboard and consisted of an apple, rhubarb & cinnamon water which I had ready to spray on every hour or so.
Then I got on with enjoying my day until I got a brainwave that all the extra space on my EX4 was calling out for some chicken wings as well. And those cooked in just under 3 hours and made a perfect starter to whet my appetite for the main event. Have a look at what the Weber SmokeFire produced…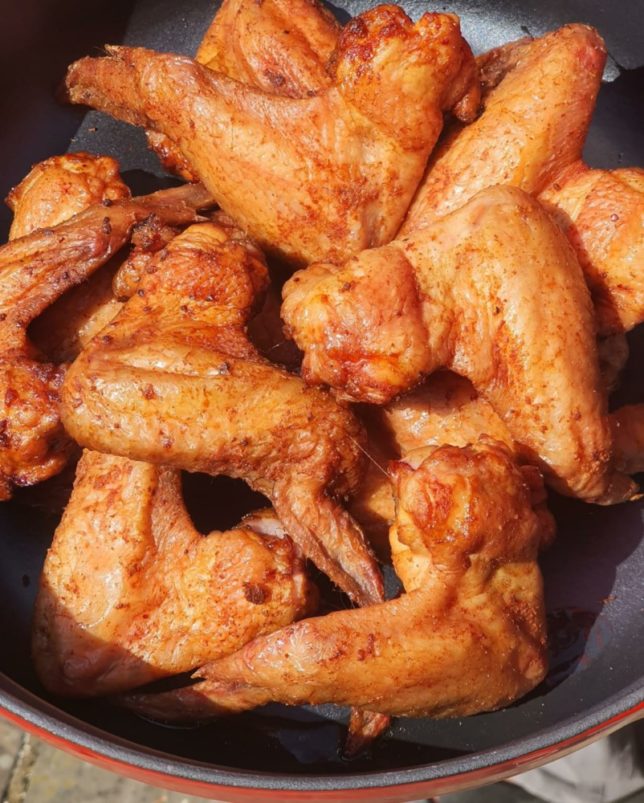 Add a little of my secret sauce and take it up a level…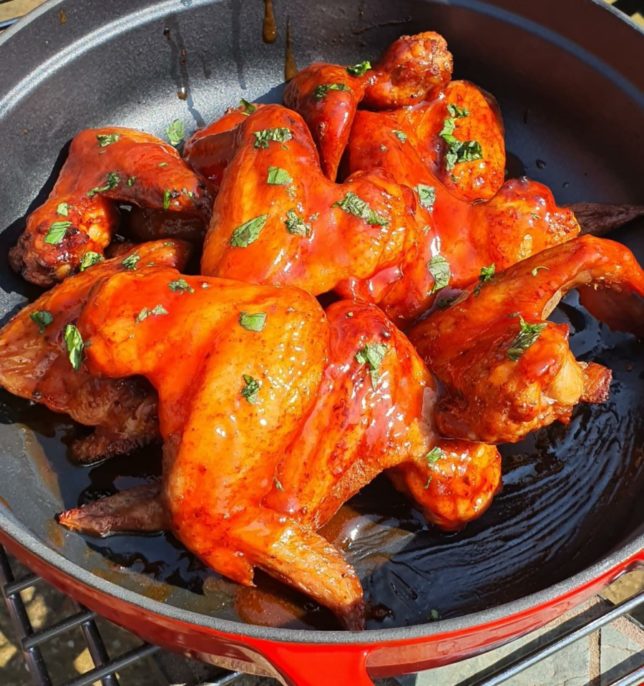 The SmokeFire boasts a range of innovative features that claim to revolutionise the pellet market. From a responsive-incline-drive-engine that heats up quickly and delivers precise temperatures of 95 to 315°C to Weber's iconic Flavorizer bars that ensure consistent heat distribution, the breakthrough SmokeFire is among the best for cooking performance. It's unique auger and hopper system features a short gravity-fed path to the heat source that speeds up pre-heat time and helps to reduce pellet jams. I had no issues with my pellets, indeed I love the fact that the auger holds 22lbs of pellets so you can put a whole 20lb (9kg) bag of pellets in to refill without having to worry about having any left as you have 2lb wiggle room. I know some have said that pellets can jam, I wouldn't know why this is but we stuck to Weber's own brand of pellets and have been pleasantly surprised at how hassle-free the pellet system is.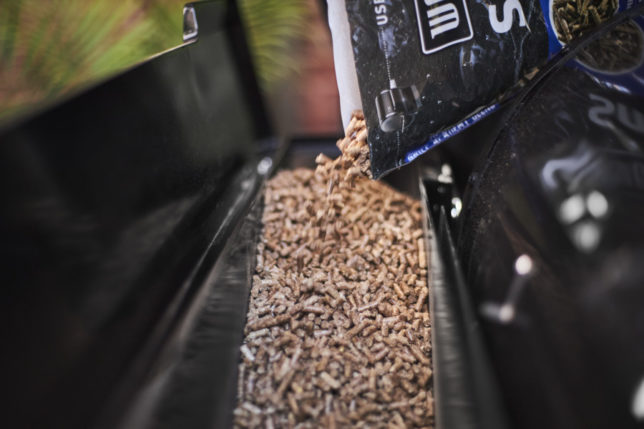 About an hour or so before the pork was ready I checked my pork. It was easy to tell where I was in the cooking process as I had the probe in and I could see the temperature from my app anywhere in the house. The crackling obviously wasn't going to be how I liked at a low heat so I cheated and put just the crackling in the oven, this is where user error came in as I forgot about it! Probably as there was no Weber Connect on my oven. It burned a little at the edges and didn't puff up quite how I like but I can't blame the SmokeFire for that. However, the pork belly came out amazing. Have a look for yourself…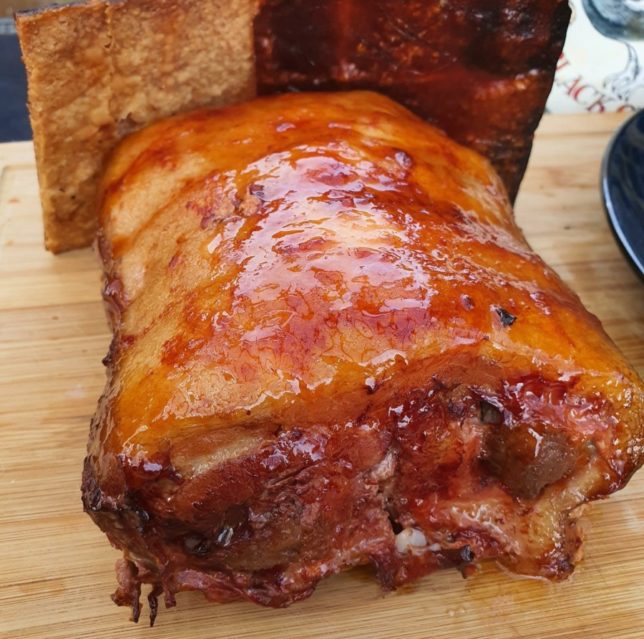 The SmokeFire also has an easy-clean ash system and grease drawer that eliminates the need for a messy grease bucket. I was cooking a particular fatty piece of meat so halfway through I covered my meat and also placed it in a dish which collected a lot of fat. I think the Weber SmokeFire would be able to cope with this grease, but quite frankly I prefer less clean up at the end of the day so foil works better for my style of cooking. I would say common sense dictates the fattier the meat, just make sure you clean up before your next cook.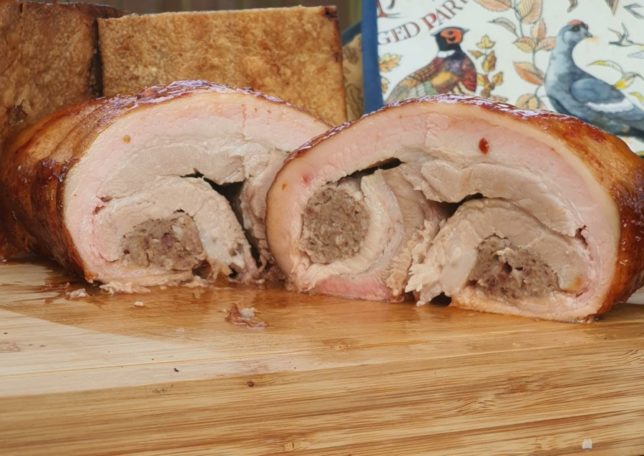 Weber Connect Smart Grilling Hub leverages some of the most advanced smart cooking technology on the market. All of which takes the guesswork out of barbecue cooking to offer precise cooking control wherever you are and enable grilling greatness every single time. As a new mum and very busy entrepreneur, this really took the effort out of the cook, meaning I could spend more time planning and prepping my meats and sauces.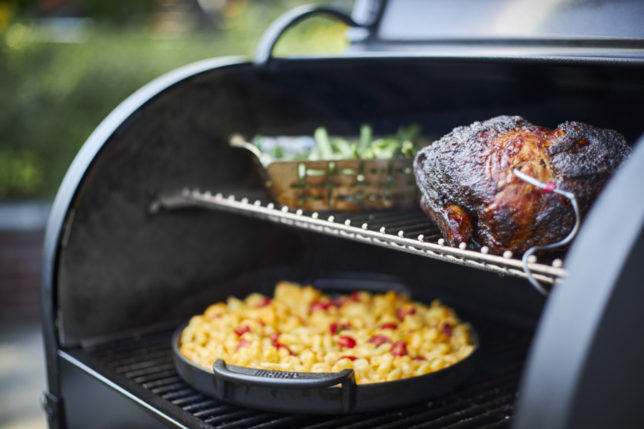 I think a lot of people will really value the step-by-step assistance. The Weber Connect app can send notifications on everything from barbecue setup, when it's time to flip food, what temperature changes are needed, and when it's the perfect doneness to serve thanks to the fabulous probe that keeps your food from burning every step of the way. The app will also prompt the barbecuer with tips and techniques to help achieve perfect doneness for those fussy guests that know just how they like their meat! It's like having your own personal grill master by your side every step of the way, giving you more time to put your feet up and relax with an ice-cold beverage or mingle with friends & family at your post-isolation BBQ.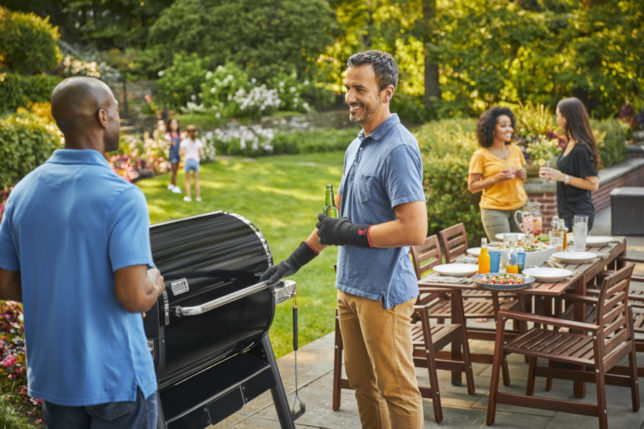 As a first time smoker, I was absolutely delighted with the results and went on to smoke a Moroccan-style leg of lamb only a few days later. It tasted divine!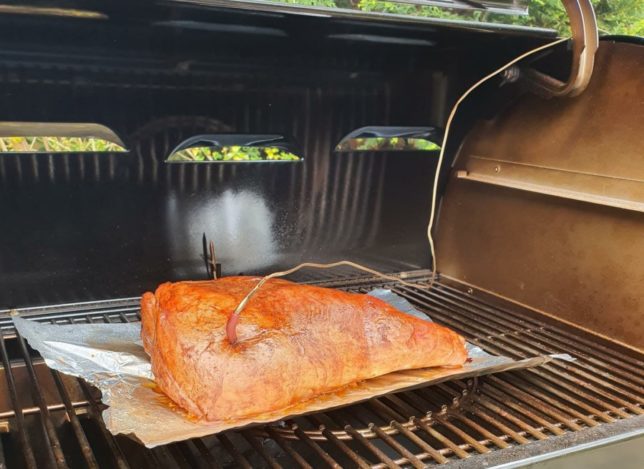 For those wanting to be inspired by Weber recipes, you can find their Instagram here.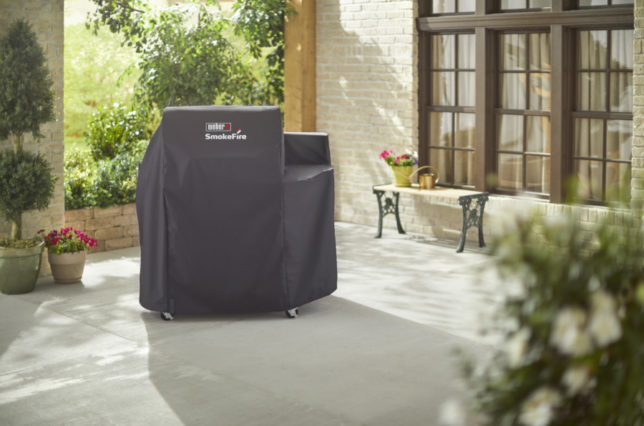 They also have recipes online and I highly recommend buying the Weber BBQ Bible but they do have a nice selection of books here.
For further information on the Weber SmokeFire, please visit www.weber.com