For exemplary and creative cooking in the heart of Marylebone, head to the recently opened Xier – one of London's most exciting dining destinations. Xier will change any jaded opinions of tasting menus – this is truly inventive cooking that uplifts and never overwhelms.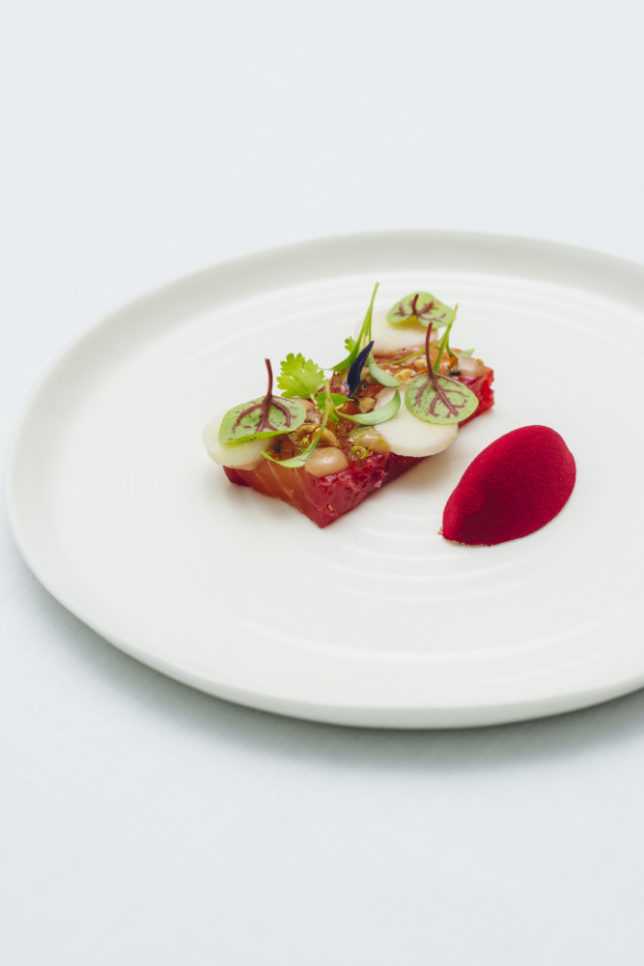 A spacious yet intimate room, Xier exudes chic style and simple elegance. Soft greys and fine cream tones are complemented by the dappled light flooding through large windows with sheer curtains, creating an intimate and romantic atmosphere. Modern artwork matches the suitably stylish space, whilst the well-stocked walk-in wine cellar adds warmth and charm.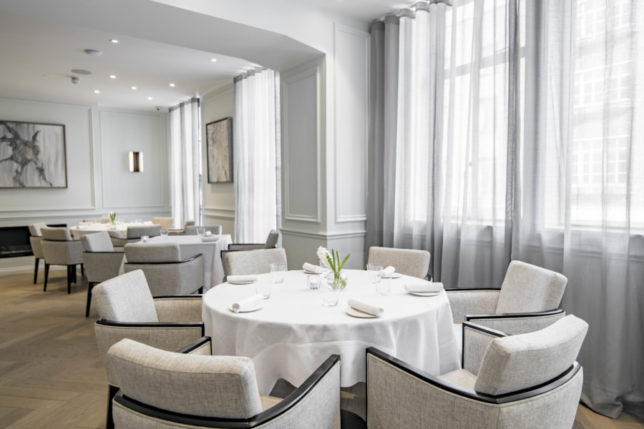 The first solo venture from chef Carlo Scotto, the cooking at Xier reflects his devotion to his craft, uncompromising standards and meticulous work ethic. Trained and mentored by Angela Hartnett, Carlo's innovative cooking is receiving widespread praise and critical acclaim, thanks to his creative flair, unusual flavour combinations and theatricality. Having chatted to Carlo during dinner we were inspired by the detail that goes into planning the experience which his diners enjoy. From weighing each plate to makes sure the perfect balance of ingredients is served to making the tasting menu change as often as every 3 weeks, Carlo puts the needs of his customers above any perceived limitations of time and effort from his team and himself. The other boundary Carlo breaks is that of what food pairings work. For example, do you think salmon and foie gras would go well together? Carlo says some people have even suggested that is so far from possible they would call a chef who suggested it "crazy". However, having tasted the interesting pairing I would say behind many "crazy" actions is the work of pure genius and that is what is present in Carlo.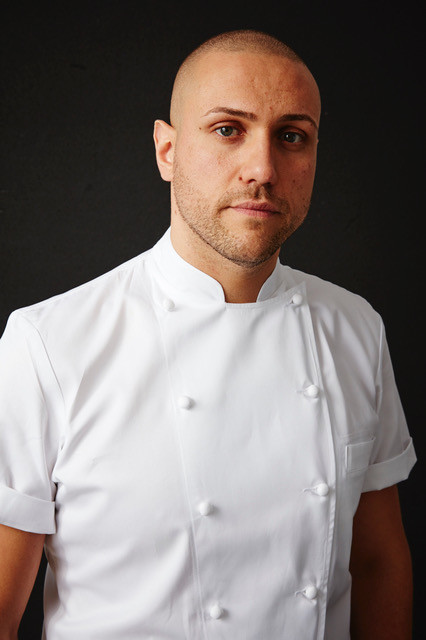 Open for dinner from Tuesday to Saturday, the intimate 36-cover restaurant offers a 10- course tasting menu of sublime plates peppered with innovative touches, such as tiny iced glasses of pine water to cleanse the palate and fresh, warm sourdough with coffee butter.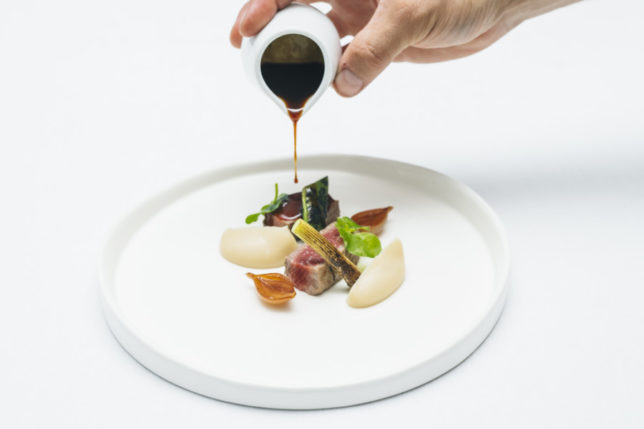 Often described as 'an alchemist of cooking', dishes are surprising and exciting, drawing inspiration from Chef Carlo's extensive travels through Europe and Asia, in particular Scandinavia and Japan. Imaginative and experimental, the menu provides a culinary narrative of Carlo's life. Expect beautiful looking plates, featuring unusual flavour combinations, prepared with the utmost care. Choices on the ever-evolving autumn menu include grilled beetroot with plums and goat's yoghurt; garden gyoza and warm hay tea; black cod in caramel miso with fig sorbet and burned fig leaf oil; and pigeon with yuka fondant, beetroot, girolles, and black garlic.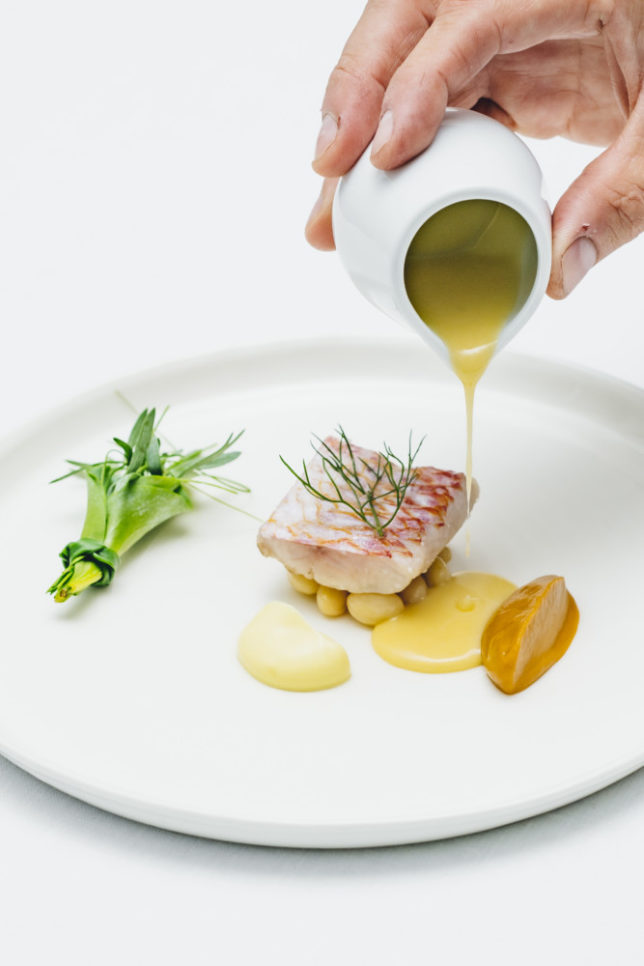 Finish off with Swedish cheese accompanied by Chef Carlo's 'fresh fizzy grapes' before a finale, simply entitled 'Sweet Tooth' – a surprising and delightful plate of not one, but five delicious and beautiful desserts – one being the peanuts biscuit, passion fruit jelly, banana jam, salted peanuts praline', itakuja chocolate mousse and banana & peanuts ice cream.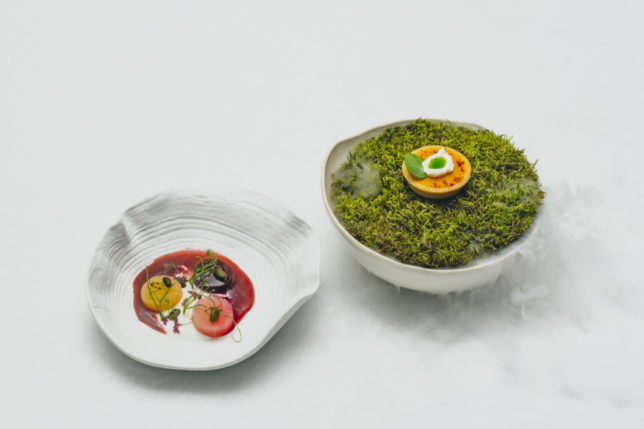 A 10-course vegetarian tasting menu features innovative plates such as arancino and elderflower miso dashi; yuka fondant with Coco de Paimpol beans, aubergine, fromage au pernod; and plankton risotto and sumac.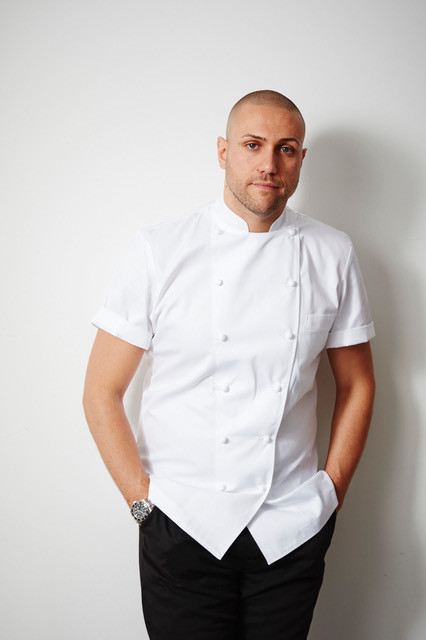 Xier's expert sommelier, Fillipo Carnevale, pairs premium wines and bespoke cocktails to perfectly complement each course. A large walk-in wine cellar offers something for all tastes, with an impeccably curated selection paired with each course. For those in search of alternative serves, the experienced bar team are on hand to mix up any number of contemporary concoctions. Signature cocktails include the Manzanita with Absolut Elyx vodka, absinth, apple liqueur and passion fruit; and Pink Cuban with Santa Teresa 1796 Rum mixed with mint leaves and topped up with Canard-Duchene Champagne Rose'.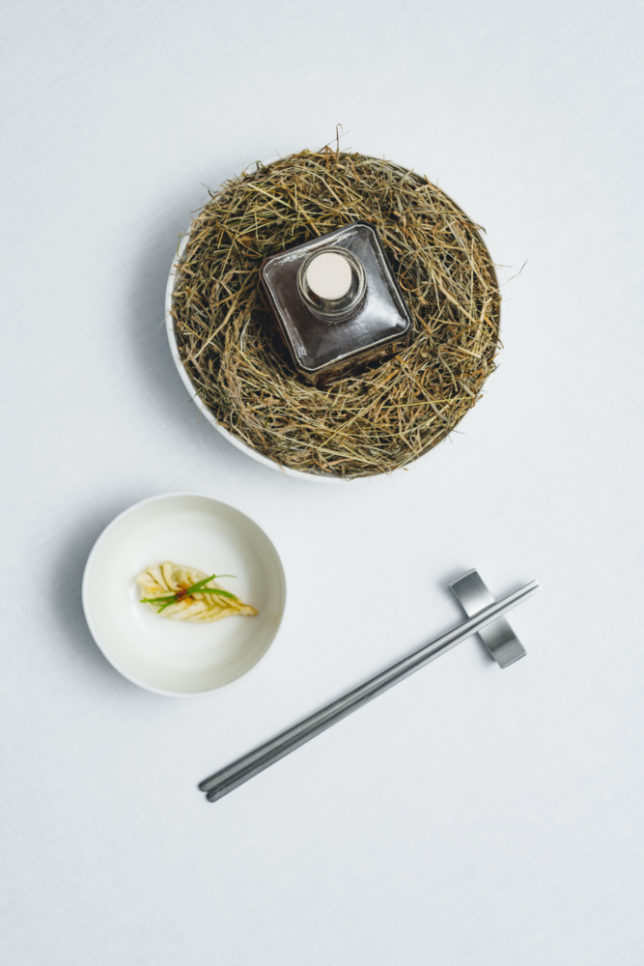 The team who works to produce the fabulous creative dishes we were about to consume is far more of a family than a group of people passionate about food. You can really tell the knowledge and expertise of the food is present from the newest staff member to the most seasoned. Our tasting experience went as follows:-
We were treated to a very seasonal pumpkin canape which was taken to the next level with burnt fig leaf oil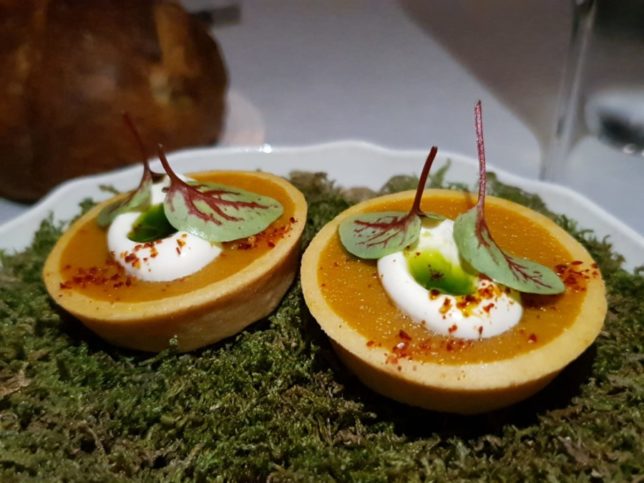 and of course some theatrical dry ice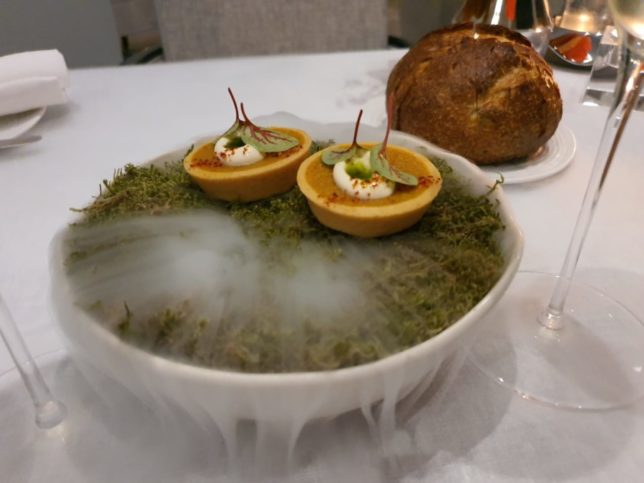 My dining companion started with the Grilled Beetroot, Plum and Goats Yoghurt, beautifully presented and a fresh but earthy way to start the meal.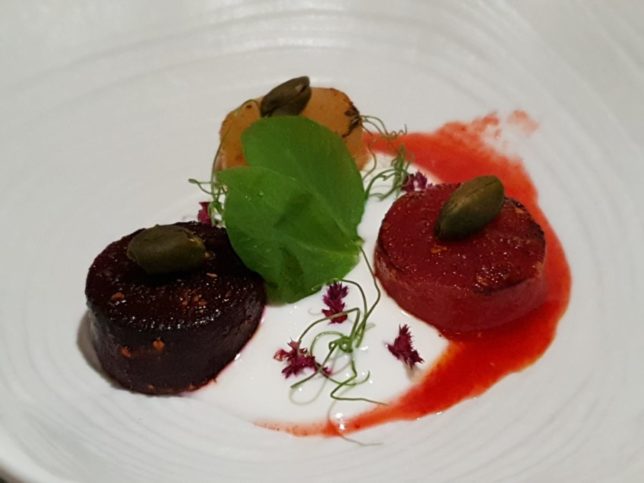 As I am not a beetroot fan I asked to deviate from the tasting menu slightly by hopping over to the vegetarian menu to try the Arancini and Elderflower Miso Dahsi. The truffle flavour was a pleasant surprise and the miso dashi was served warm which was a subtle floral accompaniment to a beautifully flavourful dish.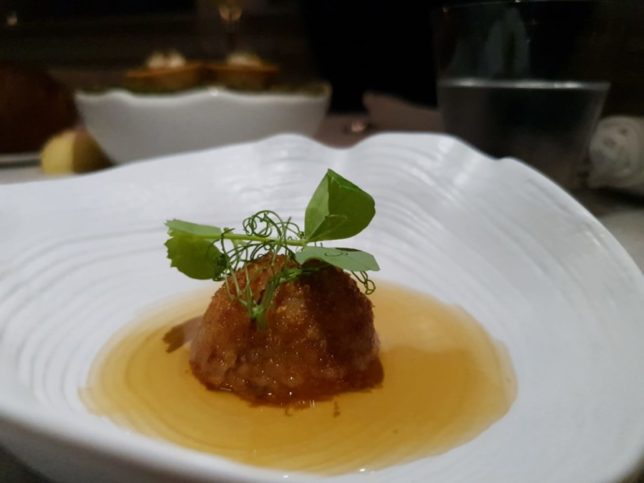 Next palate pleaser came in the form of an Orkney Scallop Crudo, Trout Roe, Elderflower Miso Dashi. This time the dashi was served cold which transformed the flavour. The puffed rice was a complete contrast to the succulent scallop and the trout roe again perfectly considered. Carlo explained salmon roe can be rather large and often too fishy and other caviar too small it gets lost. And Carlo has it spot on. Each portion was just right and made for the perfect mouthful with each and every bite.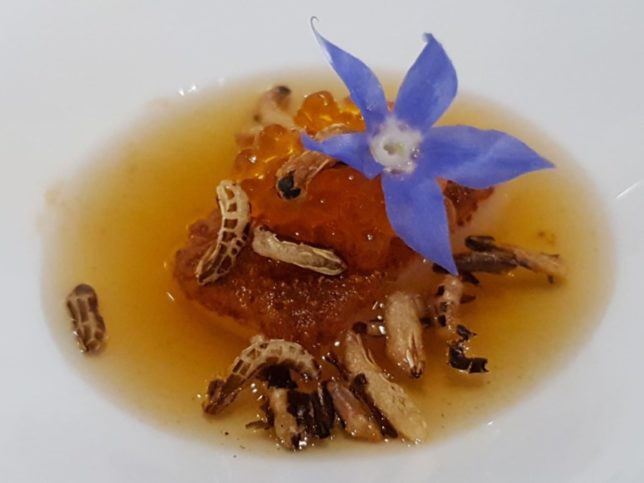 Perhaps the most controversial of all dishes was the Rose Cured Salmon, Foie Gras, Figs, Hazelnuts & Apple. This dish has to be tried to be understood. It takes your palate to another dimension. Experimenting with food is what dining at this level of restaurant is all about. If you just went out and had the same dishes every day perhaps you would love them and compare and contrast different restaurants producing similar dishes and feel as if you were a culinary expert. However, it's dishes like this I would encourage everyone to try and for more chefs to create. We need people to push boundaries or are palates will become culinary complacent. I absolutely adored this dish, not just for its uniqueness but because it actually works amazingly together.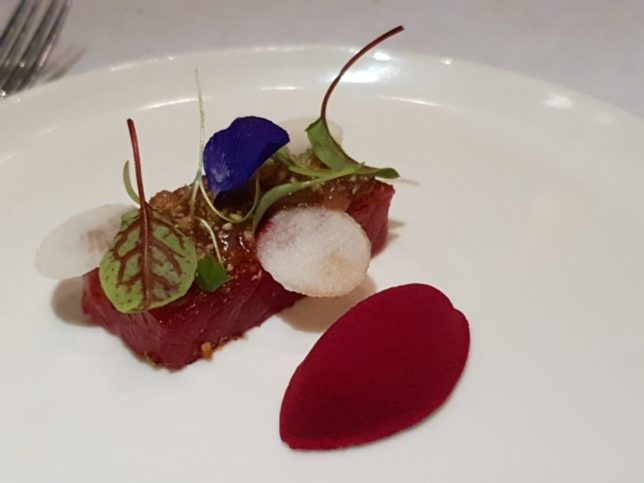 Garden Gyoza and Warm Hay Tea was a very different way to take the meal. The detail and method of making the hay tea was fun to find out about and I am still wondering how they manage to get 5kg of hay in their kitchen to make it! It's also fun to eat, served with solid silver chopsticks, first you delight in the gyoza then you are invited to pick the bowl up and sip the tea in a traditional style. Xier gets the balance just right, directing their customers on how best to enjoy the meal so no knowledge of food or traditions is required. A perfect way to impress a date and bluff your culinary expertise!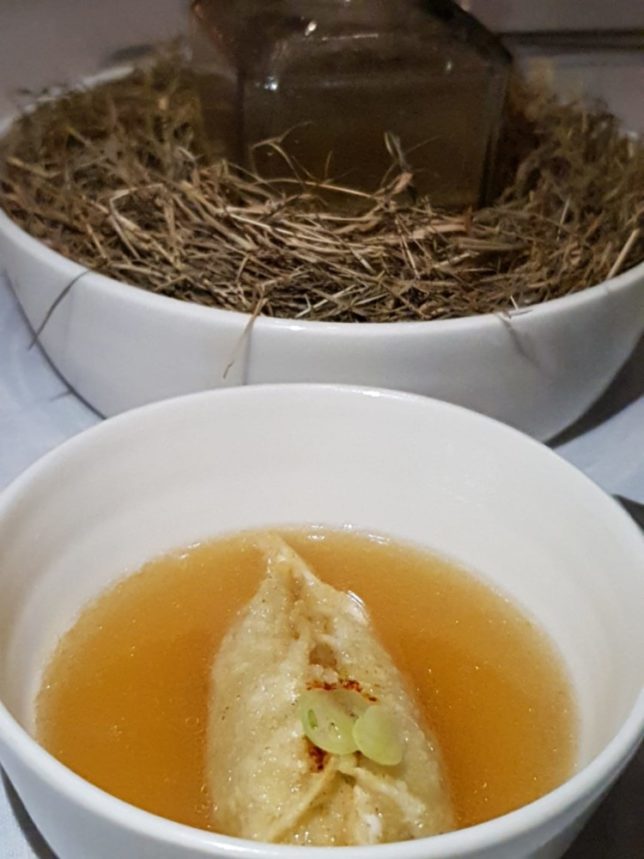 My dining companion choose the Black Cod in Caramel Miso, Fig Sorbet, Burned Fig Leaves Oil. The quality of the ingredients really stood out for this dish. The main menu has a balanced combination of land, sea and earth but the menu can also be accommodated for a purely pescatarian menu if you would so like. To do this for today's menu would be to swap one of the meat dishes below (Beef or Pigeon) for their Red Mullet, Coco De Paimpol Beans, Aubergine, Fromage Au Pernod and vegetarians can delight in the Taro Fondant, Coco De Paimpol Beans, Aubergine, Fromage Au Pernod.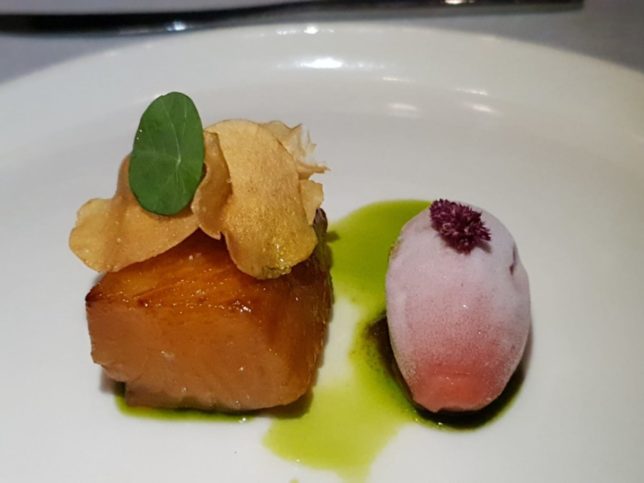 I had spied the Plankton Risotto And Sumac on the vegetarian menu and in all my years of reviewing restaurants and loving food I had never tried Plankton let alone in a risotto so I asked to yet again deviate from the menu. Not because the menu was lacking but because it all looked so good I wished I could have had an extra stomach to try everything! Again we had a beautiful surprise of truffle. What I love about Xier is it is like walking through a palace. I remember going through Hampton Court Palace with my mother and she explained how just one of the fabrics or colours from each room were subtly taken into the next to help with continuity and create a better flow. Xier is a palace in the palate. Each dish combines so well with the next. So far we have truffle, fig, elderflower, hazelnuts all popping up throughout the menu providing a wonderful forage into the familiarity on the senses but variety for the adventure.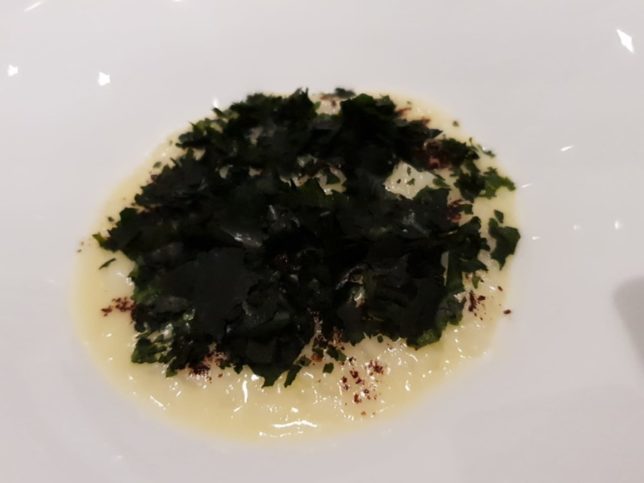 An interesting palate cleanser was presented to us in the form of a gin and tonic granita.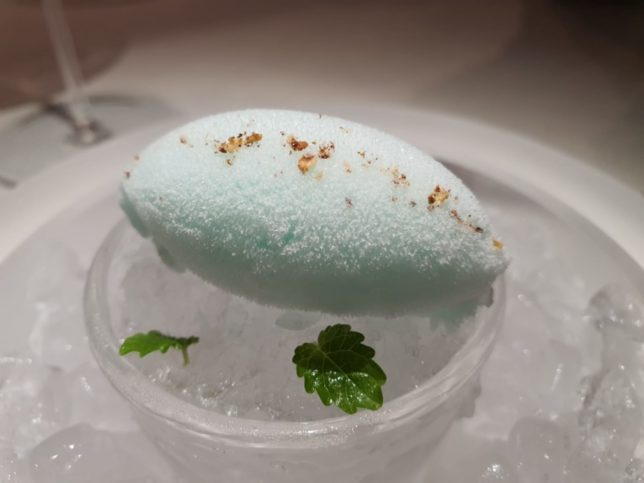 Organic Beef Fillet, Celeriac, Runner Beans, Scorched Onions & Leeks was my next choice. Great combinations and the sizing here was just right. So often on tasting menus overwhelm with quantity by the time you reach dessert. Careful planning here avoids that but you definitely have more than enough of each taste to enjoy each experience.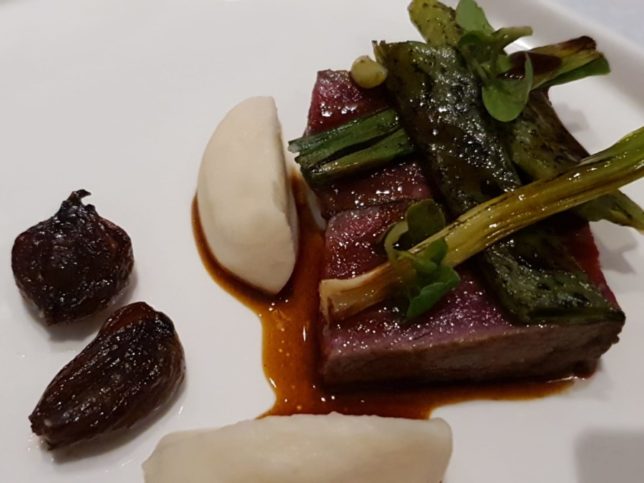 My dining companion opted for Pigeon, Taro Fondant, Beetroot, Girolles, Foie Gras & Black Garlic served medium-rare. The presentation of each dish has been faultless. The taste even better.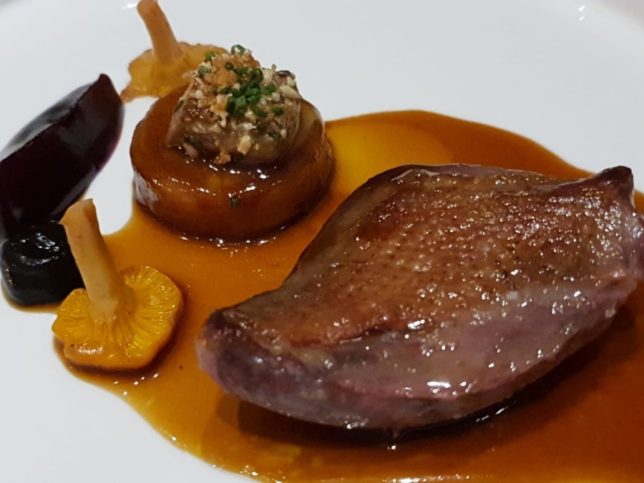 Not a fan of cheese, I opted for just the fizzy grapes but the actual dish is Swedish Cheese and Fresh Fizzy Grapes which my dining companion enjoyed.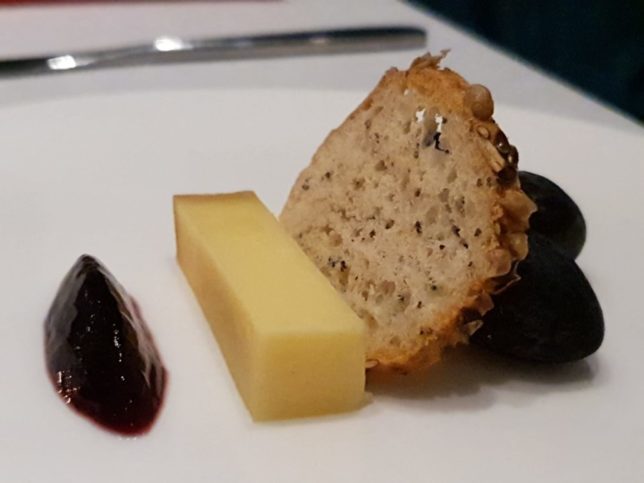 The fizzy grapes look innocently normal at first glance and their creation was purportedly an accident at first. The process is now a closely guarded secret so we were told but one we found out although I don't know if we should share as you would all be attempting to make them at home. We suggest you pay a visit to Xier and ask Carlo yourself.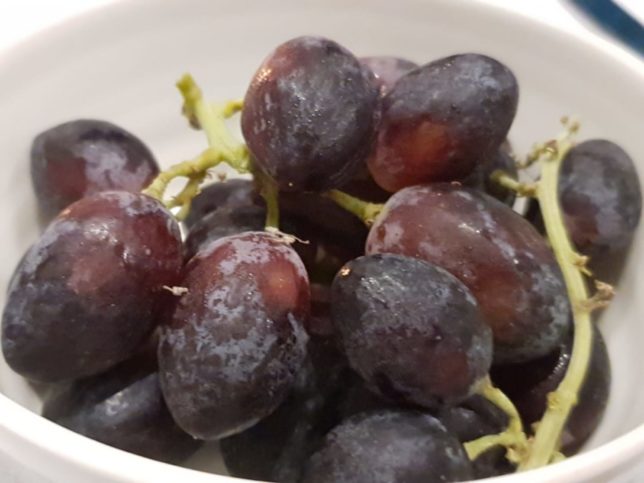 The dessert was presented in a trio of extremely generous portions of what is referred to as "Sweet Tooth". The figs made a reappearance with liquorice ice cream, a carrot dessert was definitely bordering on the unusual and definitely far more exciting than a carrot cake and finally a comforting banana, passion fruit and chocolate delight. Can you guess which is which?
No menu would be complete without the Petit Fours however, there is a truffle surprise in the truffle. We will let you find out what it is for yourselves!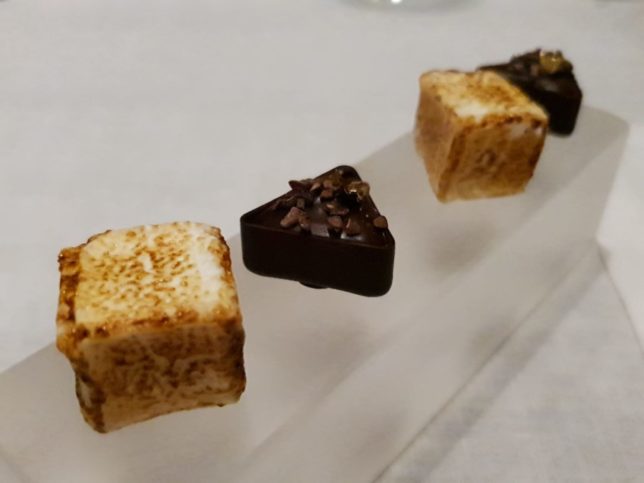 Whilst Xier is located on the first floor, this dual restaurant features a more casual affair downstairs. XR on the ground floor is open for lunch and dinner offering an elegant, modern European menu majoring in British produce. We look forward to returning to taste XR, which celebrates the sharing concept in an innovative way.
Xier | XR
13 – 14 Thayer St, Marylebone, London W1U 3JR
+44 (0)20 7486 3222
www.xierlondon.com
F: @xierlondon | I: @xier.london