In celebration of Chinese New Year, from 28th January to 24th February, both Yauatcha City and Yauatcha Soho will be paying homage to the year of the Earth pig by teaming up with celebrated design team, Isabel and Helen Studio to create a bespoke art installation within the restaurants inspired by the zodiac animal. An exclusive Chinese New Year menu will also be available featuring celebratory dishes.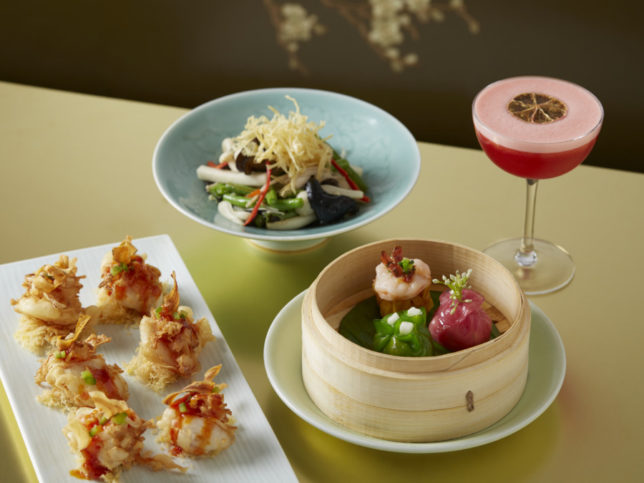 The pig occupies the final position in the Chinese zodiac and encapsulates a care free nature marking the end of the cycle. It signifies growth and contentment and encourages restoration and reflection. The Year of the Pig installation will consist of multiple 'bio-morphic' pigs suspended from the ceiling using wire and created from a series of abstract shapes made from red Perspex and gold brass. The shapes will balance and slowly rotate in the air and when viewed at the perfect angle will reveal a Chinese New Year inspired pig. Encasing the restaurant exteriors will be a vibrant red and gold vinyl wrap featuring an illustration of the Earth pig by Quentin Monge, in addition to small coloured pig figurines lining the shelves of the restaurant windows.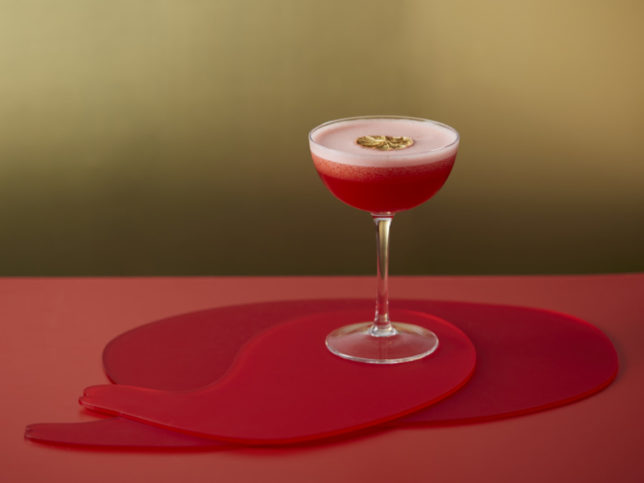 An exclusive Chinese New Year cocktail will be offered for the celebrations called Nagami Fortune featuring Beefeater 24 gin, Kumquat marmalade, Raspberry cordinal and lime juice. In addition, Yauatcha's pastry team have created a limited-edition macaron with a pig stencilled in gold and flavoured with Mandarin.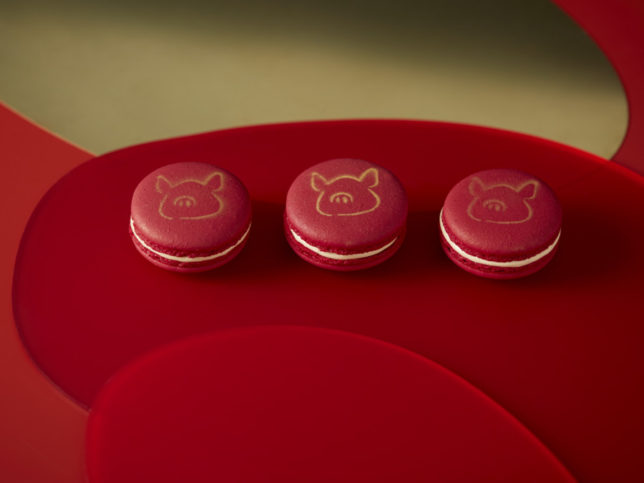 Yauatcha will also launch a limited-edition 8 course Chinese New Year menu for the festive season. The menu features a number of authentic Chinese celebratory dishes using auspicious ingredients, highlight dishes including Crispy monkfish cheek with enoki mushroom and salsify.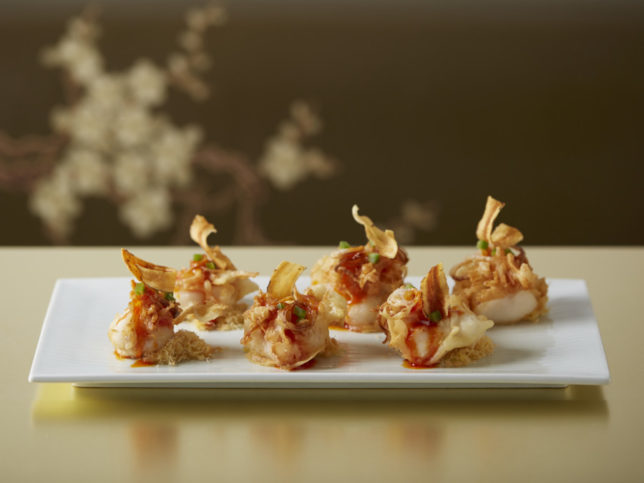 Also on the menu is Homemade prawn tofu with seaweed and water chestnut, Peking style pulled pork with golden mantou, and finishing off with a Mandarin matcha choux. The eight-course menu is £60 per person for a minimum of two people, and all dishes are available to order a la carte. See the full Chinese New Year menu listed below:
Spicy scallop dumpling
Wild mushroom dumpling
Prawn and chicken shui mai
Venison puff
Crispy monkfish cheek with enoki mushroom and salsify
Homemade prawn tofu with seaweed and water chestnut
Steamed freshwater prawn with chilli
Peking style pulled pork with golden mantou
Szechuan three style mushroom
Sticky rice with Chinese sausage
Mandarin matcha choux with sesame, mandarin compote and orange chantilly
Meanwhile at Hakkasan Hanway Place and Hakkasan Mayfair until 24th February, the restaurant will reinvent the classic fortune cookie, commissioning renowned author Will Self to pen the fortunes. The fortunes will be written on a ribbon and placed around the Hakkasan macarons, to create the fortune macaron. Instead of housing a traditional fortune, each macaron will feature one of Will Self's 88 witty, satirical and sometimes dark musings on the topics most relevant to modern day life in London. The fortune macarons will be available as part of the Chinese New Year set menu and also a la carte.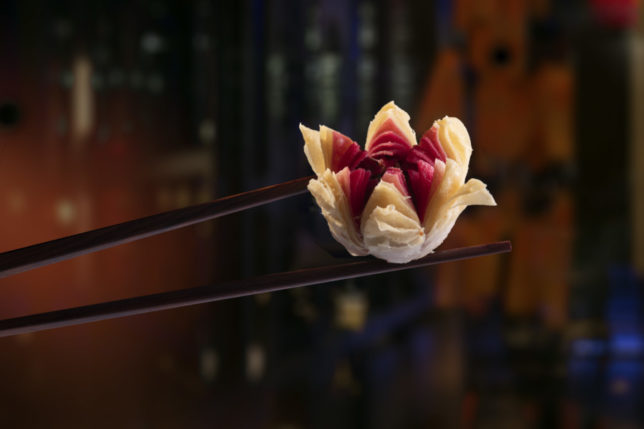 Will Self is an English novelist and journalist, was a food critic for The Observer, and has written for titles including The Guardian, Harper's and The London Review. Self writes to astonish people with his fantastical style, and wrote 'The Unbearable Lightness of Being a Prawn Cracker', a collection of non-traditional restaurant reviews for the New Statesmen. His 2002 novel 'Dorian, an Imitation' was longlisted for the Booker Prize and his novel 'Umbrella' shortlisted for the Man Booker Prize. He is known for his unique style and tone of voice, which will be a defining feature of the Hakkasan fortune macarons.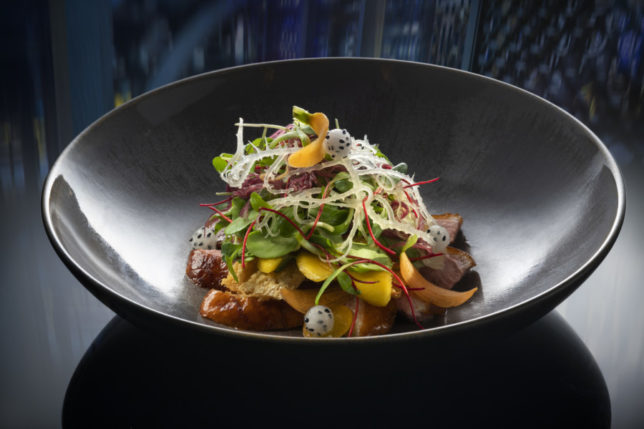 Speaking about the partnership, Will Self said:
"I've always regarded myself as a writer who can… well, write anything – and I cut my teeth (an appropriate pun, perhaps) composing jokes and one-liners, so this commission from Hakkasan was an absolute joy for me: I loved having the opportunity to create a subtle interplay between the different fortunes, hoping that at the end of the meal the diners would open one… then another, share the fortunes, laugh – perhaps grimace a little as well! – and that this would make the ever-memorable experience of dining at these superb restaurants, yet more noteworthy."
As the number 8 represents prosperity in Chinese tradition, a total of 88 different fortunes penned by Self will be featured in the fortune macaron conceived by Hakkasan Group's Global Executive Pastry Chef Dale DeSimone.  The gold fortune macaron will be wrapped with a delicate red paper ribbon featuring a golden Hakkasan logo, the interior of which will be typed the fortune in gold.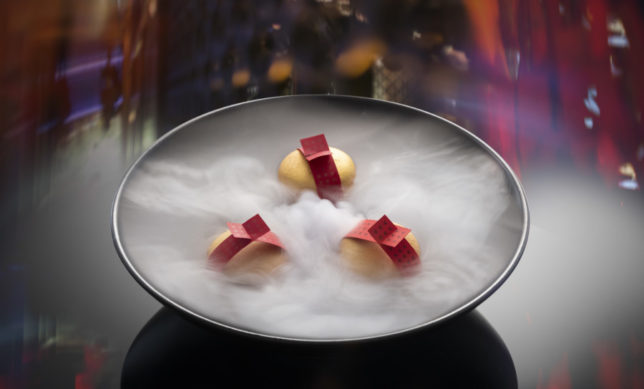 Both Hakkasan restaurants in London will be also celebrating the Year of the Pig with the wishing tree tradition inspired by the Lam Tseun trees in Hong Kong. Hakkasan will be inviting guests to write their wishes for the year ahead on specially designed ribbons which will then be hung on the wooden cages in the restaurant. There will be an 8 course Chinese New Year set menu available for £88 per person for a minimum of two people in which the fortune macarons will feature.
Yauatcha Soho
15-17 Broadwick St, Soho, London W1F 0DL
+44 (0) 20 7494 8888

Yauatcha City
Broadgate Circle, London, EC2M 2QS
+44 (0)20 3817 9888

Hakkasan, Hanway Place
8 Hanway Place, London W1T 1HD
+44 (0) 20 7927 7000

Hakkasan, Mayfair
17 Bruton Street, London W1J 6QB
+44 (0) 20 7907 1888