Pioneers of contemporary Indian cuisine, Copper Chimney, have made the brand's debut in the London dining scene with the launch of its first UK-based site in Westfield London this October. With 15 award-winning outlets across five cities in India, Copper Chimney showcases its signature contemporary Indian cuisine and flavours with a global audience. Exceptional hospitality, expertly sourced ingredients, secret spice recipes and the use of classic Indian culinary techniques are at the heart of Copper Chimney's ethos. The move comes as Westfield London continues to attract independent eateries to become a sought-after foodie destination.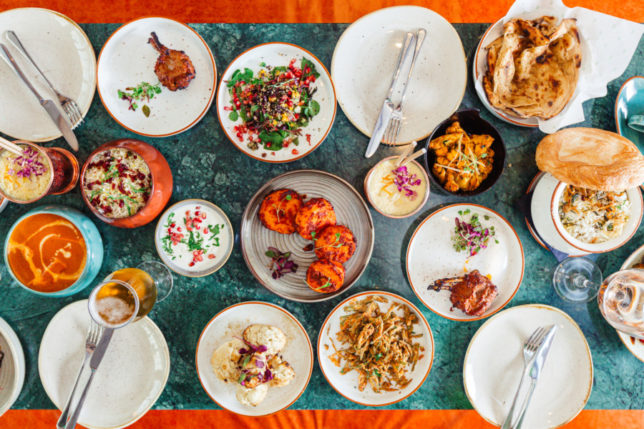 Since the opening of the first Copper Chimney site in 1972, the iconic Indian brand has aimed to showcase the culinary delights of undivided North India, exploring regions and showcasing cuisines from the food capital of India, Delhi to South Asia's oldest city, Peshawar. Mr J K Kapur, founder of Copper Chimney, opened the first site in the exhilarating heart of Mumbai with passion and promise of fresh Indian cooking. To this day, the expertly trained chefs at each restaurant use the same cooking methods that were used in the very first Copper Chimney restaurant.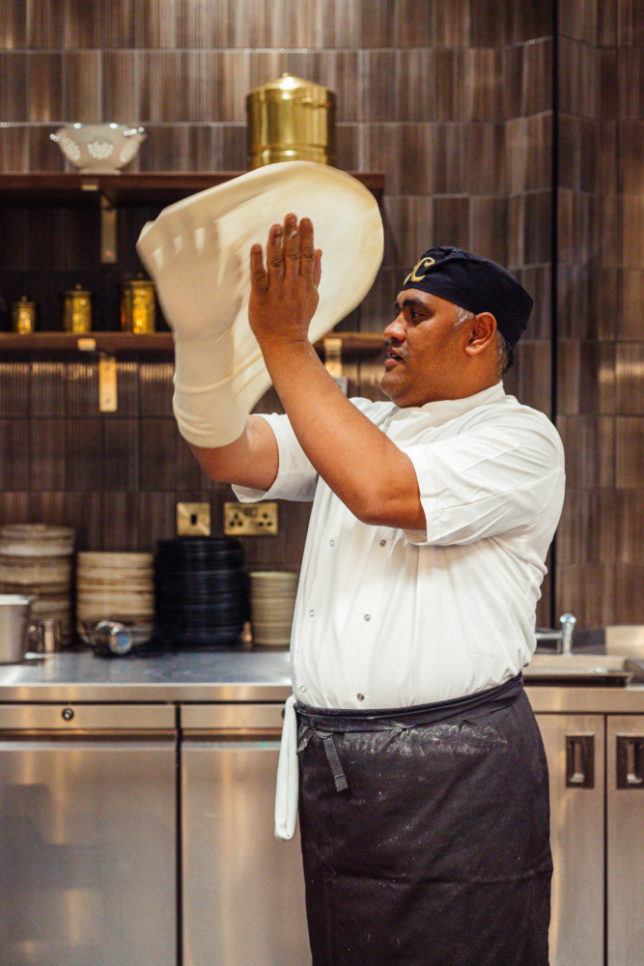 We started with one of Copper Chimney's handmade breads that are cooked in the restaurant's tandoor ovens in a show cooking style. Very mesmerising and relaxing to watch. The selection included the Roomali Roti, a soft, delicate, handkerchief-thin bread, tossed and cooked on an inverted tawa, this is Copper Chimney's signature artisanal bread best paired with one of many flavourful curries on offer, and Kabuli Naan, a Copper Chimney favourite, offered at the first Copper Chimney in India only; a leavened tandoor cooked bread stuffed with 'mawa' and topped with dates and apricot.  The size and shape of the Kadak Roomali is often compared to part poppadom and part pizza! It tastes far better than that description would make it seem. It's more accurately described as a handkerchief-thin bread roasted on an inverted 'Tawa' or local iron griddle which comes in three different varieties – Seasoned Lemon Chilli Butter, Spice Mix & Cheese and Ghee & Masala.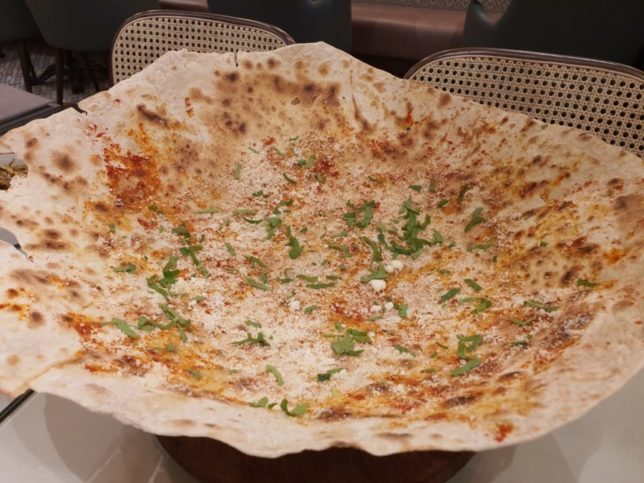 We had the Okra Kurkure suggested to us. Interested to try something new, we dived into the thinly sliced lady fingers, seasoned with a hot and tangy spice mix, served crisp. These are extremely moreish. Make sure not to fill up on them as there is a pleasant surprise awaiting you further down the menu.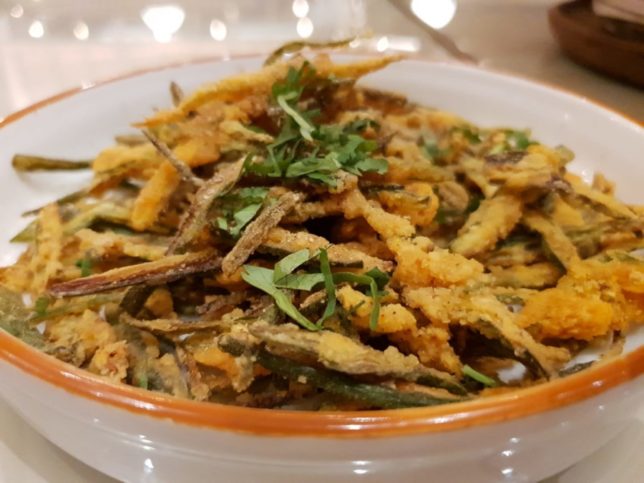 Using an array of handpicked spices sourced from select farms across India, Copper Chimney's secret spice recipes, that have been passed down three generations, infuse the brand's signature flavours into their dishes. Each dish on the menu states exactly which region of North India it is inspired by. Signature appetisers will include the likes of Amritsari Shrimp, from the popular alleys of Amritsar,  Punjab, comes this carom-flavoured, batter-fried shrimp which we had the pleasure of tasting early on into our meal. These succulent seafood creations were an absolute taste explosion on the palate and set a high standard for the rest of the meal to live up to.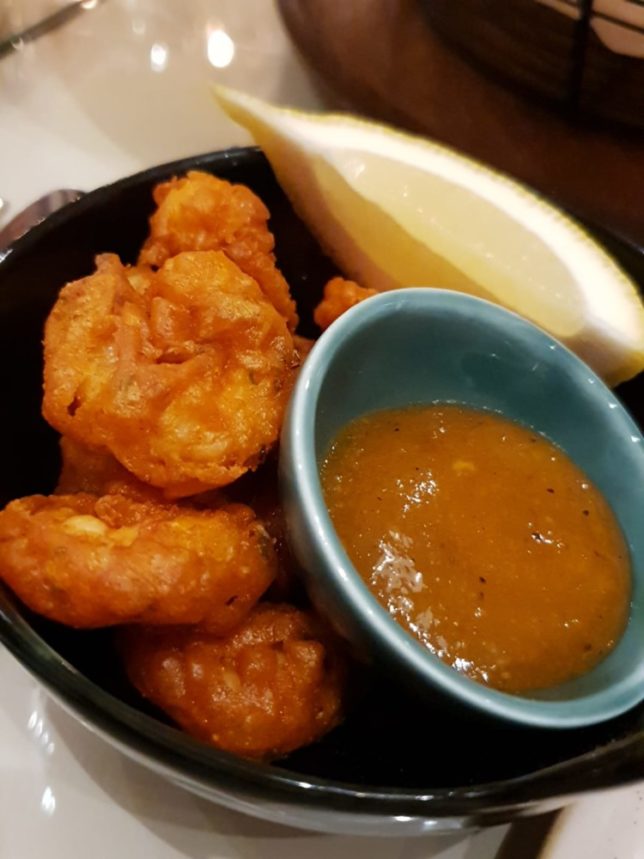 The Delhi-Style Fried Chicken, flavoured with hand-pounded garam masala, cayenne pepper and a complex array of spices is also highly recommended. The colours pop on the plate, in the same way that the spices delight on the palate.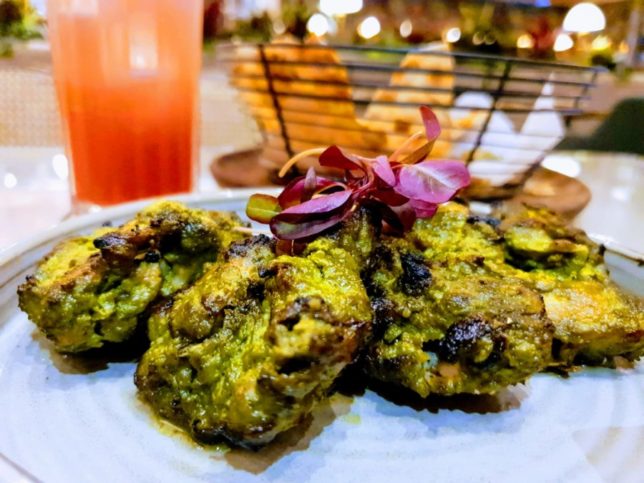 Copper Chimney chefs have been renowned as masters in the art of the tandoor and they are not wrong. All Tandoor Grills are marinated for over eight hours to ensure the perfect succulent texture and a maximum hit of flavour. Tandoor Grills include, a Copper Chimney original Reshmi Malai Chicken, lightly marinated in hung yogurt and cream, delicately flavoured with white pepper and cardamom, as well as Tandoor Roasted Sweet Potato sprinkled with an in-house tangy and hot seasoning. Not normally a fan of sweet potato I was pleasantly surprised with the heat to the spiced coating and softness of the centre.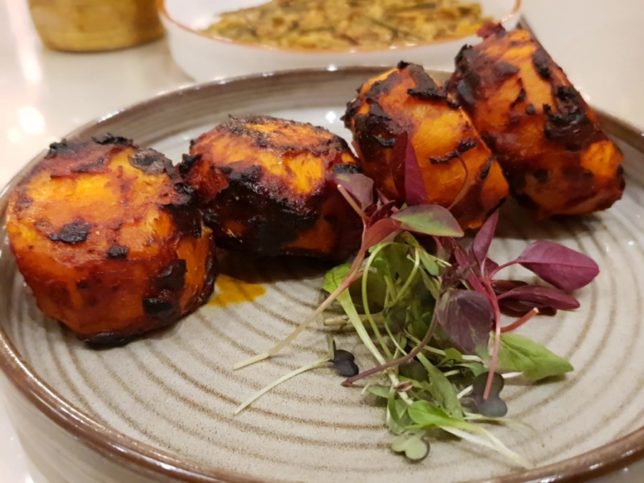 Mains feature an abundant selection of dishes from specials such as Grilled Burrah Chop, cinnamon scented, tender lamb chops marinated for over eight hours, seared and chargrilled. If you do not try these you are sorely missing out. Not everyone is a fan of lamb, but the flavours in this dish bring out the best tastes of lamb without overpowering the flavour of lamb that so many Brits react to like marmite. Even if lamb is not your go-to dish to order, encourage your dining companion to order this dish and have a taste – you will not be disappointed.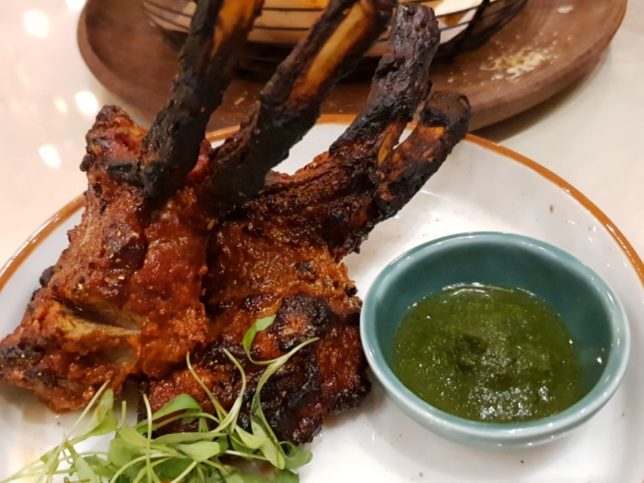 As a rice lover I was torn between the Chelo kebab and rice which is an Iranian staple but Copper Chimney add their own twist on it by cooking the rice in buttermilk and the comforting bowls of Biriyani cooked using the traditional Dum method. The Biryani won the day – what would you have chosen?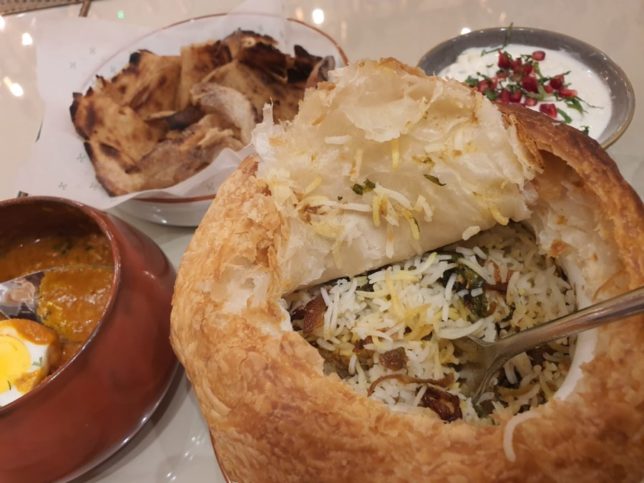 Expertly spiced, slow cooked curries are a speciality at Copper Chimney. Dishes include an original recipe of Butter Chicken, boneless tandoor chicken simmered in a tomato, butter-infused gravy, accentuated with dry fenugreek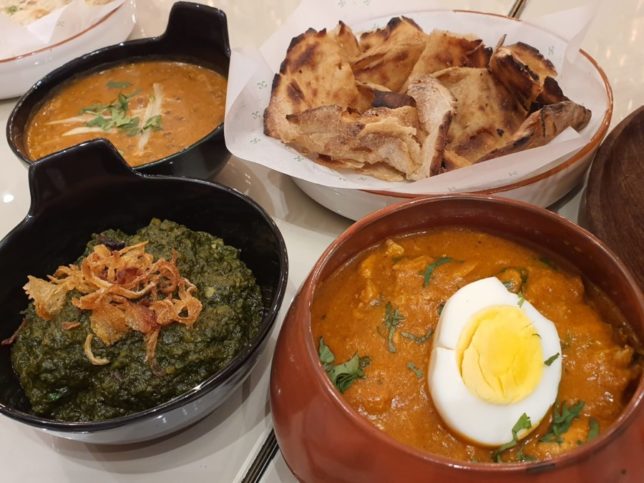 and Bazaar ke Chole, chickpeas soaked in an infusion of tea leaves and a homemade spice blend, flavoured with dried pomegranate, best paired with a potato and onion kulcha bread. The breads are definitely some of the best around. These are comforting, provide variety and step away from your usual Peshwari, keema and garlic suggestions but also have your favourites to hand.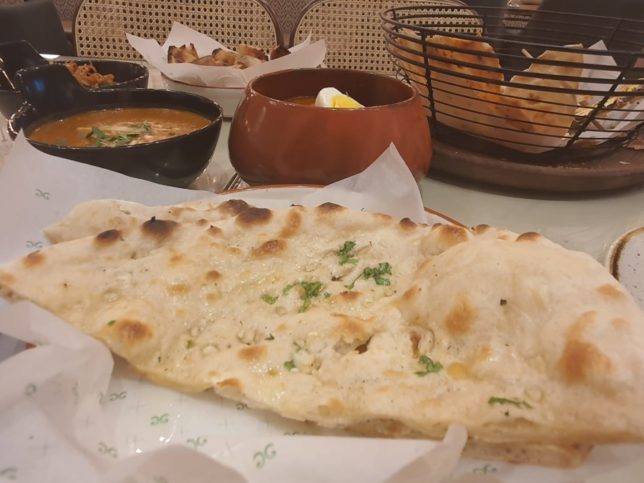 My favourite was the deconstructed naan.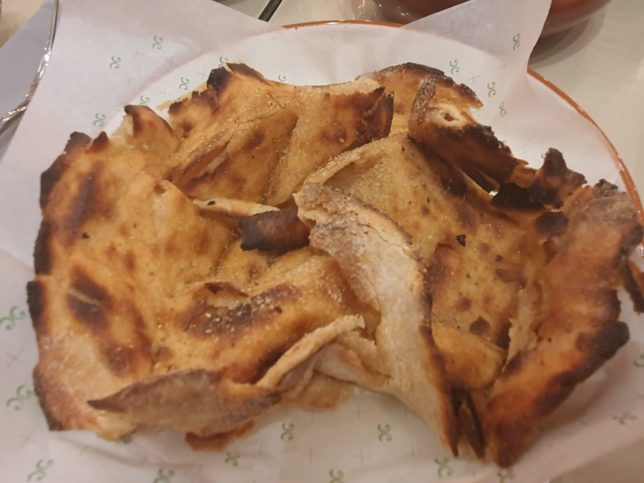 Side dishes also educate your palate to enjoy authentic dishes from India. Our favourites include Dal Maharaja which is a combination of whole black lentils, tomatoes and spices slow-cooked for hours, finished with a dollop of Organic 'Ghee'. Perfect to warm you up on a wintery afternoon.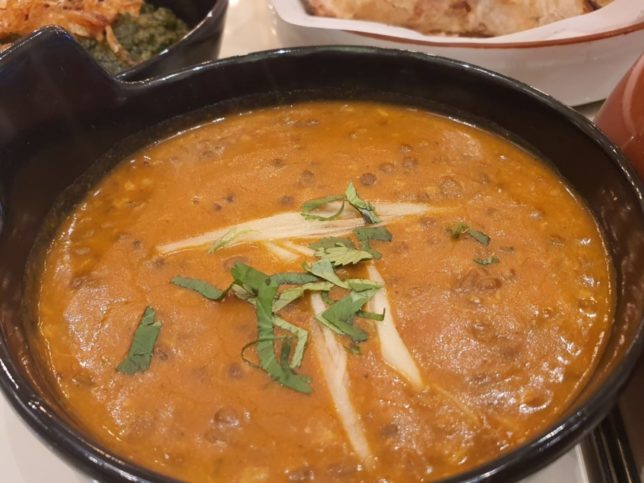 I also highly suggest for any budding Popeyes out there to try the Lasooni Spinach which is a simple yet inviting dish. Fresh spinach with a hint of roasted garlic is a perfect accompaniment to any of the curries.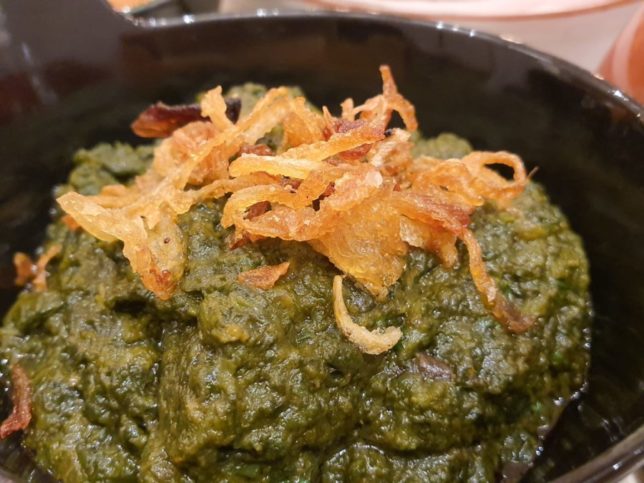 To finish, desserts continue to showcase exceptional Indian flavours with the likes of a Garjar Pistachio Crumble, slow-cooked carrot pudding with cardamom and sweetened milk layered with chopped pistachio and praline crumble.
Not to be overlooked, drinks are a key element to Copper Chimney's offering, with expert mixologists from India creating standout concoctions inspired by Mumbai. Signature cocktails include the likes of Mumbai Mule, whisky, spiced liqueur, saffron-cardamom bitters, lemon juice and ginger, and the aromatically infused Matunga Kaapi, Scotch whisky with a splash of single malt, cinnamon banana gomme, filter kaapi, burnt cinnamon and coffee dust. During the afternoon, a range of signature Chais and coffee are served. You can spy the lovely way in which the drinks are presented below. Detail has gone into not only the drink itself but the vessel in which it is served. It's these excellent touches that make Copper Chimney a firm favourite making its list of regulars not only long but full of well-known names. If that wasn't enough, they are true supporters of culinary empowerment and give back too.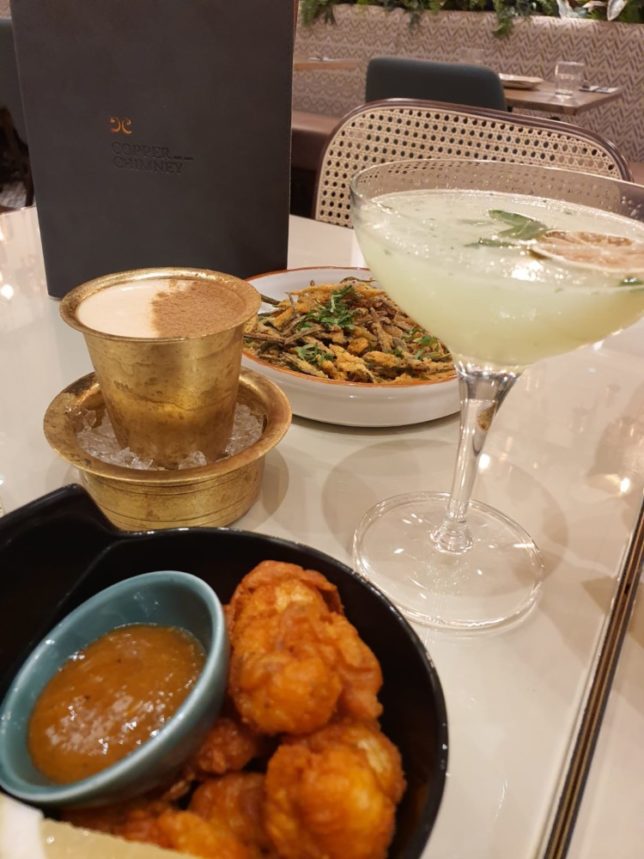 Outside the restaurants, Copper Chimney, as a brand and company, works closely on a goal of "Food and Nutrition for All", and has been working closely with Action Against Hunger to find ways to fight hunger and malnutrition. Copper Chimney parent company's foundation has sponsored numerous villages in India to support 1000 day interventions for children suffering from malnutrition, and proudly worked with NGOs such as the Robin Hood Army to serve over 6 million meals across 800 villages this August 2019. Copper Chimney is continuing its work with Action Against Hunger at its Westfield location, by helping raise funds for the fight against hunger and malnutrition.
Copper Chimney
Southern Terrace, Westfield London, Ariel Way, White City, London W12 7GA
020 8059 4439
www.copperchimney.uk
@copperchimneyuk