Swingers – the high-end crazy golf experience founded in London in 2014 by entrepreneurs Jeremy Simmonds and Matt Grech-Smith – is thrilled to announce that it officially opened its 2,500 square foot terrace, an additional bar and a new crazy golf course at its West End venue on 20th May, following an exciting £2.5m development.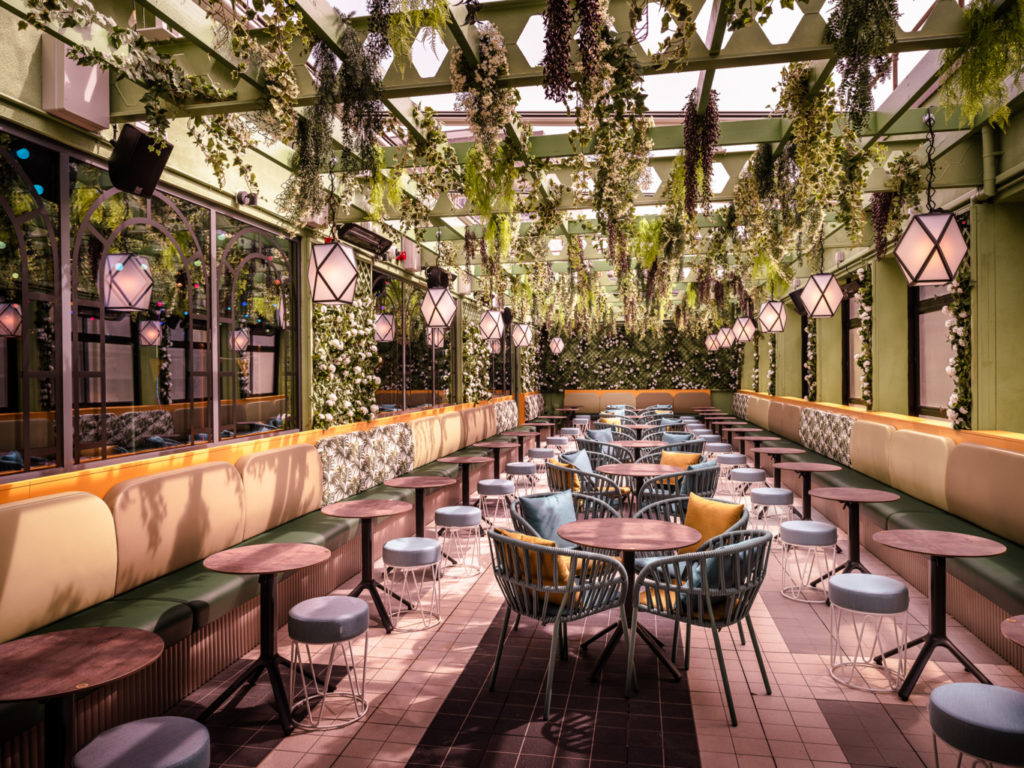 In the wake of its enormous success as one of London's best-loved entertainment destinations, and hot on the heels of the highly successful expansion in the US, Swingers West End has undergone a 9,000 square foot extension. Featuring an ultra-stylish cocktail bar and gilded touches, the extension is a little sky-high luxury just off Oxford Street. The terrace, the new Fairground Bar and crazy golf course offer an additional capacity for 270 people. The new course is called The Meteorite Course, where the ninth hole features a replica of the eponymous, spinning, illuminated fairground ride.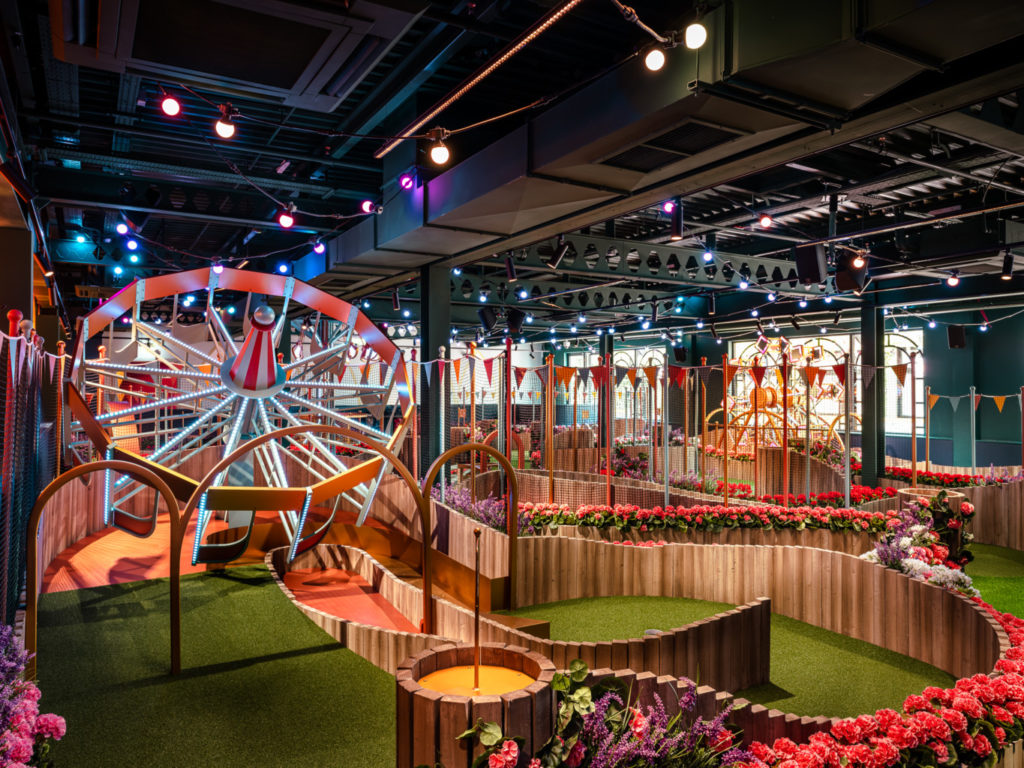 Guests can tuck into delicious, high-quality street food, including cult favourite and Swingers mainstay Patty&Bun, and their new chicken concept Jefferies, exclusively located at Swingers West End. Patty&Bun dishes include signatures from the current West End menu, including the Ari Gold (aged beef patty, cheese, lettuce, tomato, pickled onions, ketchup, smoky P&B mayo, brioche) and the Dig It Mushroom Burger (braised field mushroom fritter, garlic parsley butter, cheese sauce, coleslaw, lettuce, tarragon mayo, brioche).
Jefferies is serving a choice of fried or grilled chicken sandwiches including the Bear Grillz (grilled confit chicken thigh, Caesar mayo, pickled onion, lettuce) and the Hot Chic Sandwich (marinated buttermilk fried chicken, coleslaw, pickled cucumbers, lettuce, smoked garlic aioli, bun) with a vegan Hot Chic available. Delicious wings are also on offer, including the JFC (Jefferies Fried Chicken with chilli butter sauce) as well as salads and sides.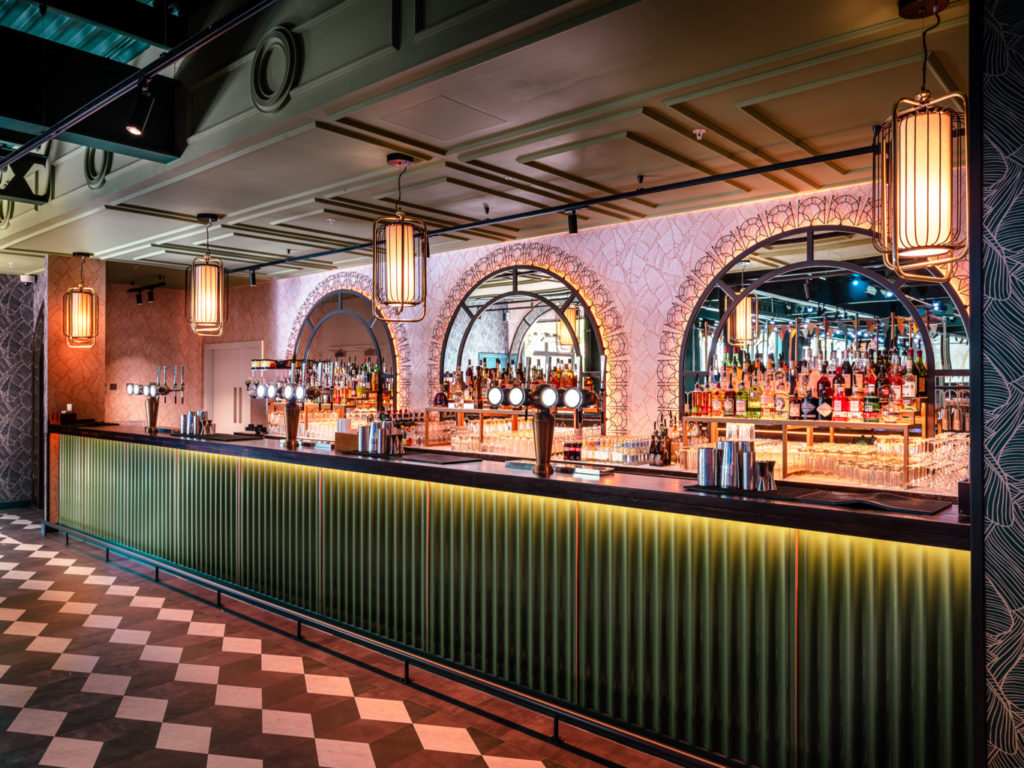 Guests soaking up the sun on the terrace can sip on world class cocktails from the new Fairground Bar, which features a menu of signature Swingers cocktails including the Clover Club (Tanqueray No.TEN, Belsazar Dry vermouth, fresh raspberries, lemon) and Fairway to Heaven (Chase Pink Grapefruit Gin, apricot brandy, Earl Grey syrup, lemon juice, mint). Non-alcoholic cocktails are also served from the Clean Co menu following Swingers' recent partnership with the alcohol-free spirit's brand.
"Guests are back in their droves and they are looking for fun social activities and experiences like never before. The level of demand for Swingers has been incredible – more than we have been able to accommodate – so we're excited to open up another 8000 sq ft of stunning indoor and outdoor space in our West End venue, to help address that need" said co-CEO and co-founder Matt Grech-Smith.
We chose to compete on The Meteorite Course where the ninth hole features a replica of the eponymous, spinning, illuminated fairground ride. Caddies are on hand at each hole to offer you words of advice (and more drinks) if required! Each crazy golf course will offer a different test of skill (or patience!).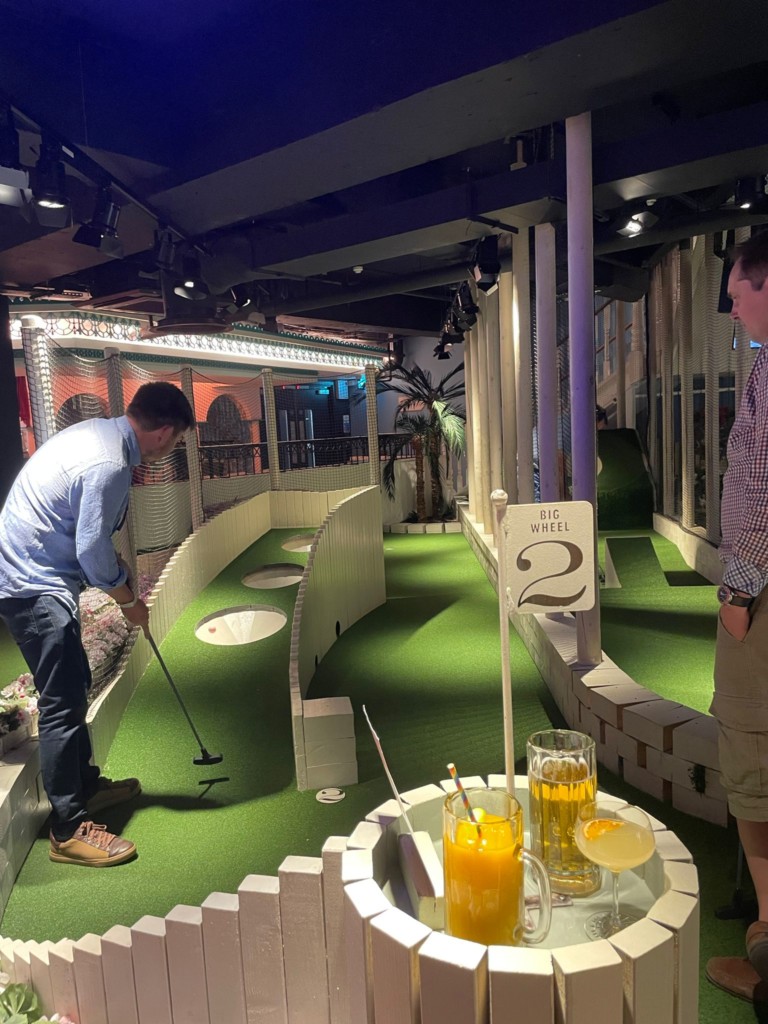 Each hole is clearly marked as your group makes their way around. The course has been clearly designed with challenges on the course and an area to leave drinks off the course to keep you going on your way around.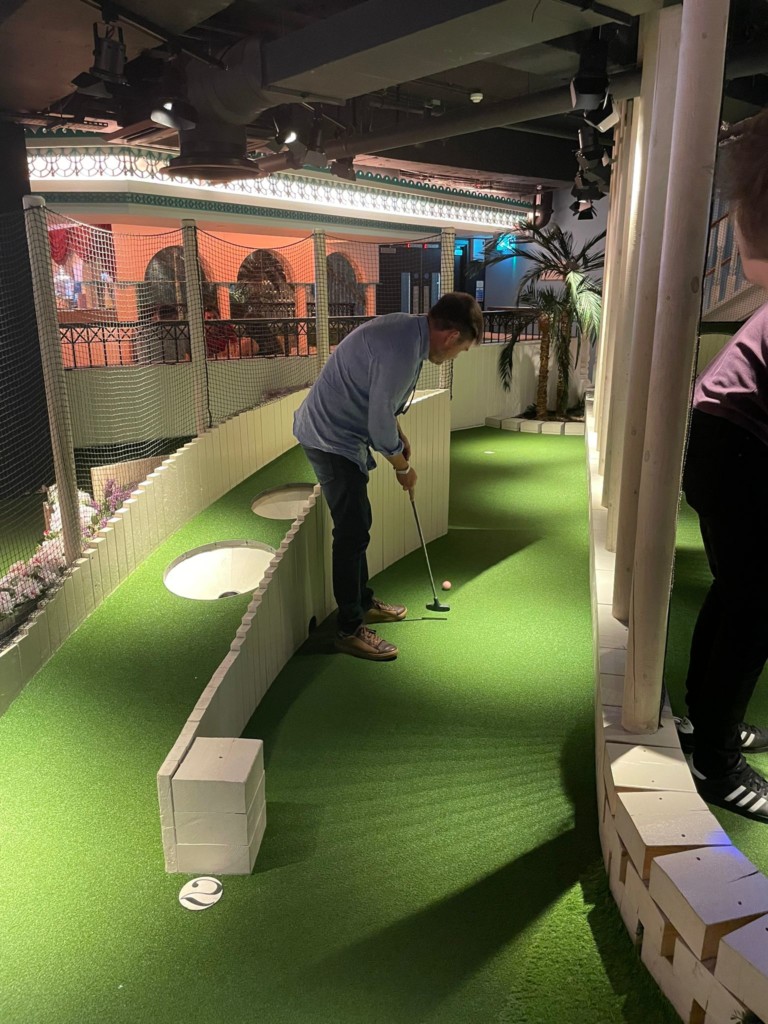 Can you make it through the revolving doors? Timing is key.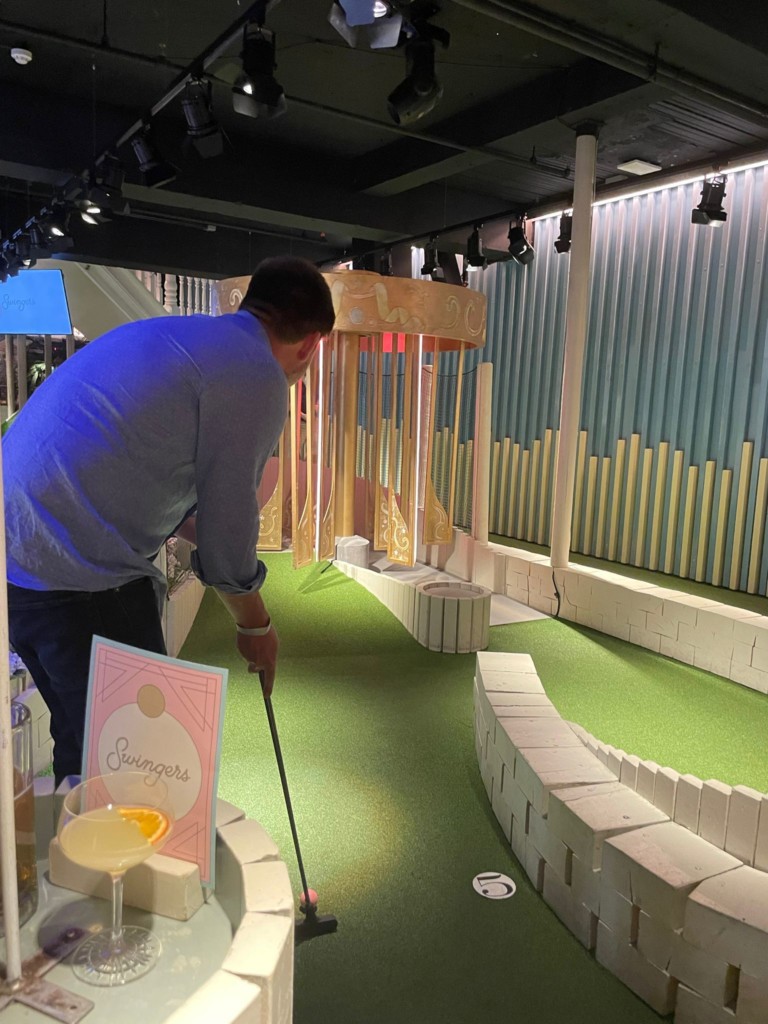 The trick is to take your time and have fun. Trust your instincts. You never know you might get a whole in one. As the excitement builds you take in the ambience of Swingers and a great buzz around the bar areas with those venturing out onto one of two courses or those coming back recounting their greatest moment. The bar has a great selection of drinks from beer to cocktails.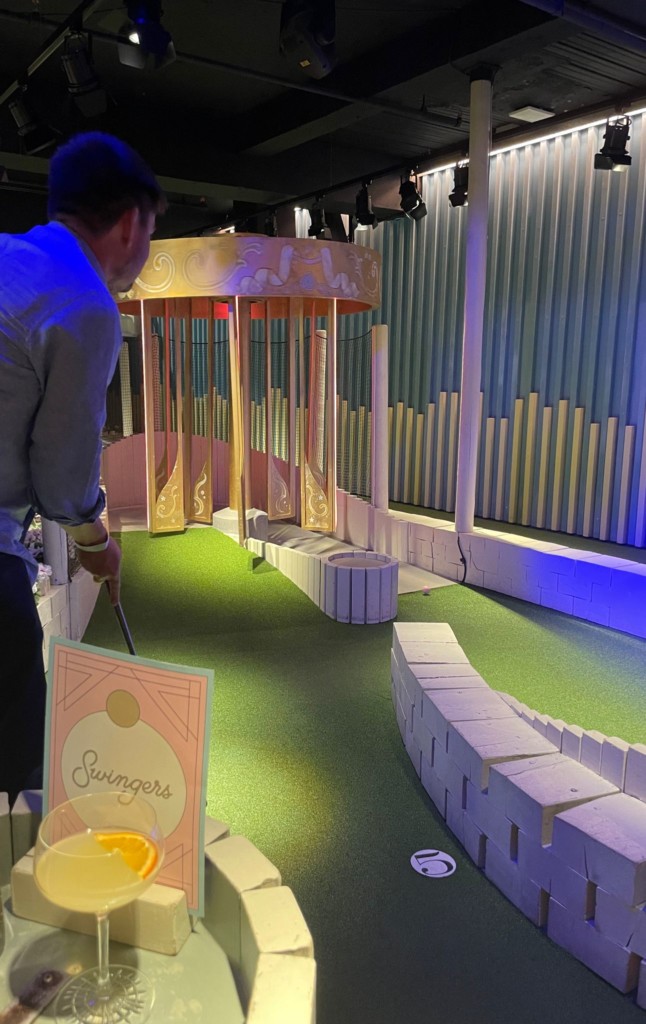 Street Food comes courtesy of burgers from Patty & Bun, tacos & burritos from Breddos, sandwiches from Jefferies, pizza from Slice by Pizza Pilgrims and doughnuts from Crosstown. Pizza Pilgrims never fail to impress with their menu offering something for everyone including vegans. If you want a pizza fit for a king then why not finish your round of golf and celebrate with a metre long showstopper.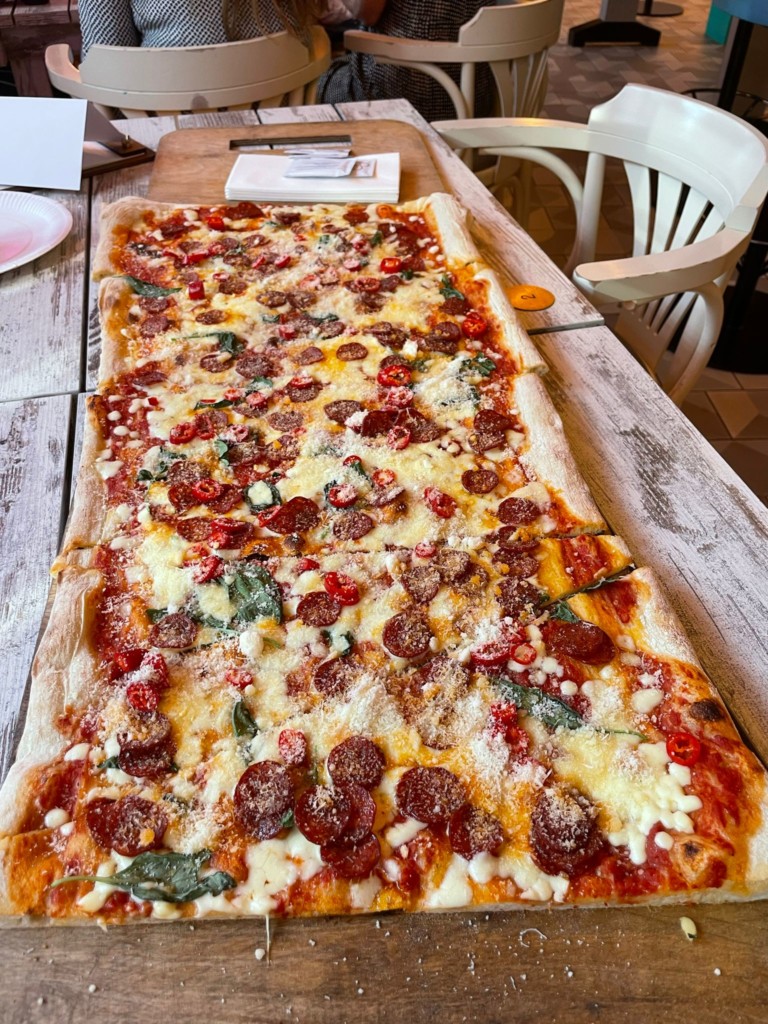 Great to share whilst connecting with friends as you all recount your putting glory moments with friends. Our favourite slice was the Pepperoni & Chilli Honey – Pepperoni, tomato, fior di latte, parmesan, basil, olive oil, topped with spicy honey.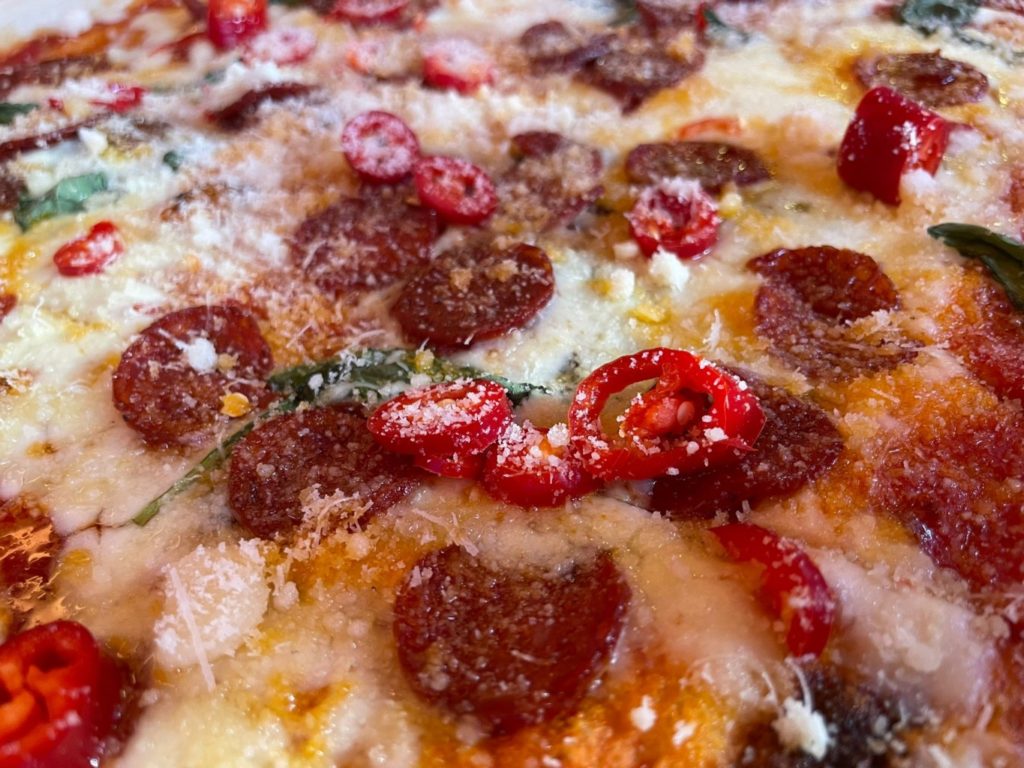 Crosstown Doughnuts – If you love doughnuts swingers has a great selection fresh from Crosstown doughnuts. What are your favourites? Cinnamon, chocolate, peanut and jam or tonka bean there really is something for everyone.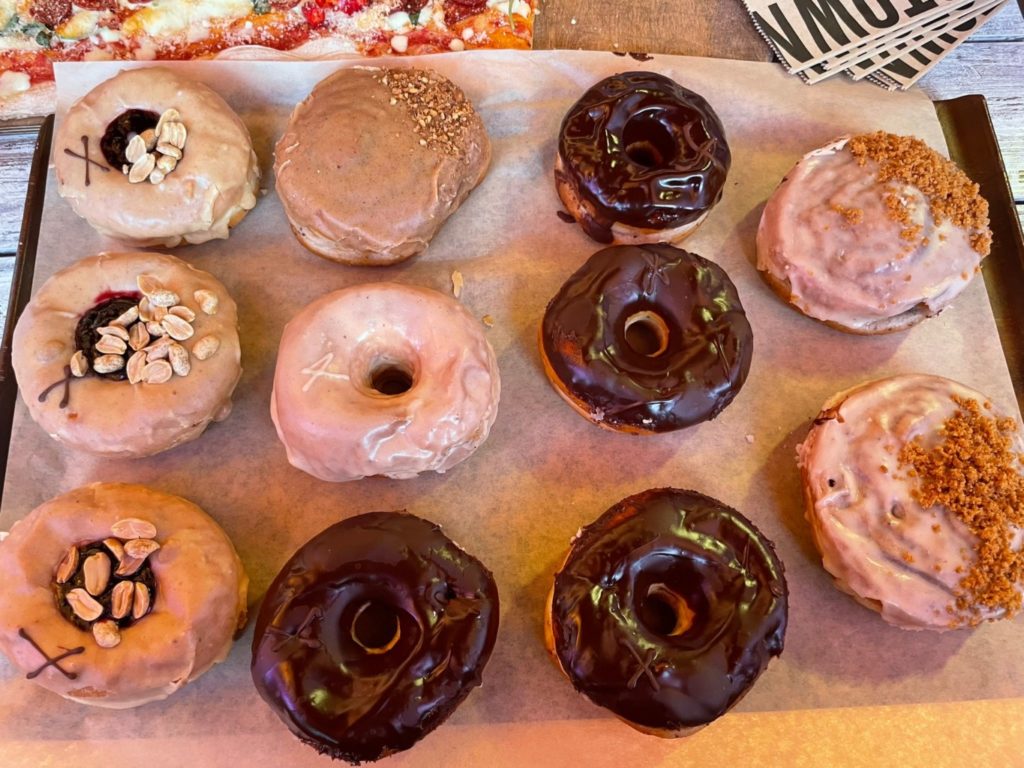 Crosstown Peanut Butter & Blackcurrant Compote – took my childhood peanut butter and jelly sandwiches to the next level.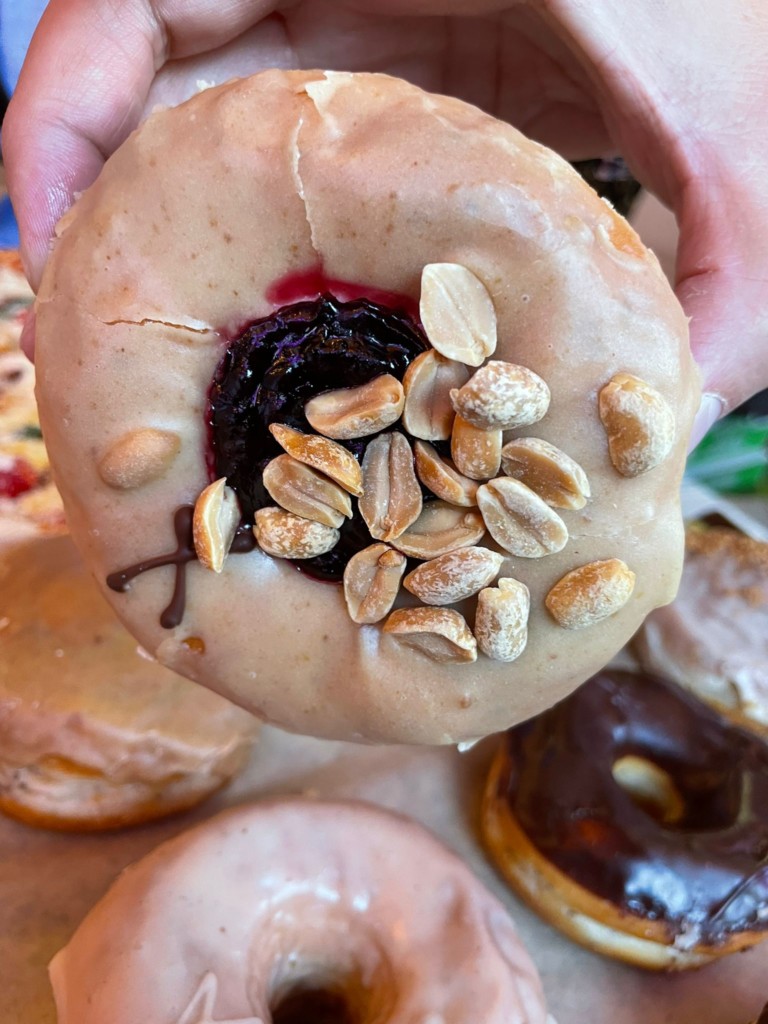 Crosstown Dark Chocolate Truffle – A haven of yumminess the glaze on the outside meets chocolate goodness in the inside.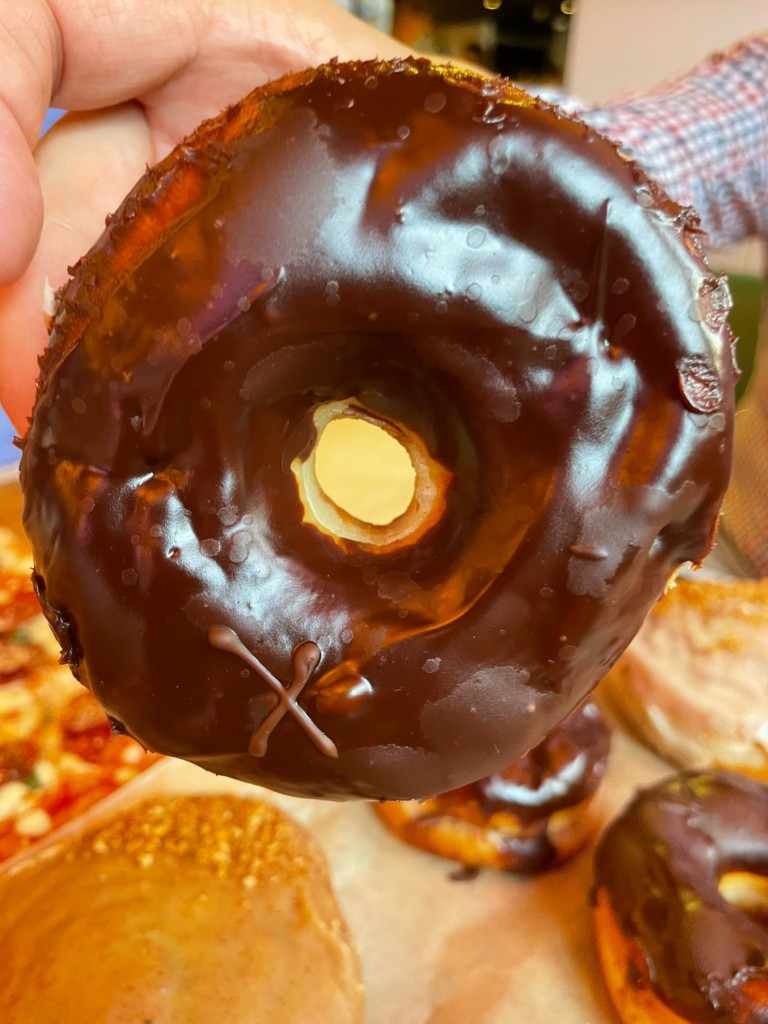 Swingers 'The All Set' package has everything you need for the best day or evening out. From only £65 per person, you can enjoy unlimited drinks for two hours (including prosecco, frozen cocktails, wines and beers), epic street food, delicious dessert, crazy golf and your very own reserved area.
Swingers West End is open Tuesday to Thursday 12pm – 12am; Friday and Saturday 12pm – 1am; Sunday 12pm – 11pm
Swingers West End
15 John Prince's Street, London W1G 0AB
0203 846 3222
swingers.club