Celebrate Diwali with this delicious Tiger Prawn Biryani which pairs perfectly with multi award-winning Cobra Beer which is Brewed Smooth for All Food; the finer bubbles and smoother mouthfeel making for a drink that pairs with all dishes this Diwali including this yummy Biriyani. Cobra Beer is vegan friendly and the 0% ABV offering in particular, Cobra Zero, would be ideal for those looking for a more traditional, alcohol-free Diwali this year.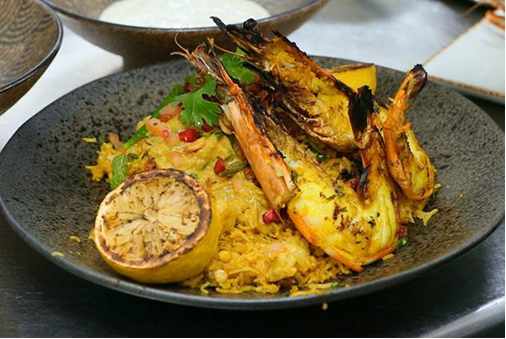 INGREDIENTS
For the marinade
500g prawns
60g cup yoghurt
1 tbsp chilli powder
½ tsp turmeric
3 green chillies, pierced
30g cup fried onion
2 tsp garam masala
1 tbsp garlic paste
¾ tbsp ginger paste
1 tsp ground coriander
1 cinnamon stick
4 cardamom pods
4 cloves
5 black peppercorns
Pinch of nutmeg
1 tbsp oil
Juice of a lemon
Salt
For the prawns
1 onion finely sliced
1 tomato sliced
Handful of coriander leaves chopped
½ handful of mint leaves chopped
3 tbsp oil
For the rice
300g basmati rice, soaked for 30 minutes
A bay leaf
½ tsp lemon juice
Cinnamon stick
Salt
2 tbsp oil
Water
For layering the dish
30g fried onions
A pinch of saffron, soaked in a little water
2 tbsp oil
METHOD
1. Combine all marinade ingredients in a large bowl and add the prawns. Mix well, cover and marinade for 30 minutes in the fridge.
2. To cook, heat oil in a large pan and add sliced onions. Cook until lightly golden.
3. Add the bay leaf, tomatoes and cook for a further minute.
4. Then add the marinated prawns, mix well and cook for around four minutes.
5. Add coriander and mint leaves and mix.
6. Meanwhile parboil your rice in water with the rest of the rice ingredients. You want the rice to be about three quarters cooked.
7. Layer up your biriyani! Top the prawns with fried onions followed by the rice.
8. Sprinkle the dish with saffron and cover. Cook on high for 5 minutes, followed by 10 minutes on a low heat.
9. Do not remove the lid and leave to rest for 10 minutes.
10. Once ready, spoon out into bowls or on to plate and serve alongside raita and a chilled bottle of Cobra Beer.