If you're going to splash out on an expensive spirit, be it for yourself or as a gift, what's going to get you the most for your money? Graham Eunson, Distillery Operations Director of Tomatin Distillery, reveals why he believes the answer to be Scotch whisky.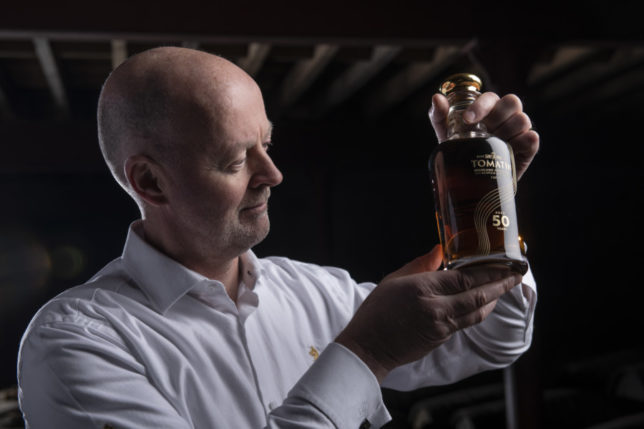 How is Scotch whisky different to other spirits?
Whisky isn't like vodka or rum, it takes at least three years to produce resulting in an infinitely wider range of flavours and characters to enjoy. If you take a flavoured vodka as an example, the first time you taste it – you'll know everything there is to know about it. When you buy a bottle of premium whisky, every interaction, from the first time you nose the liquid to the last sip, will offer a different taste sensation.
Sentimental Scotch: How whisky can bring back memories
Before you have even tasted the whisky, the aromas can be incredibly evocative, and that's not something you get in equal measure with a vodka or even a rum. Depending on the expression, it could evoke notes of vanilla, toffee, old books, smoke, and even bring back memories like Christmas or of an old friend. It's also worth remembering that when you buy a premium whisky and drink it sparingly, your palate and nose will both improve over time. This means that every time you go back to your whisky, there's the potential to keep on discovering different aromas and tasting notes within it.
Your Choice: How to pick between different expressions
When you're choosing a whisky, it's important to recognise that some are more 'complex' than others. Take the Tomatin 18 Year Old for example, it's full of big, bold, robust flavours. It's not necessarily something that you'd take to a party, but something best enjoyed in great company, or on your own, with patience and attention required.
What's really interesting about Scotch whisky, is that it's completely subjective, people will identify different elements. If you were to share a glass at home with a loved one, you might identify a certain aroma or taste, but they may find something completely different. It's truly one of the best things about whisky, and makes for great conversation. You know you're tasting an exceptional whisky when it sparks riveting discussion. This also means that if you're making your choice based on whisky reviews or tasting notes, make sure to read a selection of reviews. No two reviewers will feel the same way about an expression, so don't be put off if one mentions a flavour or aroma that you'd rather avoid, you might pick out a completely different flavour.
Don't be fooled by the age old prejudices, many people will tell you that single malts are always better than blended whiskies, but that's not true at all. There are blends out there that are as enticing to drink as some single malts, and they can be a fraction of the price. The Antiquary for example is a premium blend made using well-aged malt and grain whiskies to create a remarkable Scotch whisky.
The history of Scotch
Above all else, you've got to remember the long standing history of Scotch. First recorded over 500 years ago; Scotch whisky is ingrained in Scottish heritage. Scotland is known for producing food, drink and textiles to an outstanding quality, what's more, the integrity of Scotch whisky and all that it stands for is guarded by the SWA (Scotch Whisky Association). Distilleries have to adhere to set standards when it comes to the colour, quality and provenance of the liquid they produce, and if they don't meet those standards it simply can't be classified as Scotch. Whether you spend £50, or £500: if you pick up a bottle of Scotch whisky, be safe in the knowledge you have chosen a spirit that prides itself on quality, has the ability to stimulate conversation, evoke nostalgia, and offer something new with every sip.
About the expert
Graham Eunson is Distillery Operations Director of Tomatin Distillery. After eight years at Tomatin Distillery, Graham Eunson has been sampling both exquisite single malts and high-quality blends for years. In this time, he's led tasting events, spoken at whisky festivals, as well as running production for the entire distillery.