From Friday 1st until Sunday 3rd March, The Baby Show, with MadeForMums, will be taking place at the ExCeL London – an essential event for those about to embark on the exciting adventure of becoming a new parent! A shopping emporium with over 200 exhibitors, expert advice and amazing offers from an unrivalled selection of baby brands – all in one place, it has everything required for bump, baby and you!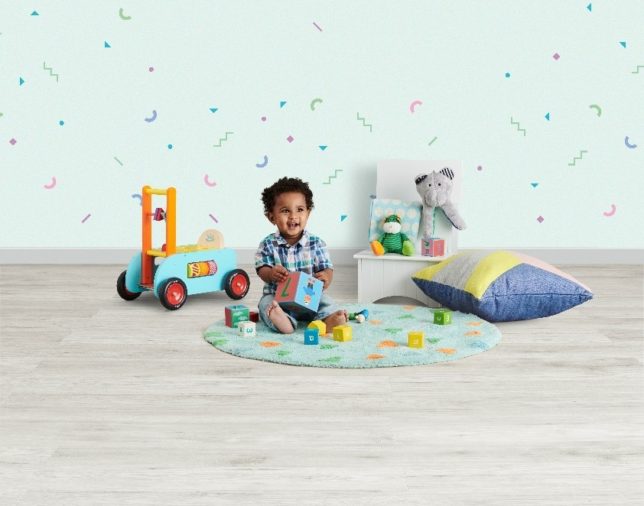 Visitors can take advantage of one-to-one expert advice, unbeatable discounts, plus the ability to test drive products before they buy! With many on display for the very first time, visitors can have a sneak peek at the latest, innovative baby products and not-on-the-high-street brands, set to take the market by storm!
The UK's widest selection of prams, pushchairs and car seats will also be on show for those looking to acquire one of the biggest baby purchases, including the harder to find brands. The ever-popular MadeForMums Buggy Testing Track will make a return, so parents can take their favourite pushchairs for a quick spin before making the big decision!
As well as a countless array of products on sale, there will be experts available to accompany each of the brands who can talk you through how the product works, so you can be absolutely sure it's the right purchase for you and your family. Competitions, discounts, and freebies will be available in abundance, ensuring you are able to tick off your list in no time at all!
There will be a wonderful line up of speakers taking to The Baby Show stage. So far headline speakers include TV presenter and singer, Rochelle Humes who will be sharing her parenting journey, Olympian Runner and TV Presenter, Iwan Thomas, who be speaking about becoming a new dad, breastfeeding experts, Claire Byam-Cook and Vanessa Christie, author of The Baby Detective, Sarah Norris, Author of The Positive Birth Book, Milli Hill, fertility, birth and parenting coach, Alexandra Kremer, baby food expert, Annabel Karmel, language development expert, anthropologist and author of The Life of Dad: The Making of a Modern Father, Dr Anna Machin, language development expert, Dr Robert Titzer, and not forgetting sleep experts, Andrea Grace and Lucy Shrimpton (aka The Sleep Nanny©). Visitors can also speak in privacy with the UK's best experts by booking a slot at the One-to-One with the experts' area, completely free of charge.
The NCT, the UK's largest charity for parents, will be on hand to provide 45-minute antenatal and postnatal classes, jam-packed with information and advice on everything from essential baby care to colic and crying. And for the toddlers looking for some fun, stylish Italian toy and nursery brand, Peg Perego, have created an activity area where children can ride their exclusive range of premium 6v and 12v battery operated toys, including the ride-on Ducati motorbikes and scramblers!
The British Red Cross will also be in attendance running free 30-minute baby first aid taster sessions where you can learn vital skills that could save your baby's life. Head to the British Red Cross First Aid Academy when you arrive at the show to book your free place.
Claire Smith, Marketing Manager at The Baby Show, says: "At the Olympia Baby Show in October we had our highest footfall yet and we can't wait to return to east London and welcome a whole new audience of new and expectant parents.
"The show really does provide everything you'll need for your parenting journey, whether this is your first time or you're looking for new innovations for your second or third! The discounts, giveaways and on-site competitions, combined with the chance of testing out everything before purchasing, makes The Baby Show the must-attend event for future, and current mums and dads."
Highlights of The Baby Show at ExCeL in London will include:
Over 200 trusted brands offering visitors the chance to thoroughly test and try before buying.
Exclusive show offers and competitions from top parenting brands.
The chance to listen and ask advice from the UK's top baby experts.
Catwalk shows with all the latest fashions in maternity, baby and toddler wear.
Dedicated baby facilities ensure visitors have everything they require, including the Tommee Tippee Feeding Area where parents will be able to take advantage of heating and sterilising equipment, complimentary baby food and a comfortable space for quiet feeding.
Changing Area where mums and dads can change their little ones with free nappies and wipes
NCT classes – bookable on site or in advance
My First Ducati Riding Experience with Peg Perego
The advanced ticket price is £14.70 on Friday and £15.70 for either the Saturday or Sunday, while on-the-door tickets cost £20. A range of Tommee Tippee Ticket Packages are also available which include a Tommee Tippee product and two standard adult tickets to the show!
For more information visit thebabyshow.co.uk/excel
Opening times:
Friday 1st March: 9.30am – 5.30pm
Saturday 2nd March: 9.30am – 5.30pm
Sunday 3rd March: 9.30am – 5.30pm