For this World Whisky Day, Saturday 16th May, premium spirit brands, Talisker, Bulleit Frontier Whiskey, Johnnie Walker, Copper Dog and Roe & Co are introducing a series of virtual cocktail masterclasses and activities hosted on Instagram so whisky lovers can come together in spirit, even when apart.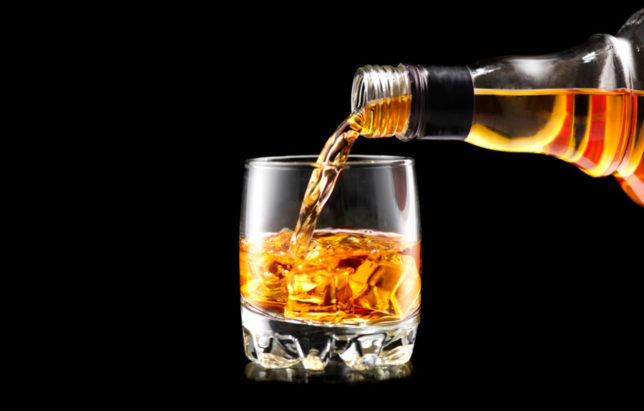 Talisker Fireside Tales hosted by Jason Clark
Live from 8.30pm on @Talisker Instagram
At 8.30pm, Jason Clark, GB Brand Ambassador for Talisker Whisky, will be live on the Talisker Instagram channel (@Talisker) to host a unique fire-side tasting. Jason will take viewers through a selection of Talisker drams including; Skye, Storm, 10 Year Old and 12 Year Old, highlighting the unique deep, smokey and salty notes within Talisker's portfolio, whilst exploring Talisker's adventurous background. Taking place next to an open fire-pit, this wild, yet cosy setting will instantly connect those tuned in to Talisker's rugged maritime home, the Isle of Skye. Followed by an open Q&A, why not measure yourself a dram of Talisker, and toast your fireside dram to World Whisky Day.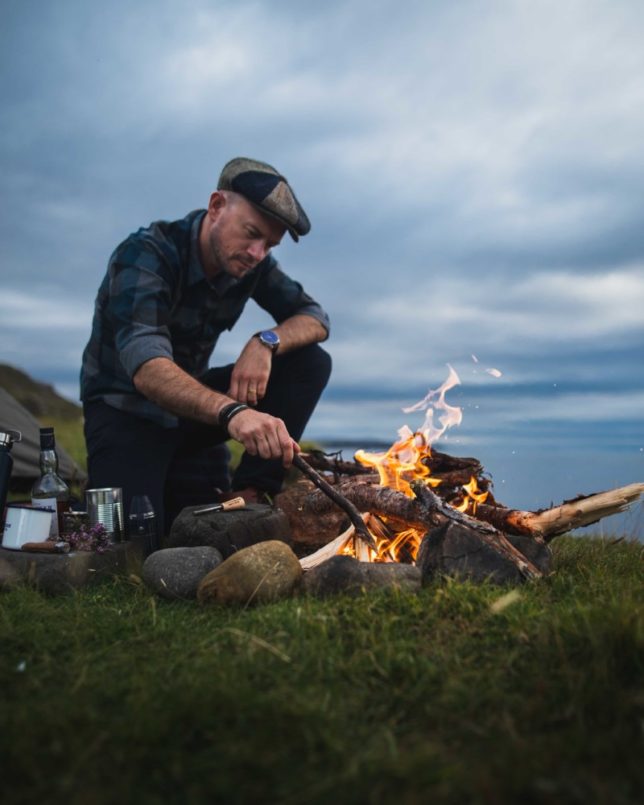 Copper Dog #AtHomeWithTheDog hosted by Andy Huntley
Live from 7.00pm on @AndyJHuntley Instagram
At 7pm, Copper Dog GB Brand Ambassador, Andy Huntly, will be telling Copper Dog's mischievous tales #AtHomeWithTheDog, live on Instagram (@andyjhuntley). During the workshop Andy will share his favourite cocktail hints and tips, and demonstrate to viewers how to craft a perfect Apple Dog; Copper Dog Whisky topped with fresh Apple Juice followed by one of his personal favourite creations 'The Newman', a drink created as a tribute to a much-loved singer. To finish the session off, Andy will be hosting a live Q&A with London Cocktail Club founder, James Hopkins.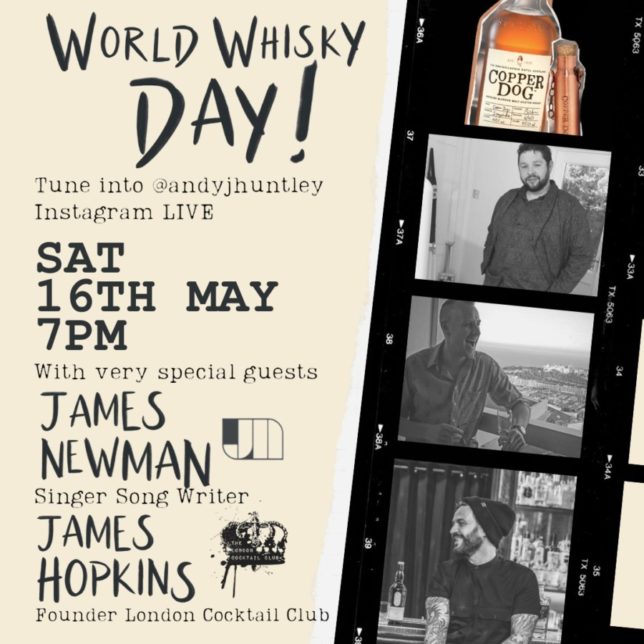 Johnnie Walker Highball Hour hosted by Ali Reynolds
Live from 5.00pm on @Ali.Scotch
At 5pm, Johnnie Walker's GB Brand Ambassador, Ali Reynolds, will be sharing his whisky knowledge live from his home via Instagram (@ali.scotch) in the form of a highball masterclass. As well as learning more about Johnnie Walker, whisky fans can create the perfect Highball alongside the whisky mastermind himself, as he reveals his secrets around how to make a refreshing, tea-infused serve, perfect for the summer months.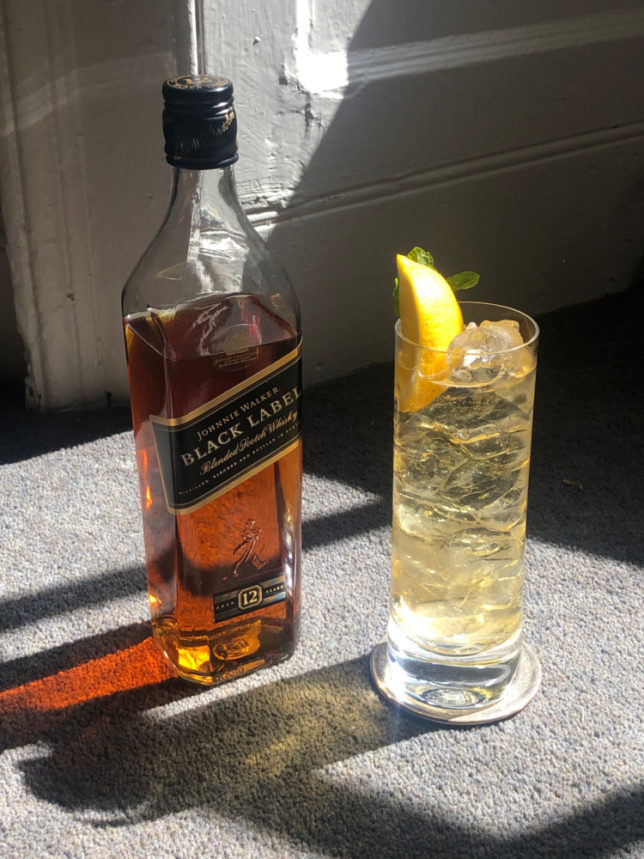 Don't Sweat The Technique With Roe & Co
Live from 4.00pm on @Kips_J 
At 4pm, premium Irish Whiskey, Roe & Co, will be hosting an interactive Q&A session with GB Brand Ambassador, Kirsten Jarin, and the European Ambassador, Alan Mulvihill, via Instagram live (@Kips_J). The session will start with a live tasting, giving those tuned in a chance to learn more about Roe & Co's refined, elegant taste, before sharing how to elevate everyday cocktails, using techniques such as, ice cutting and cocktail infusions, from the comfort of your home.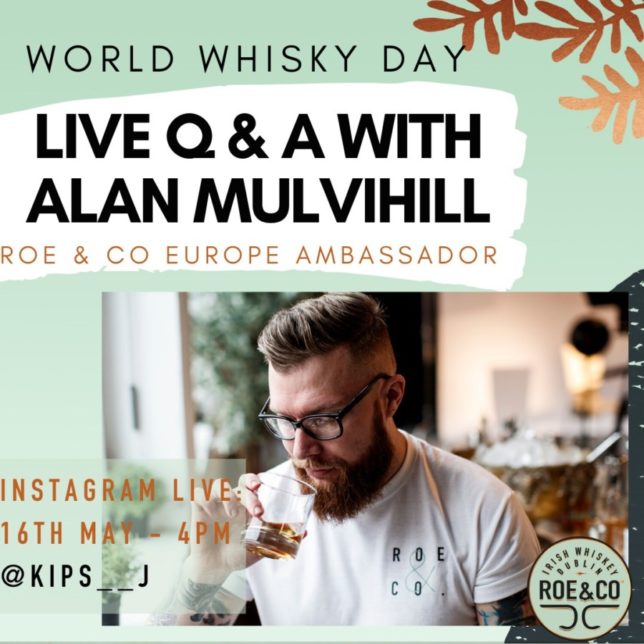 Talisker Official World Whisky Day cocktail masterclass hosted by Ervin Trykowski
Live from 4pm on @Talisker Whisky on Facebook
At 4pm, Ervin Trykowski, New Age Scotch Whisky Ambassador, will be live on the Talisker Facebook channel (@TaliskerWhisky), showing how to craft the official World Whisky Day cocktail, the Talisker World Whisky Day Storr Highball; a fresh-tasting cocktail, perfect for recreating at home.
Bulleit Virtual Cocktail Making Challenge
Challenge live on @Kips_J, with winner announced on Friday 22nd May
For something a little different, Bulleit Frontier Whiskey, is hosting a virtual cocktail competition, via Instagram (kips_j), the 'Bulleit Home-tending challenge', encouraging adults across the UK to get creative and try their hand at cocktail making at home. Entrants simply have to craft a cocktail, using a measure of Bulleit, and upload a photo or video of their cocktail to Instagram*, using #BulleitAtHome, for a chance to win a prize bundle**, awarded the following Friday.
The challenge, inspired by Bulleit's pioneering spirit, is open for anyone over 18 to enter, on any day, up until 22nd May, so whether you're a cocktail aficionado or new to the cocktail game, all participants, regardless of their cocktail experience, will be in with a chance of winning.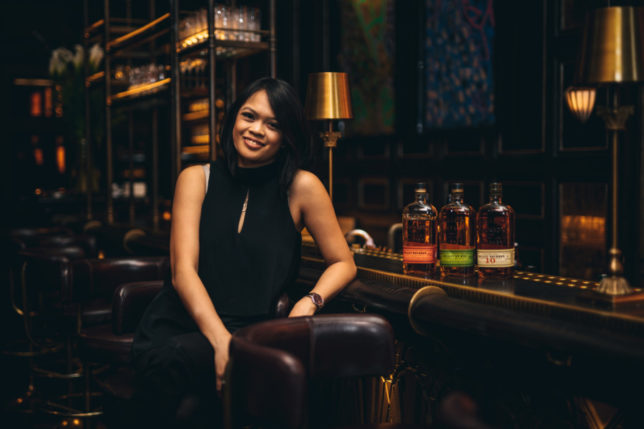 * All entries must tag @kips__j and @thecocktaildude. The Bulleit cocktails will be judged by spirit masterminds, Kirsten Jarin and The Cocktail Dude, who will be announcing a winner the following Friday, over the duration of the competition.
** The prize bundle includes: a branded Bulleit bar-tending kit, a bottle of Bulleit Rye and Bottle of Bulleit Bourbon and a selection of Bulleit merchandise.