Yauatcha is a Chinese dim sum teahouse with two restaurants in London, in the heart of Soho and in the City, offering an all-day grazing experience.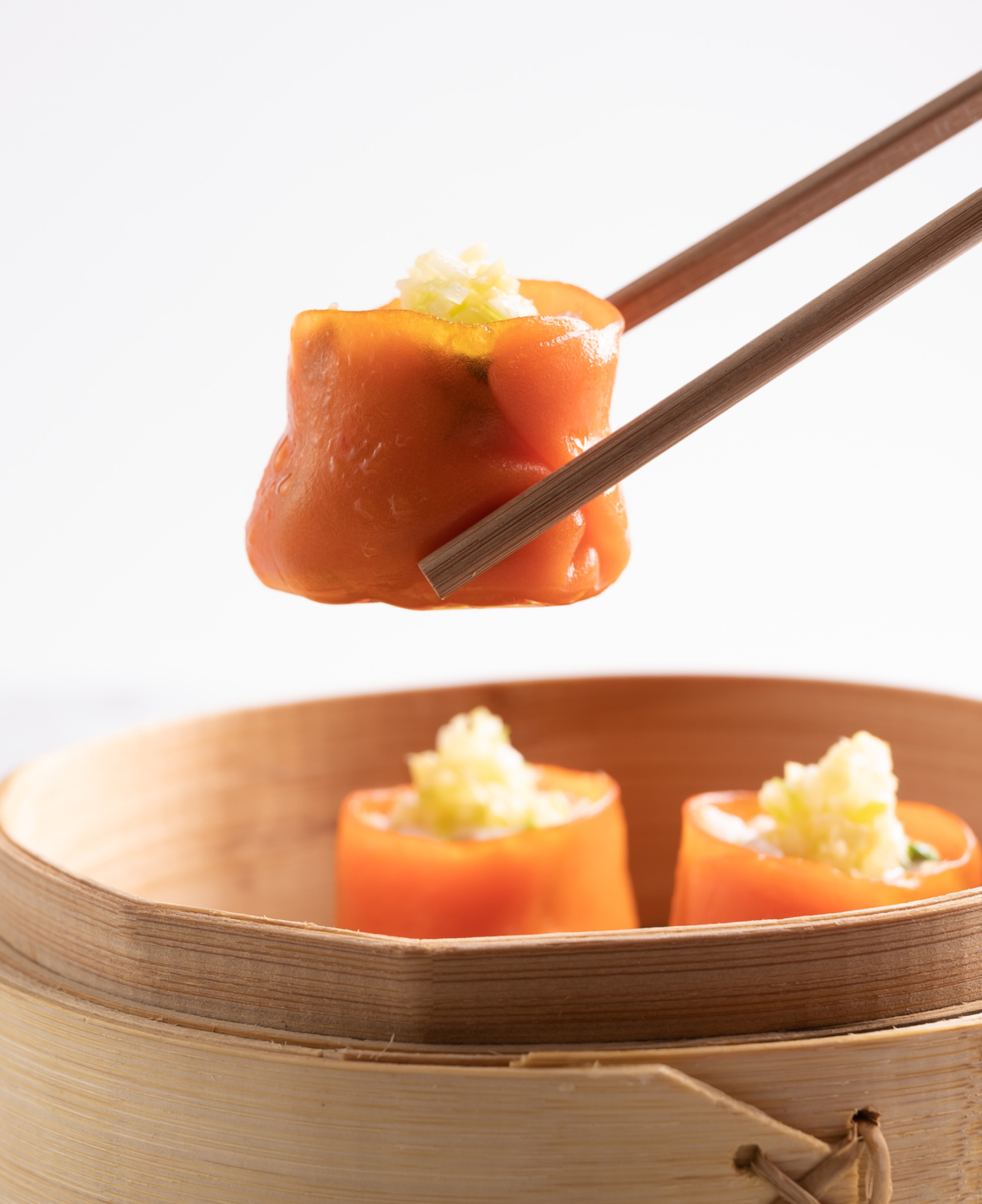 Launched in Soho in 2004, Yauatcha gained immediate critical acclaim and received numerous prestigious awards including a Michelin star.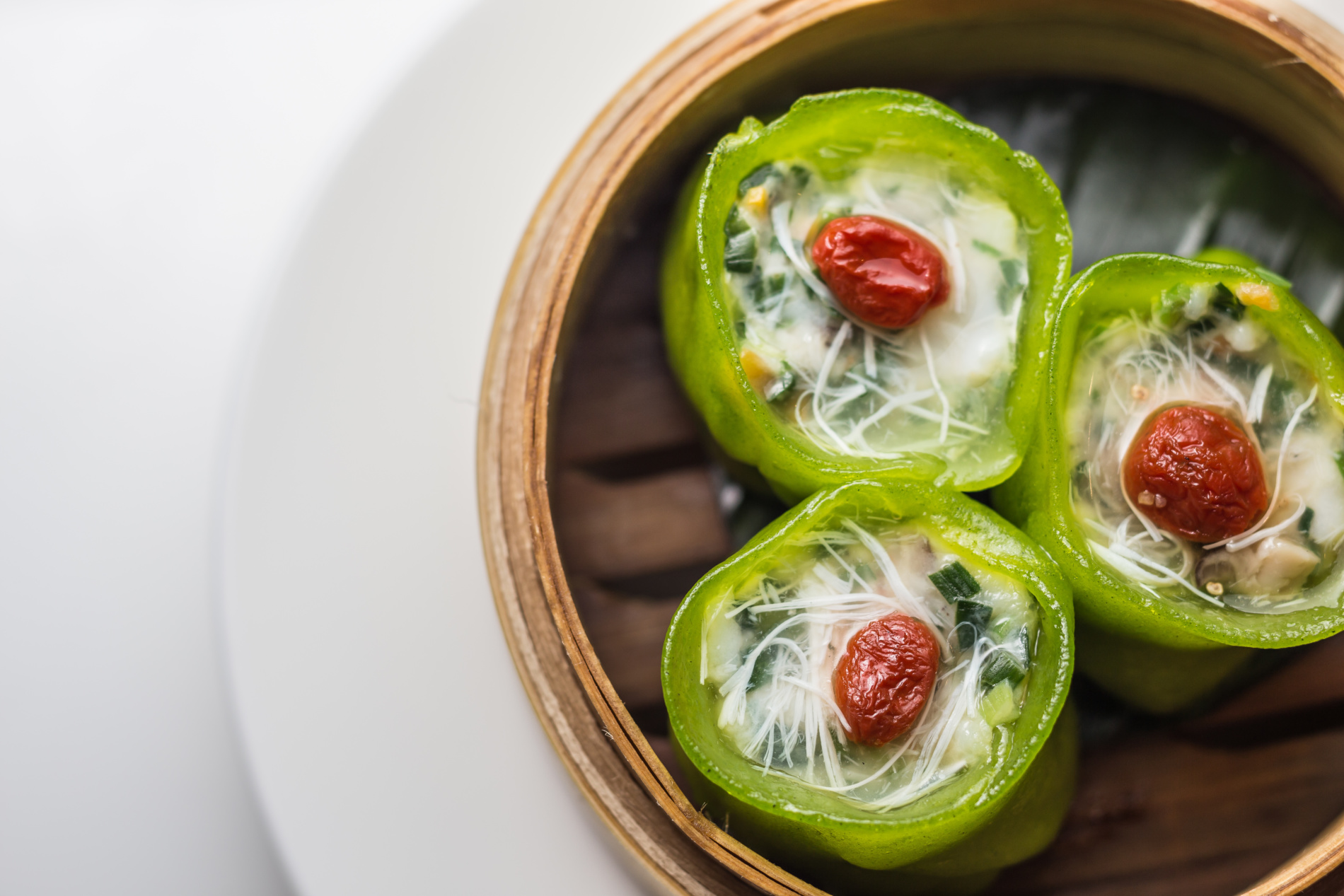 Yauatcha City opened in May 2015 following the success of the Soho restaurant.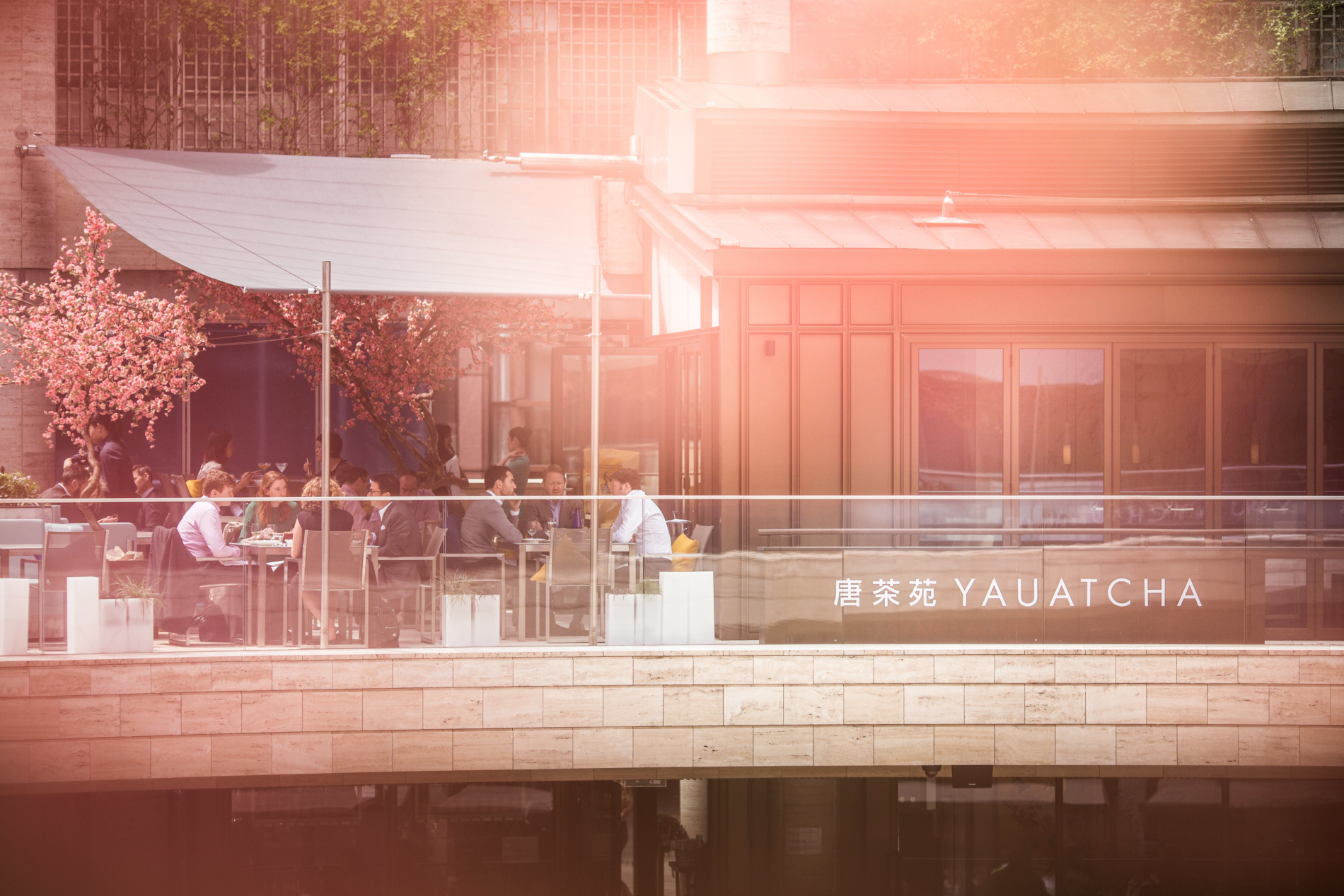 Yauatcha provides a unique dining experience, offering authentic dim sum with a contemporary influence.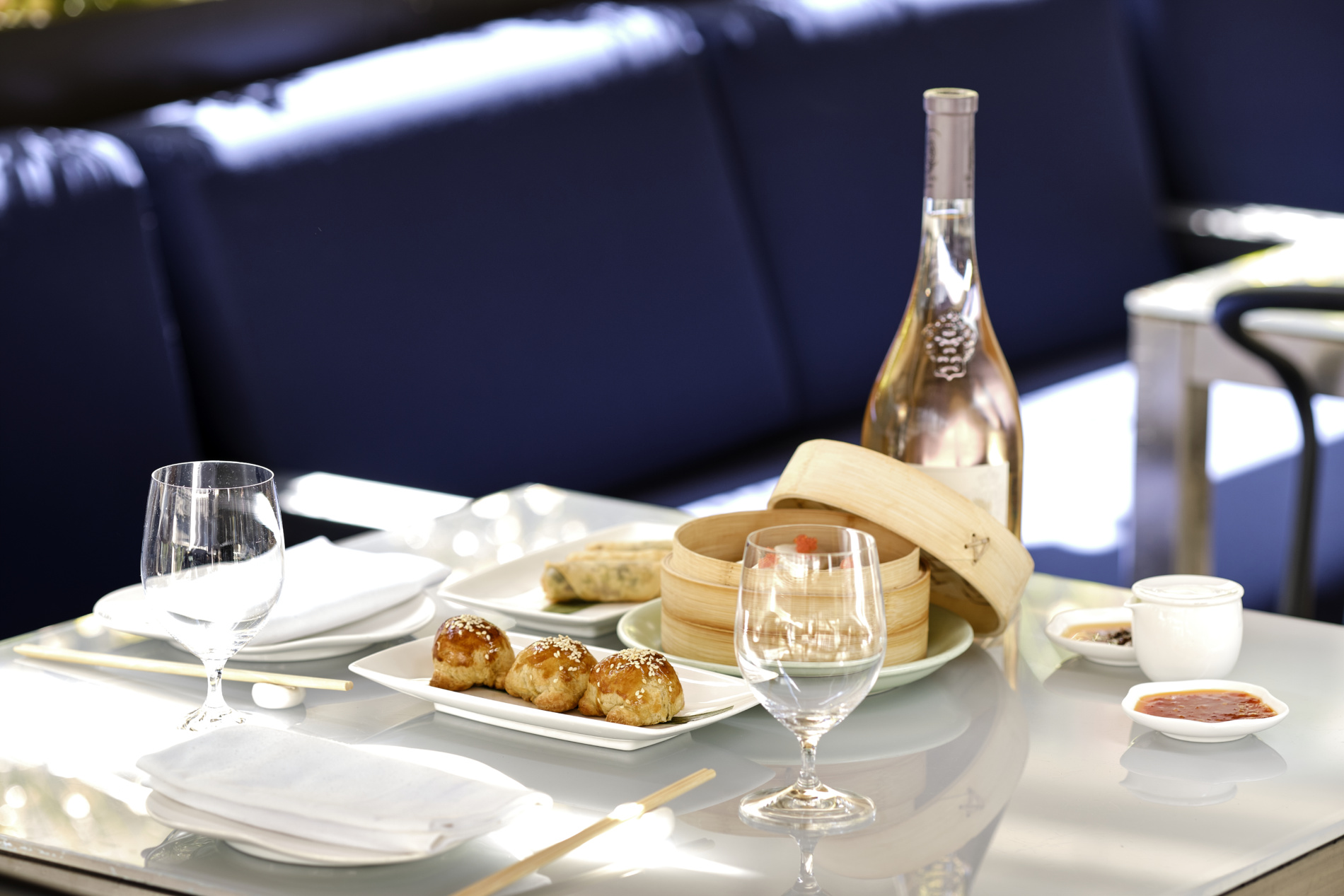 The renowned menu includes a wide selection of dim sum and a list of over 24 types of tea.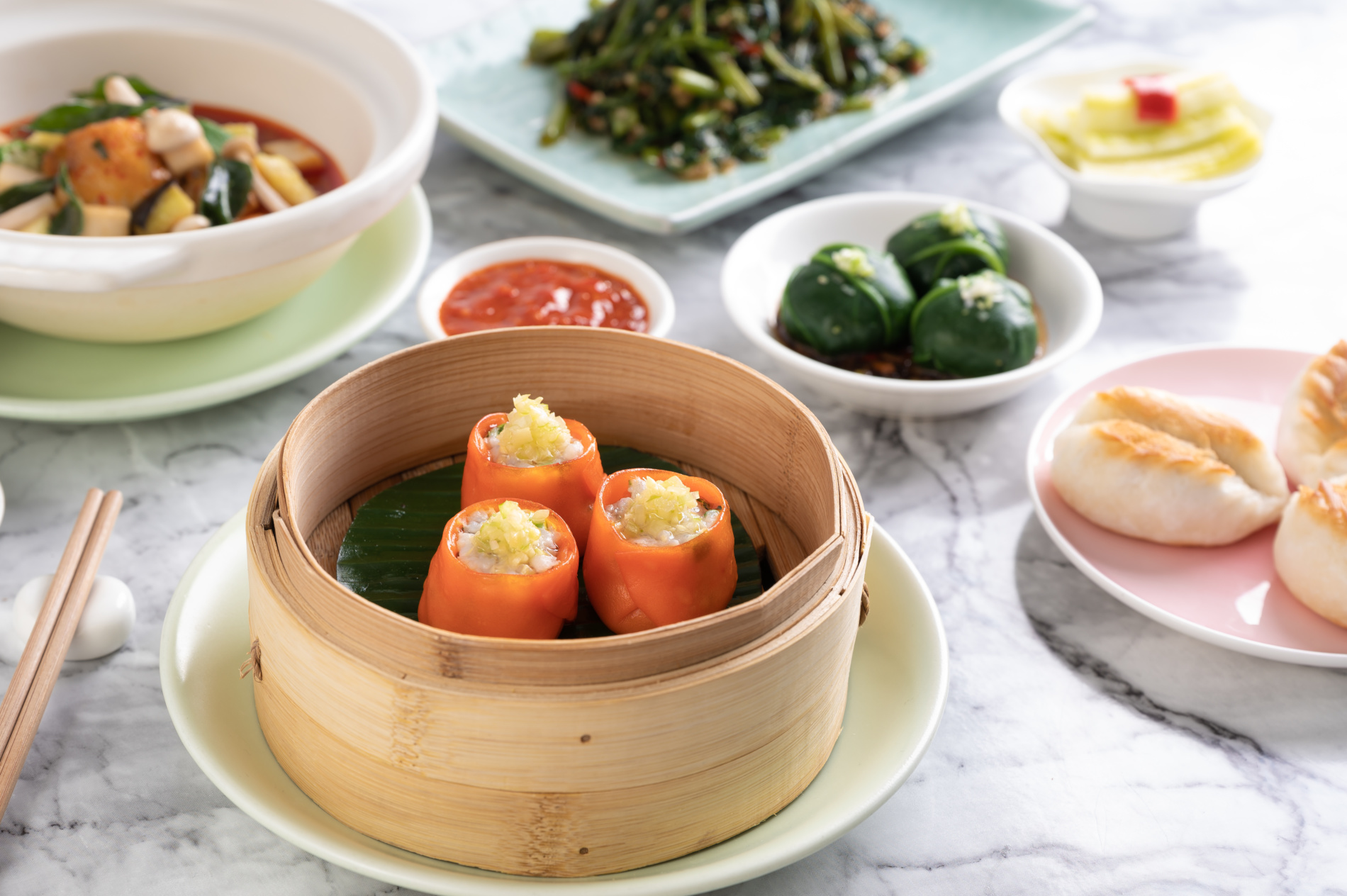 The original design concept by Christian Liaigre offers a full view of the kitchens allowing passers-by to witness the preparation of the expertly made dishes.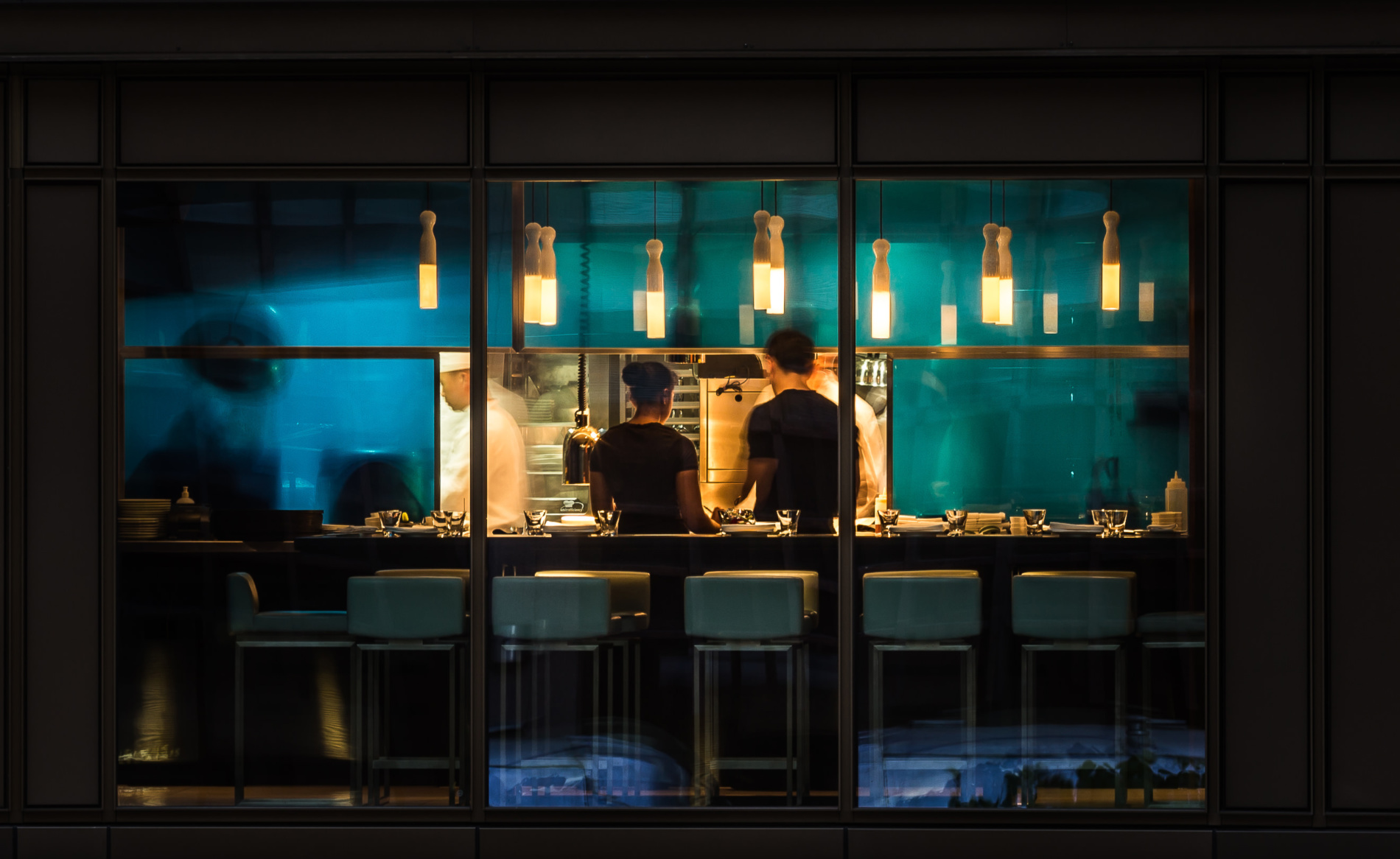 The menu at Yauatcha is extensive but every dish we have ever tried has been one to recommend. The consistency and high standard on such a varied menu is hard to achieve but something that Yauatcha has clearly mastered.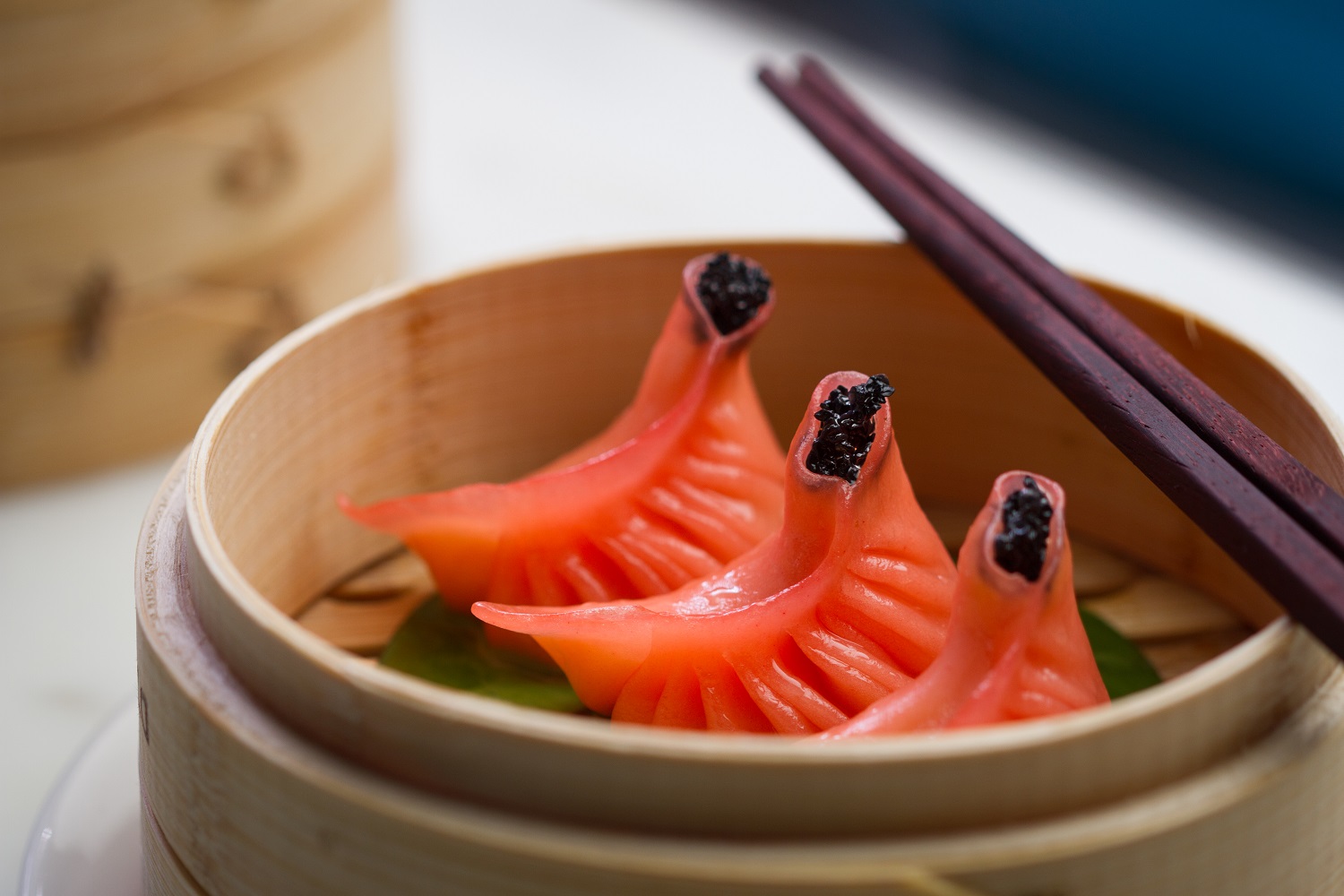 This is wonderful because not only do you have so much choice that you can frequent Yauatcha many times and always try something new but also as the waiters are extremely knowledgeable about each dish you can also be guided in your order if you so wish, allowing menu procrastinators to choose the best dishes for them.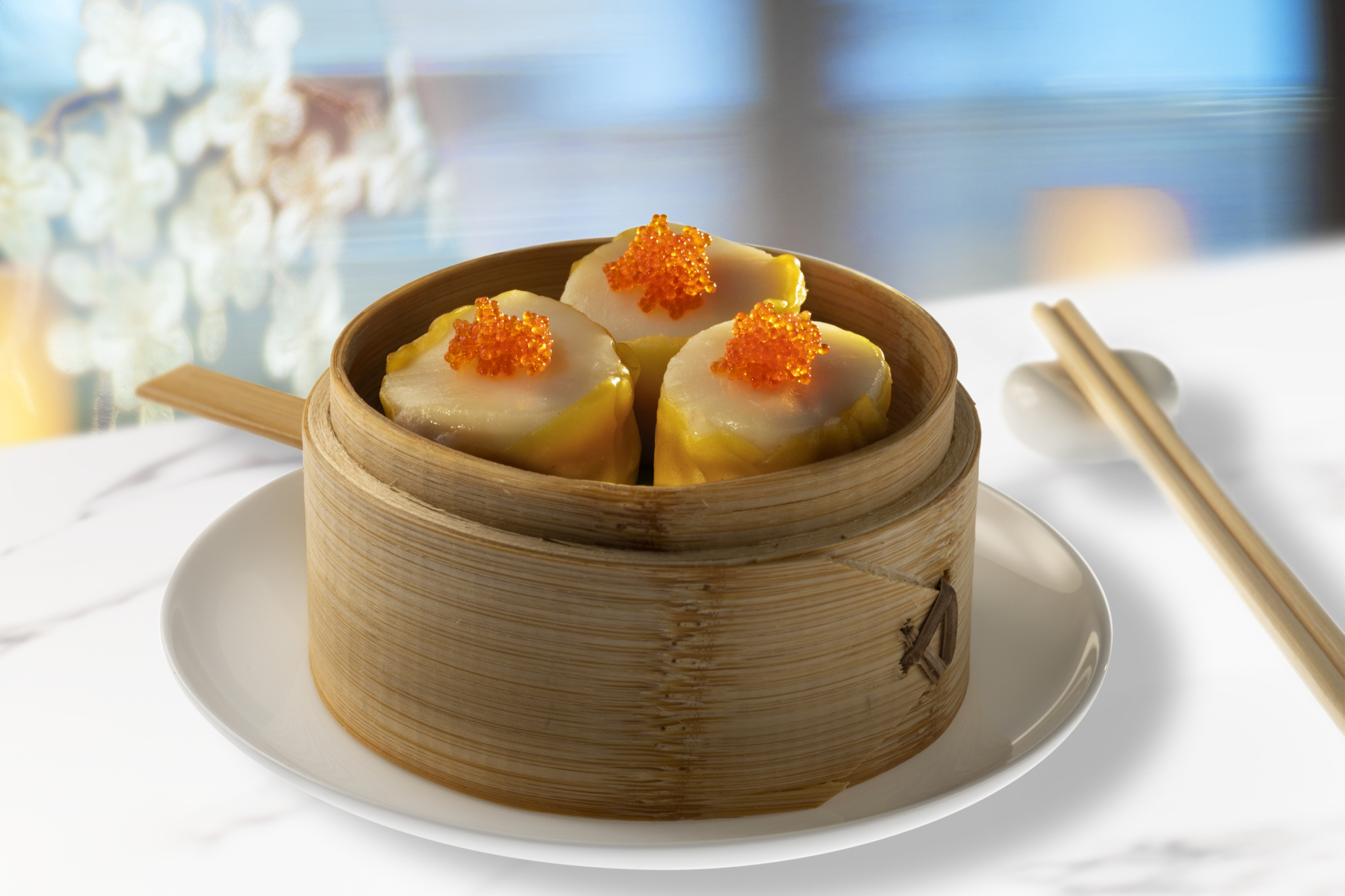 For two people, we suggest at least two steamed dim sum, one baked or fried dim sum and one small eat to start.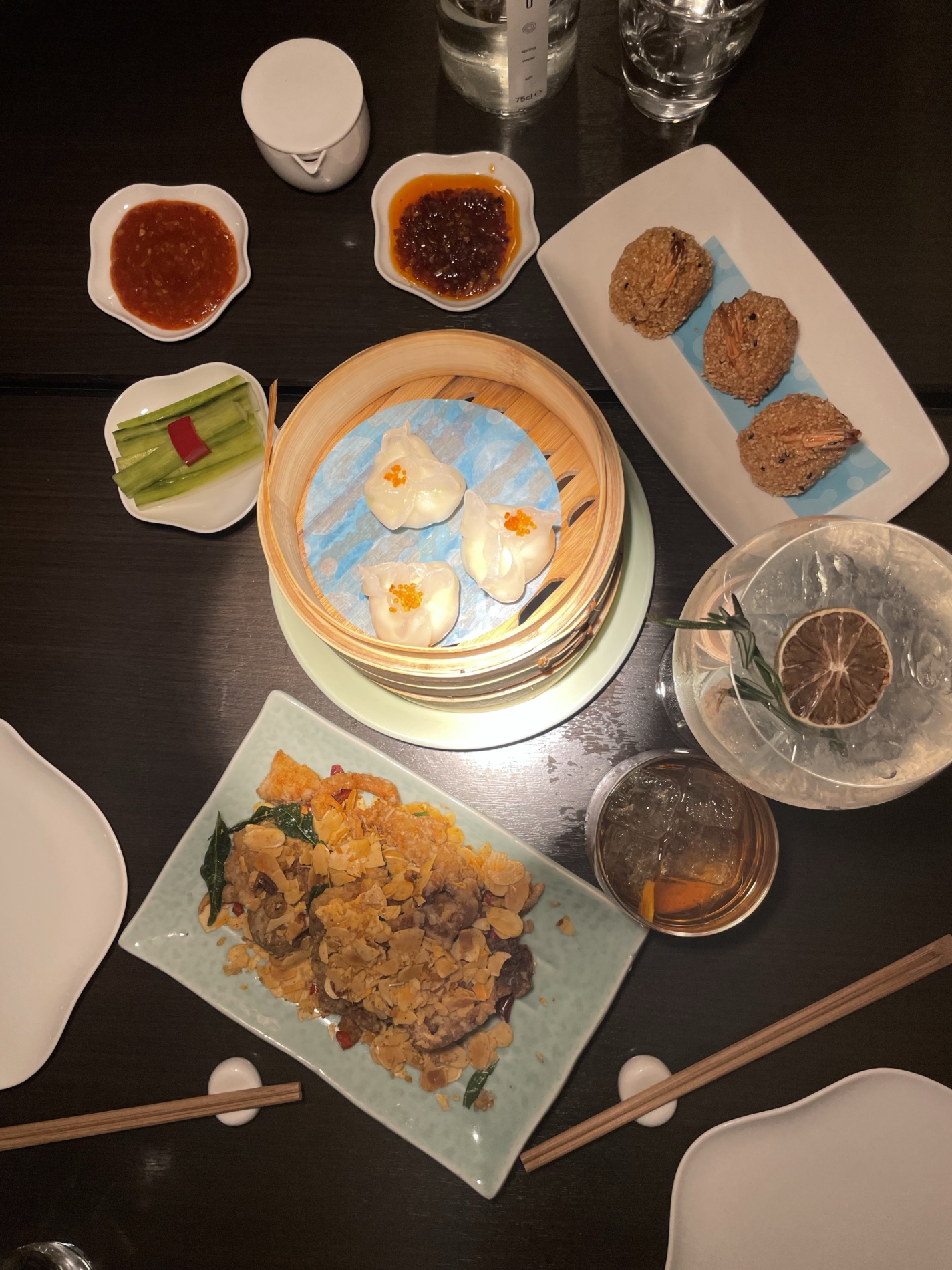 We chose the Lobster Dumpling flavoured with ginger and shallots and topped with tobiko caviar.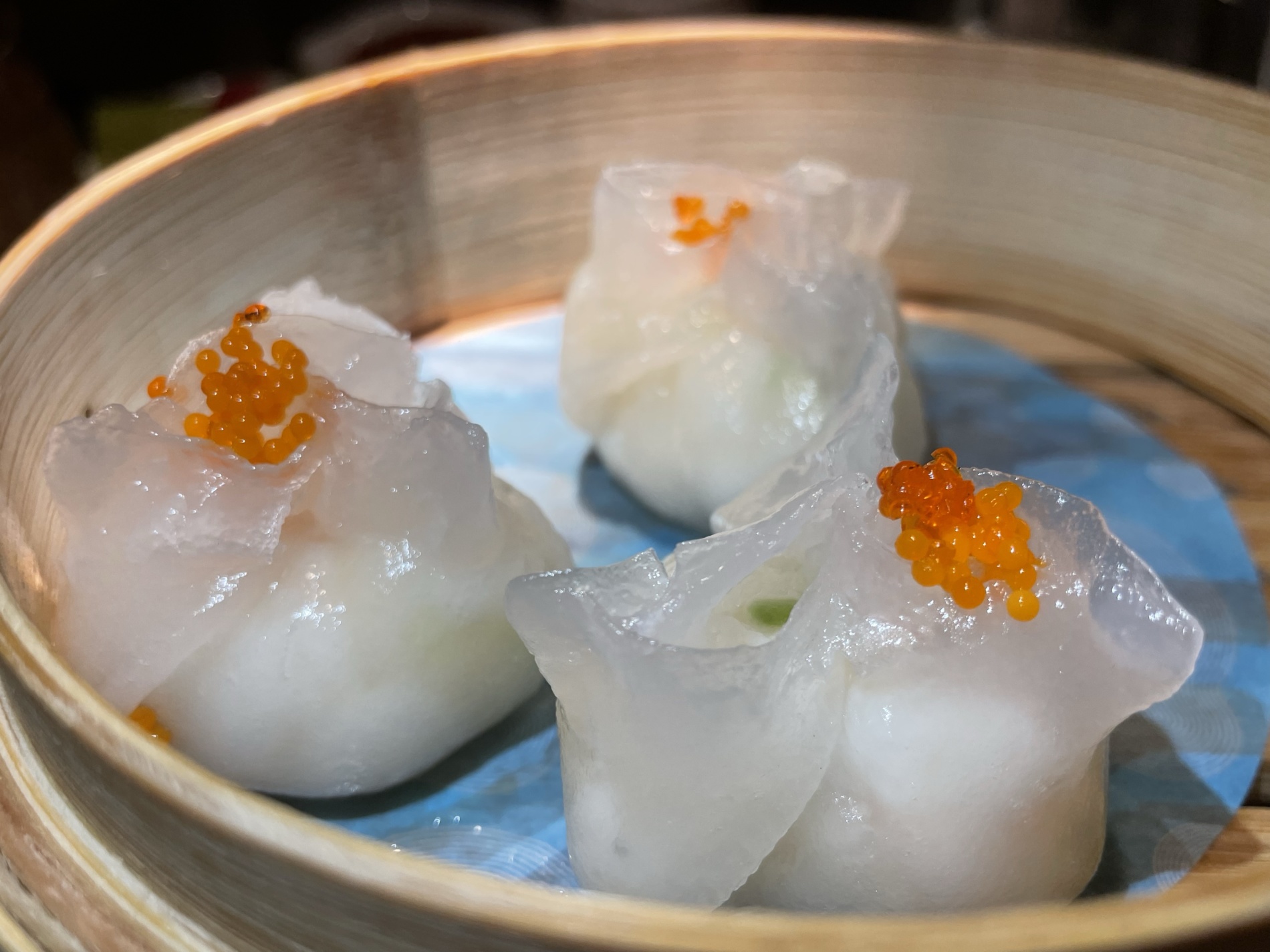 For truffle lovers, the Seafood Black Truffle Dumpling filled with crab, scallop and prawns is heavy on the truffle but perfectly balanced with the tenderness and delicacy of the seafood.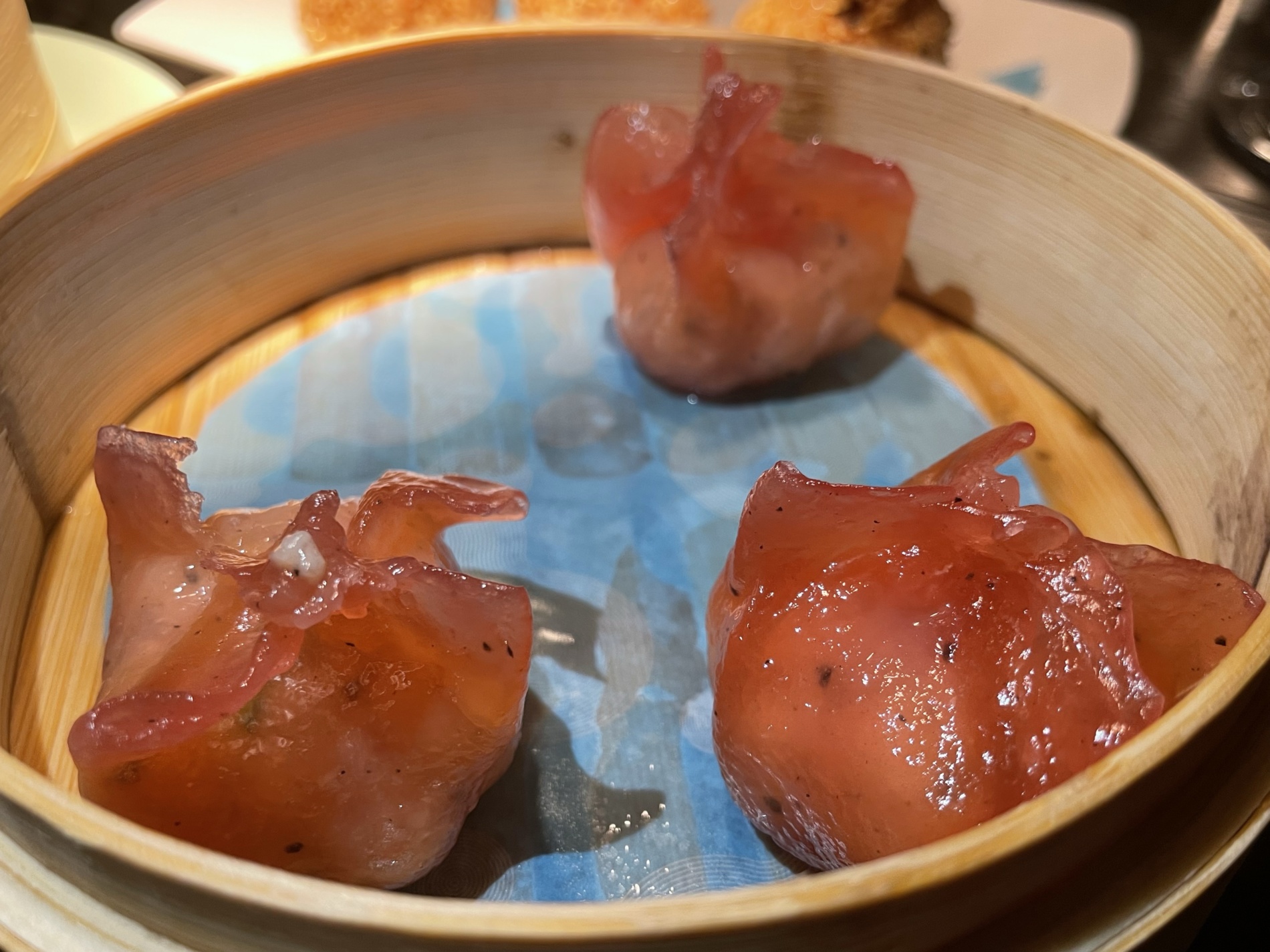 If you want to compare Yauatcha with your most frequented Far Eastern restaurant then I challenge you to choose the Sesame Prawn Toast. One king Prawn is stuffed with minced Prawn, dipped in breading then sesame and deep fried. The only problem is once you have tried this, no other prawn toast will ever satisfy your prawn toast cravings again as this really is the king of all prawn toast.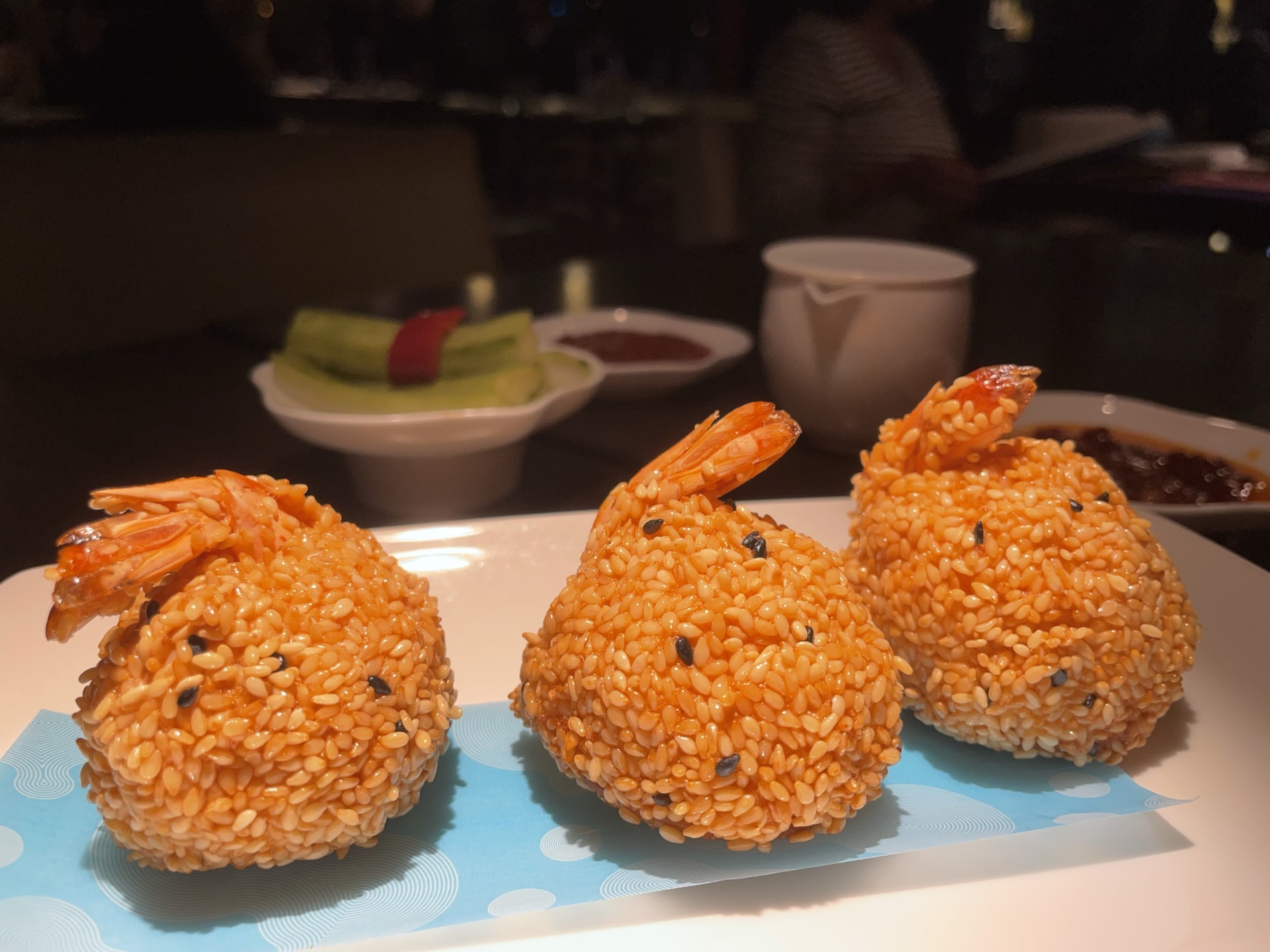 The Spicy Soft Shell Crab is also a must to order in my book, the heat from the chilli paired well with the almonds and dried shrimp. This paired really well with the Yuzu spritz which was light and refreshing.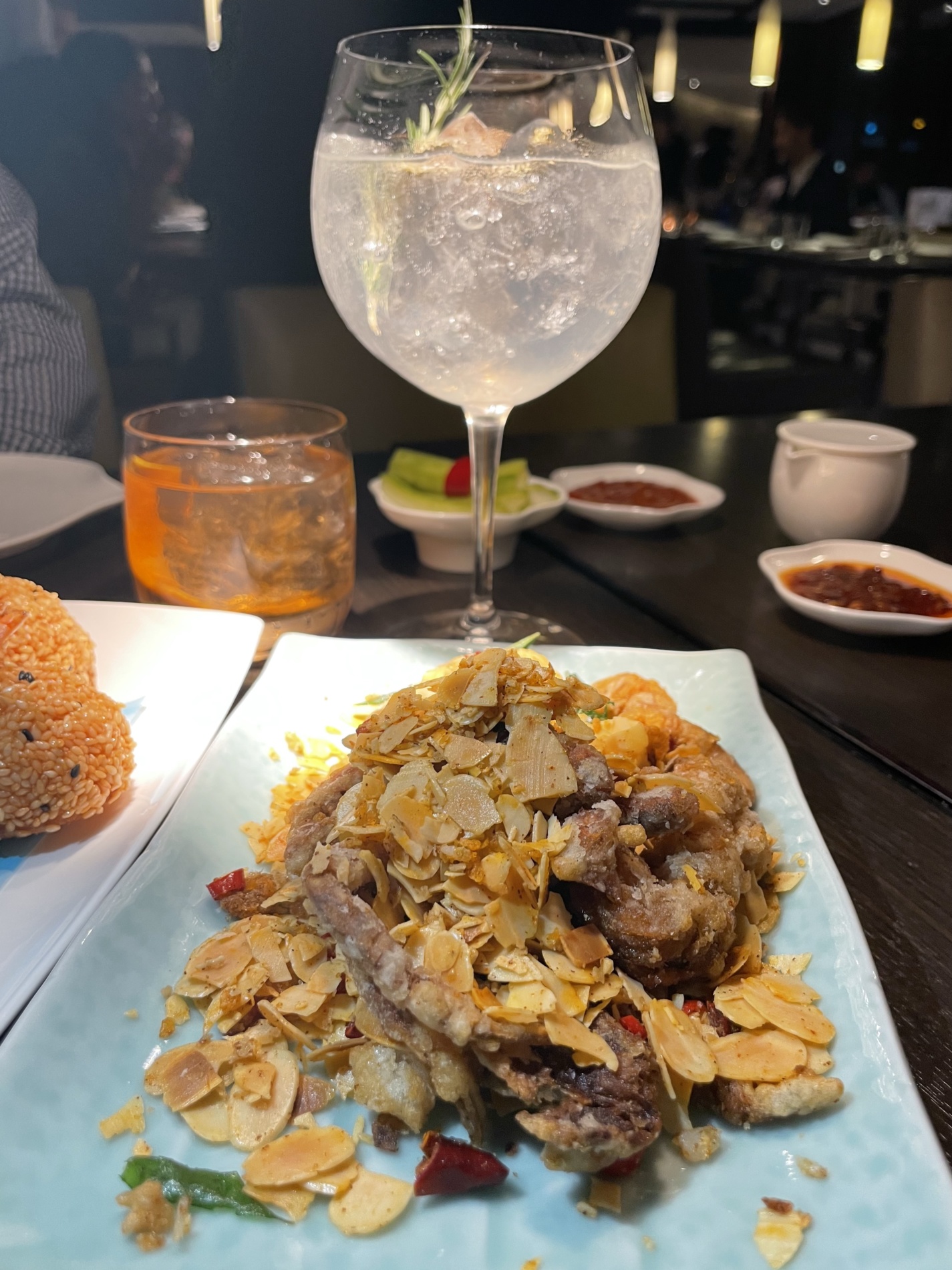 For mains we suggest one seafood dish, one meat dish, one vegetarian dish and a side dish. We were so drawn to the fish and seafood section we ordered one fish and one seafood. The Stir-Fried Sa Cha Wagyu Beef with ginger and spring onion was delicious and beautifully presented.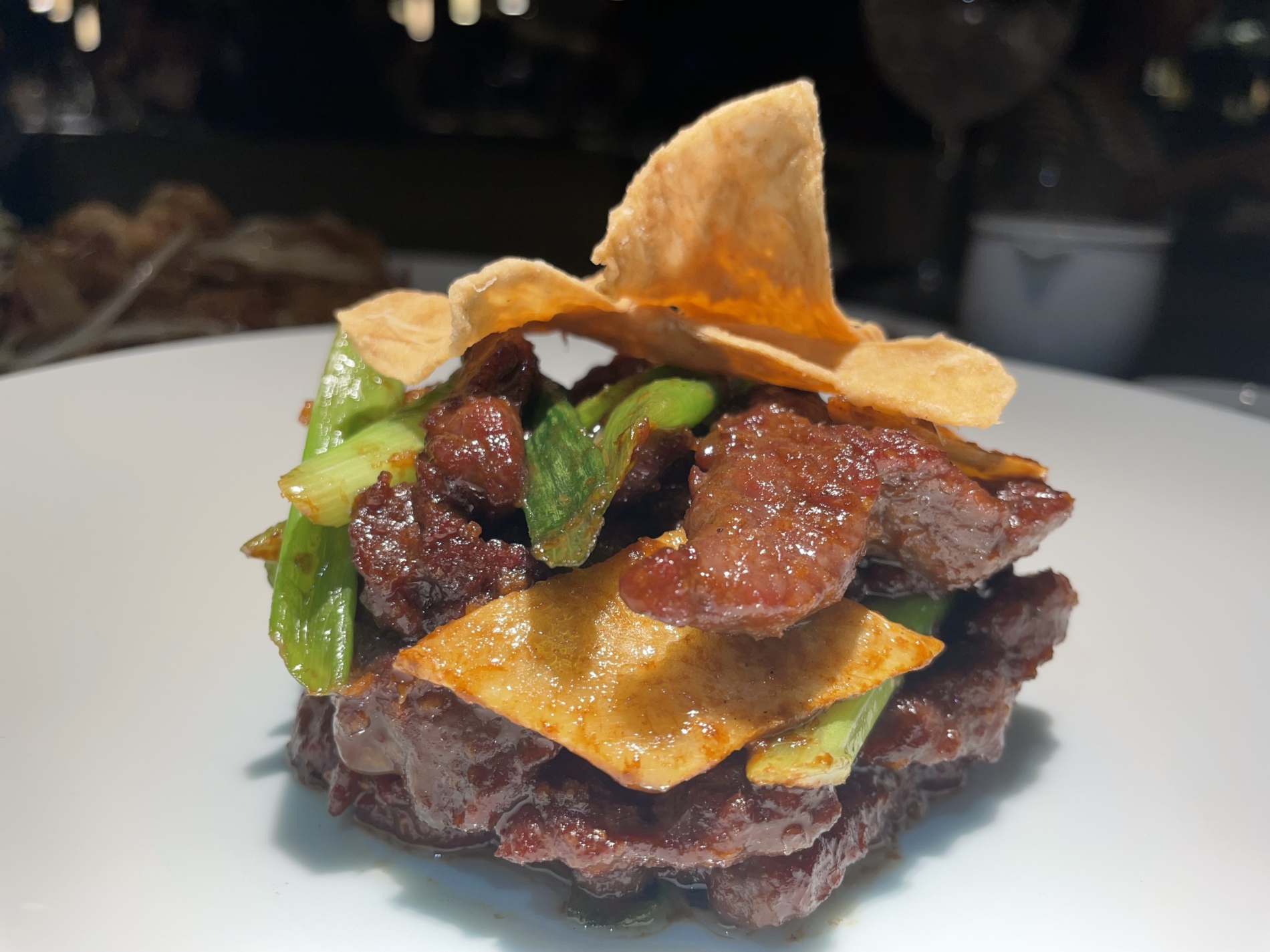 The Stir-Fried Scallops & Prawns came paired with asparagus and a chilli pepper sauce. Not overwhelmingly hot but a good warmth.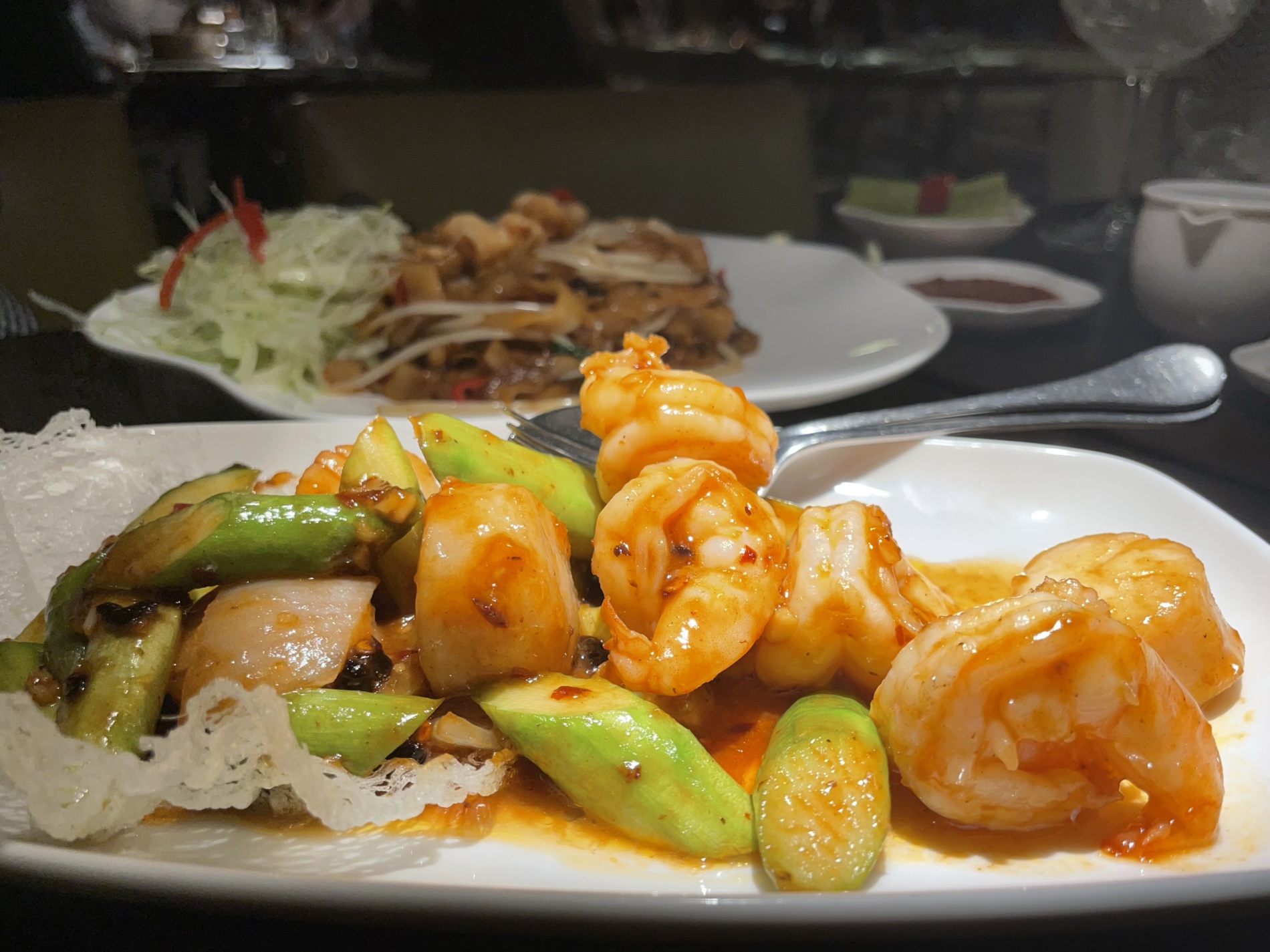 The stand out dish was the Pan Fried Silver Cod, which is black cod cut into fillets, coated in a batter and served with a superior soy sauce. Also stepping away from a traditional miso flavoured black cod, silver cod is one to try.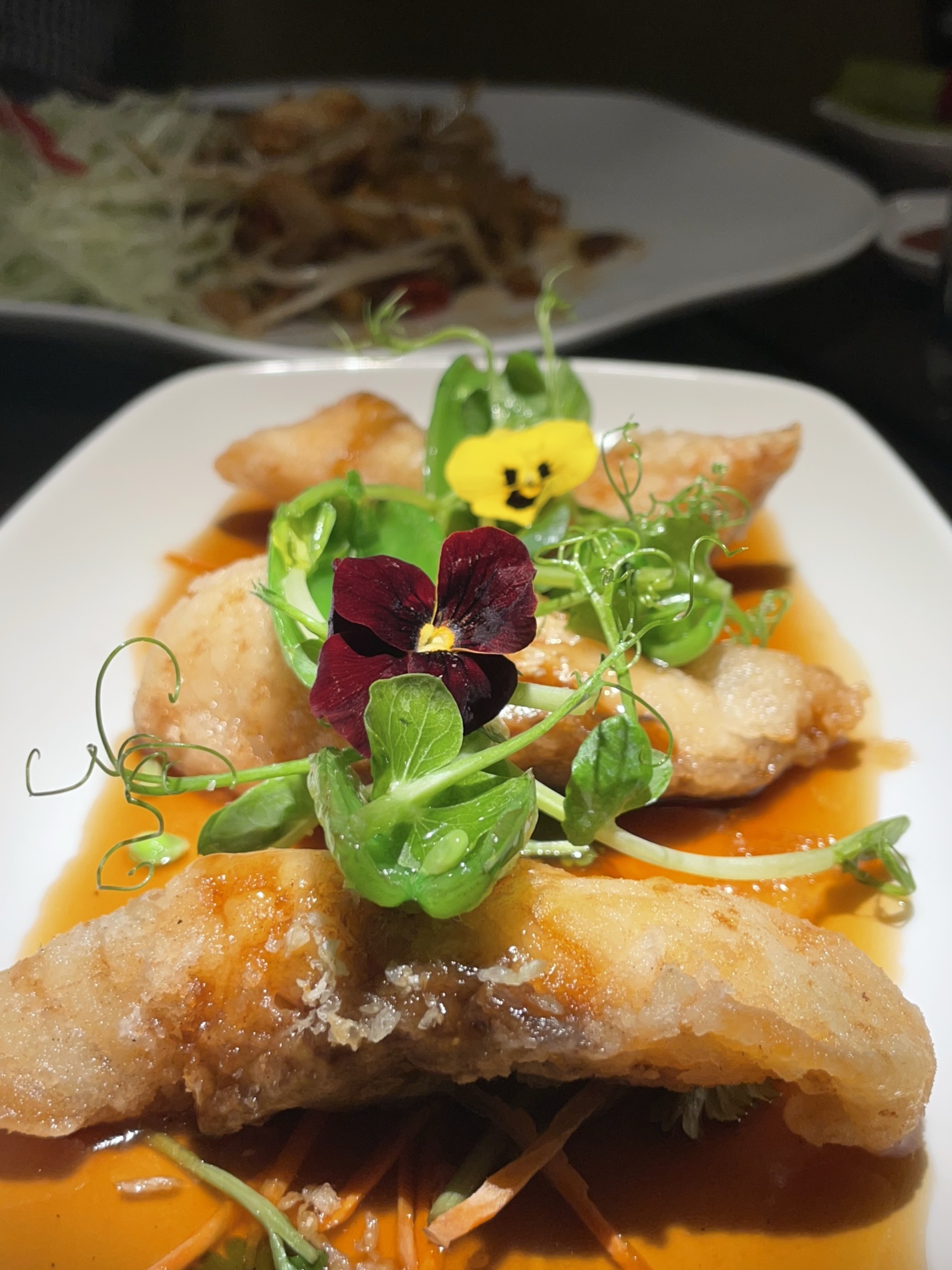 We loved the side dish of Stir-Fry Penang Kwetio Noodles which was a fabulous combination of prawns, scallops, chilli and peanut.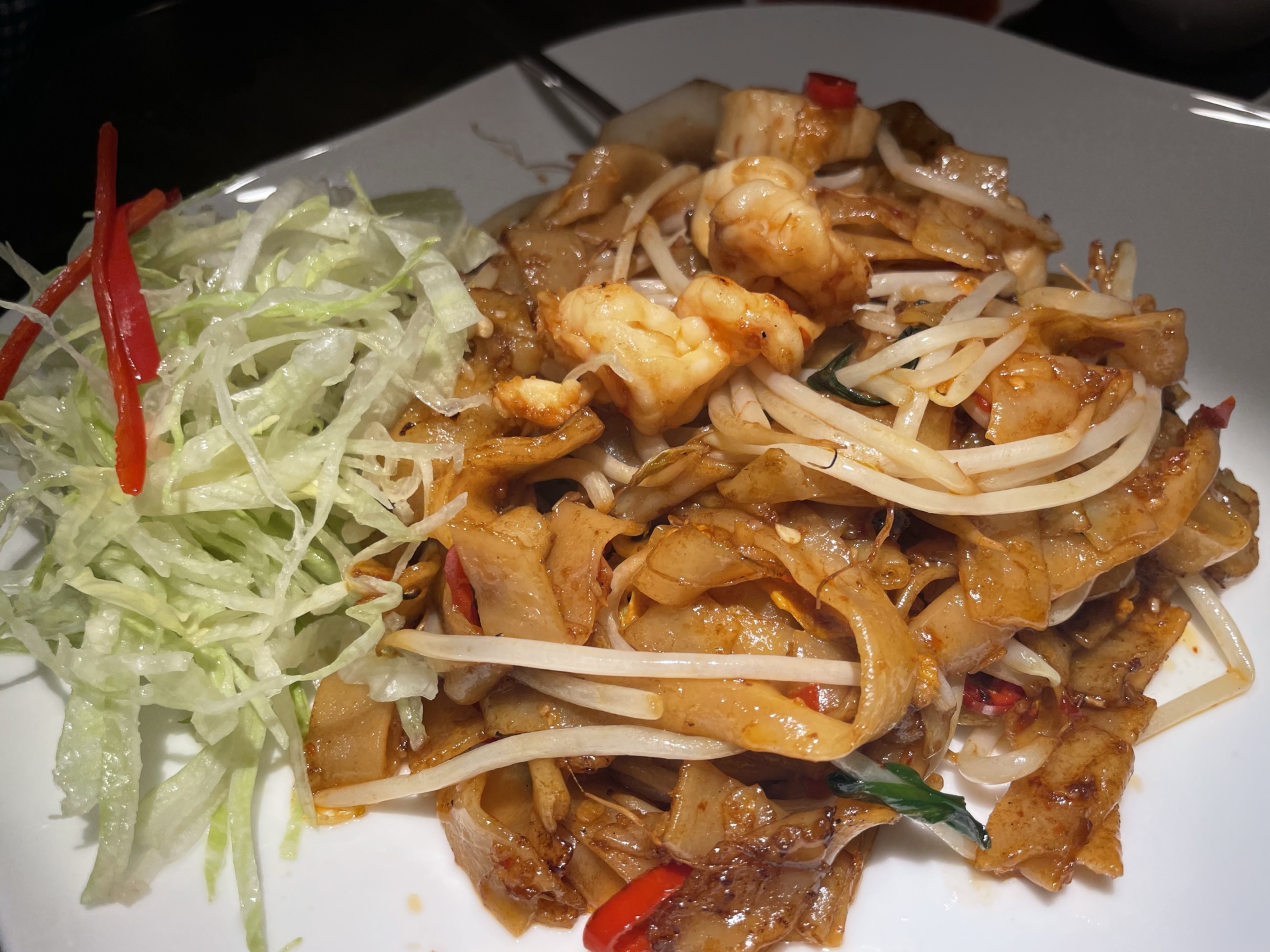 For dessert we recommend the set of three or the set of five. We choose three Petits Gâteaux and some Macarons. The desserts are small but perfectly sized to cut in half and share too.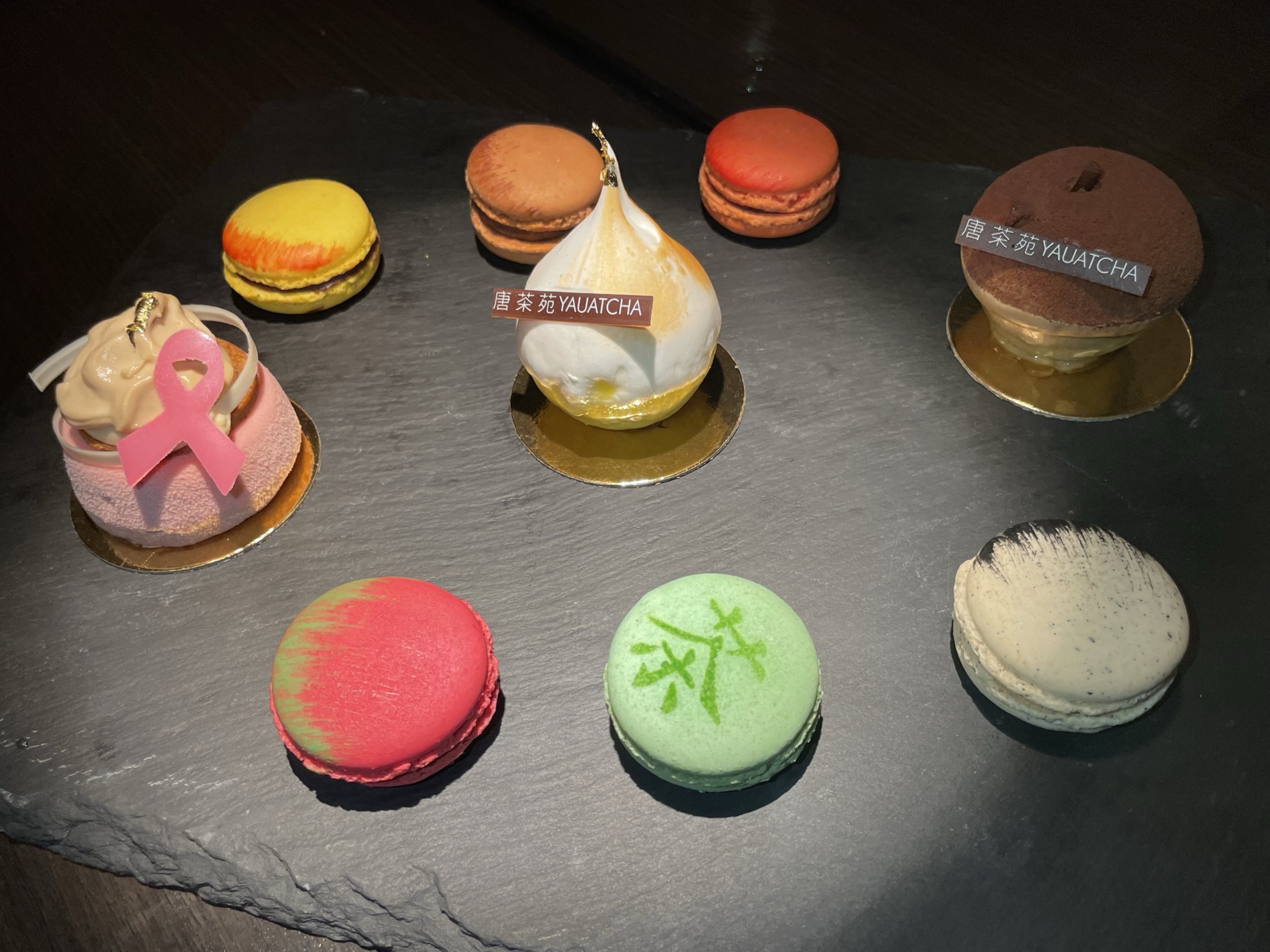 Our choices included the Peanut, Chocolate and Caramel Petit Gâteau which is a chocolate brownie mousse, peanut mousse with praline wish a dash of salted caramel.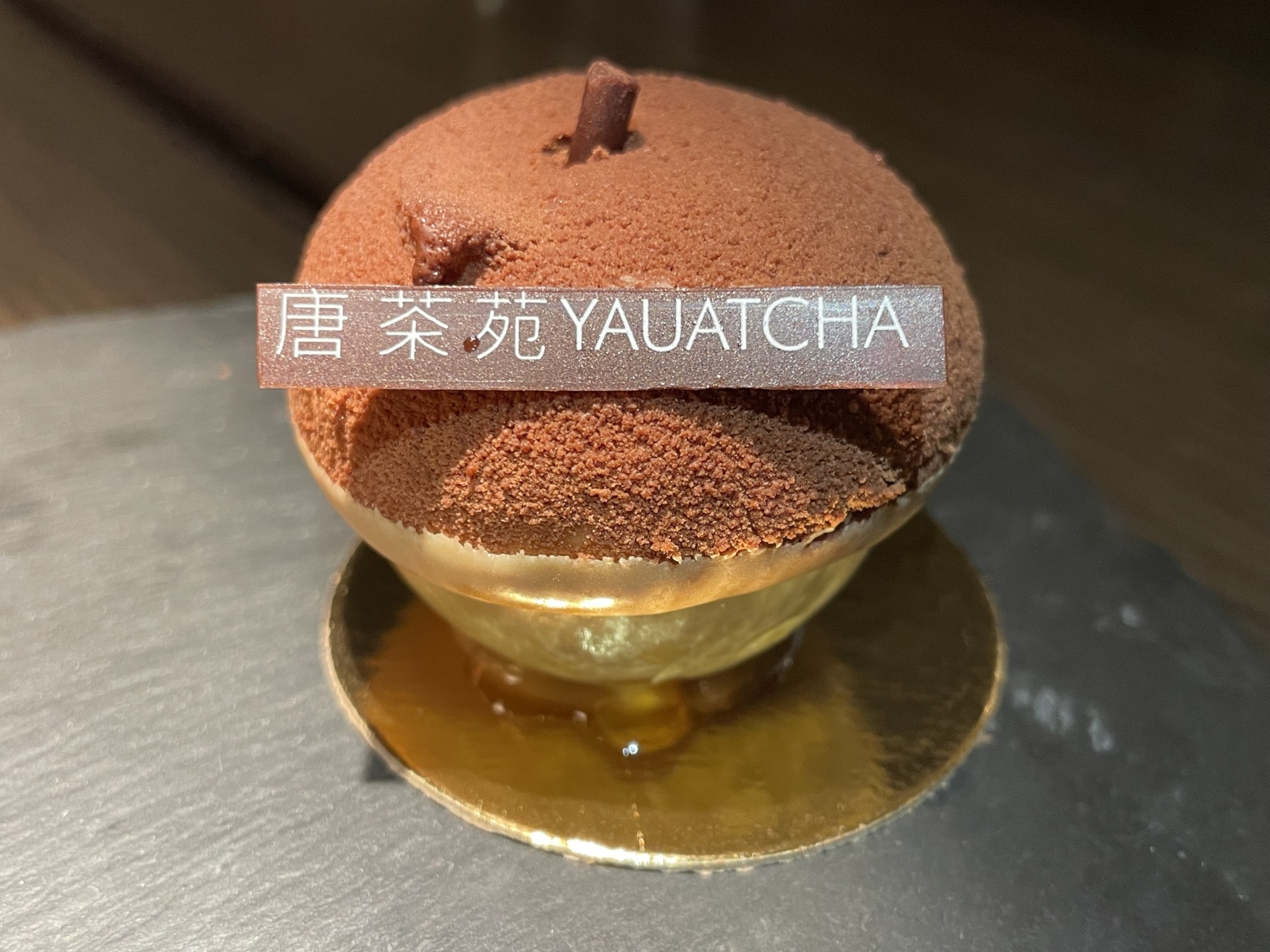 For a more refreshing end to the evening, the Spiky Lemon Petit Gâteau will hit the spot. A white chocolate chantilly, calamansi gel, yuzu curd, lemon sponge and meringue, is both light and zesty.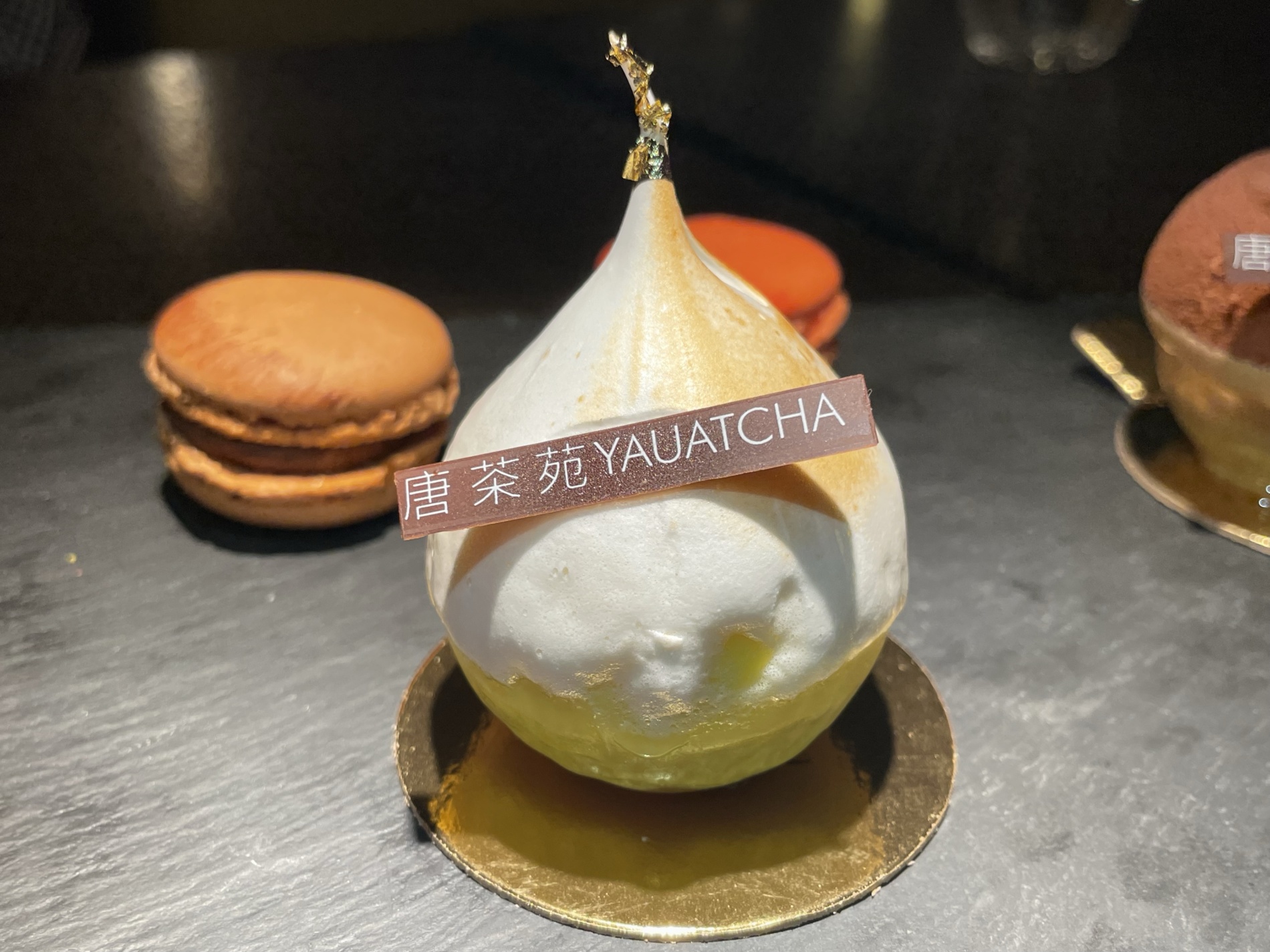 For those more adventurous the Plum and Pecan Petit Gâteau is a great choice. A plum compote, pecan praline, financier, sweet paste with whipped ganache is a sweet but nutty tasty after-dinner treat. This is a limited edition for Breast Cancer Awareness month.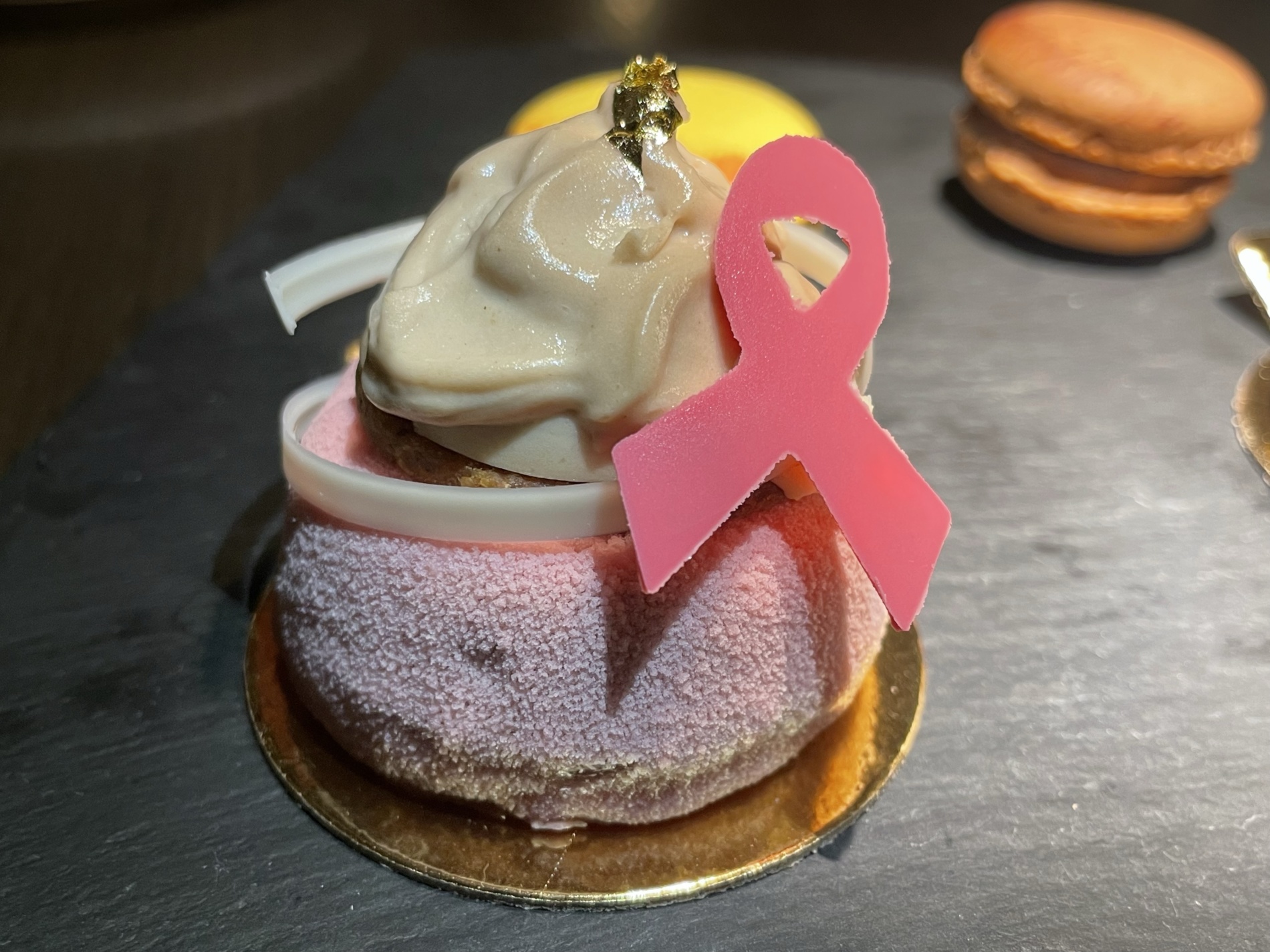 The macarons come in 6 flavours and pair nicely with non-alcoholic cocktails. The Mandarin and Chilli was a definite winner and the heat from the chilli is delicate and not overpowering at all. Currently, the six flavours are Chocolate and ginger, Yuzu and matcha, Goji berry and whisky, Passionfruit and tonka, Royal milk tea and finally Cranberry and wasabi. These are easy to take home and our mini reviewer at home loved them all except the Cranberry & wasabi which we kept aside, although surprisingly the wasabi was so delicate that the little one probably would have loved it as much as we did!
Yauatcha is a fabulous place to go with friends, business colleagues or on a date night. Prepare for your palate to be wowed.
Yauatcha City
Broadgate Circle, London EC2M 2QS
020 3817 9888
yauatcha.com/city