Back in 2014, frustrated that Filipino cuisine was Asia's best kept culinary secret, Rowena Romulo decided to do something about it. The result was Romulo Café. Opened in Kensington High Street in March 2016, it was an overnight sensation, seducing the capital with its food and its ambience.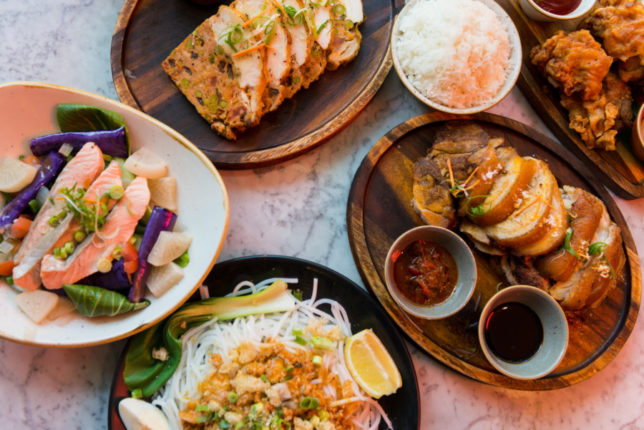 Executive chef Jeremy Villanueva, whose impressive CV includes the likes of Le Gavroche under Michel Roux Jr, Brasserie Roux and Le Boudin Blanc in Mayfair, is faithful to the Romulo family's heirloom recipes but has full license to innovate.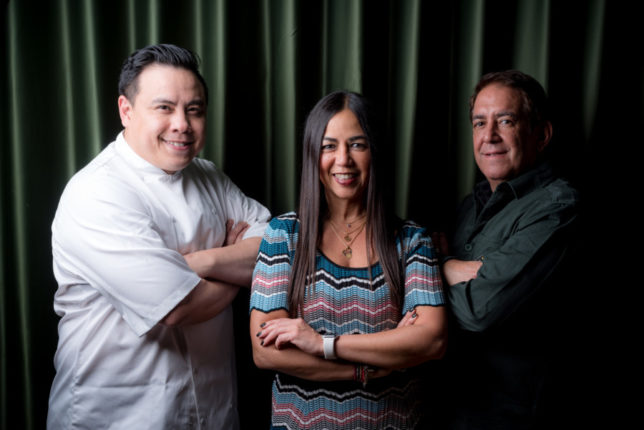 Some three years and countless awards later, Rowena and managing partner Chris Joseph have decided that rather than sit on their laurels, it was time for their creation to undergo a subtle reinvention. Having celebrated the brand's tenth anniversary earlier this year (there are three sister restaurants in Manila), Romulo Café has relaunched itself as Romulo Café & Restaurant to further emphasise its Filipino fine dining credentials.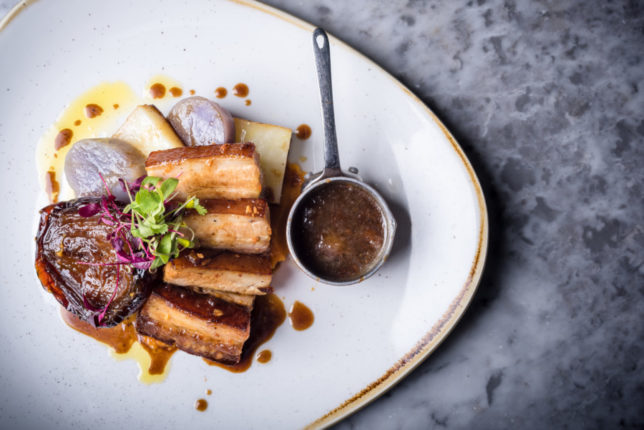 A riot of colour with their vibrant ingredients – sweet potato and ube (purple yam) among them – and sprinkled with pretty yellow and purple edible flowers, Romulo Café's dishes truly are a ray of sunshine.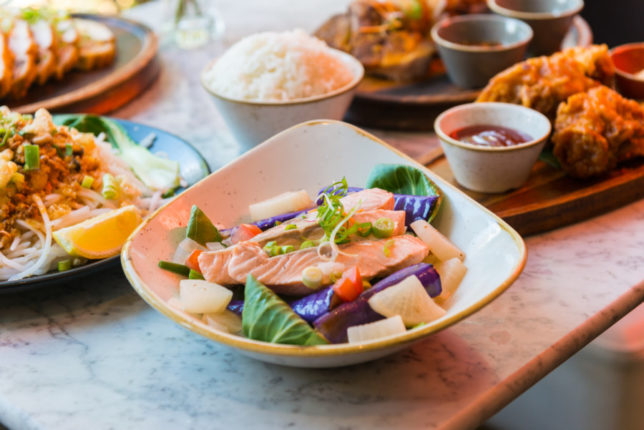 To begin, we were offered homemade pandesal bread rolls – these are made fresh four times a day in the Romulo kitchen. These quintessential bread rolls of the Philippines are a delicious way to whet the appetite for the Filipino feast that lay ahead.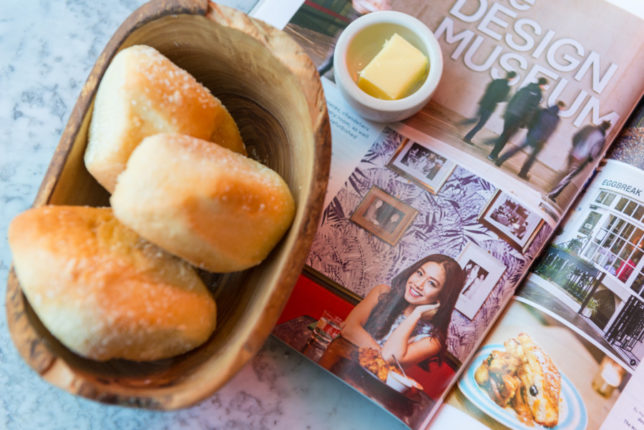 The Sizzling Chicken Inasal Sisig is a delicious tasting plate – Jack Brand diced chicken thighs marinated in annatto, ginger, green chili, garlic, and lemongrass. The annatto gives the dish beautiful colour and the fragrant herbs impart mouthwatering flavour to the succulent chicken.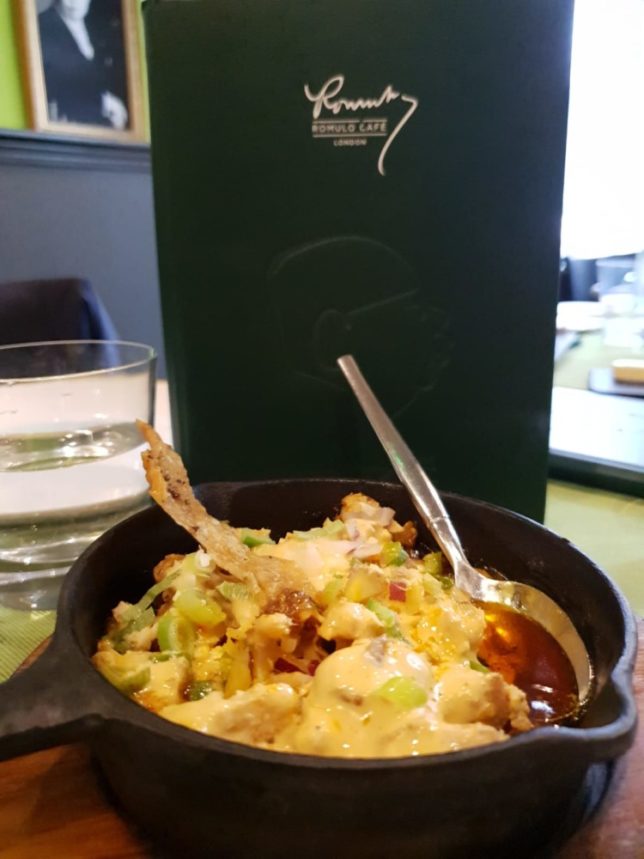 A popular seafood dish is Rellenong Pusit or Chargrilled Stuffed Squid  – The tender squid comes stuffed with tomato, cheese and onion mixture flavoured with garlic and annatto oil served on a dramatic bed of squid ink rice – this dish takes monochrome to new levels.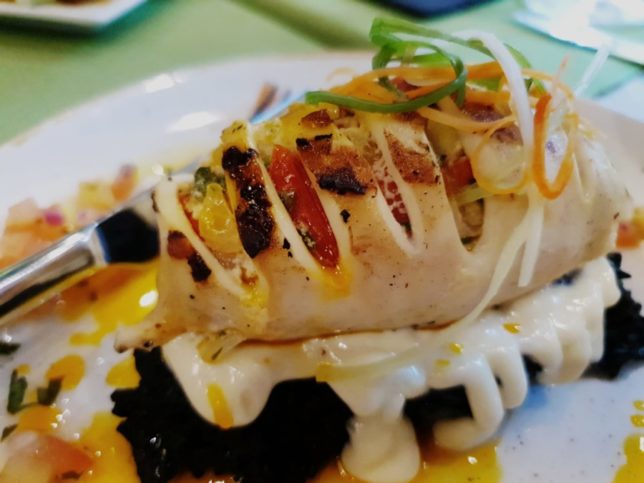 Seafood lovers will also be delighted with the Chilli King Prawns (known as Sugpo Sa Aligue in the Philippines). King prawns are sauteed in coconut milk and lobster coulis before being served with Chinese cabbage and topped with green chillies.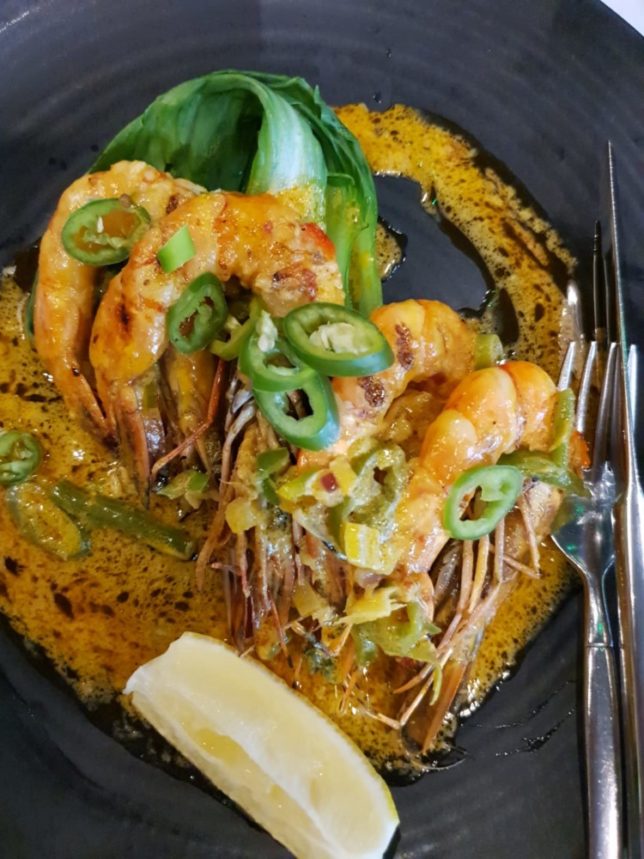 The Grilled Pork Belly Barbecue Style is a highlight of the Quick Lunch Menu. Grilled marinated sliced pork belly is glazed with Romulo's special barbecue sauce and served with a choice of rice or sweet potato fries.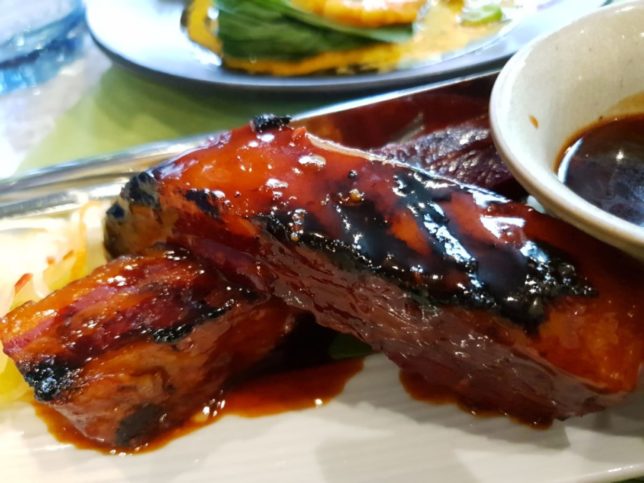 Meat lovers will also enjoy Honey Glazed Chilli Beef Platito (Beef Tadyang) – braised grass fed British rib of beef slow cooked and seasoned with honey chilli glaze served with home made jicama slaw.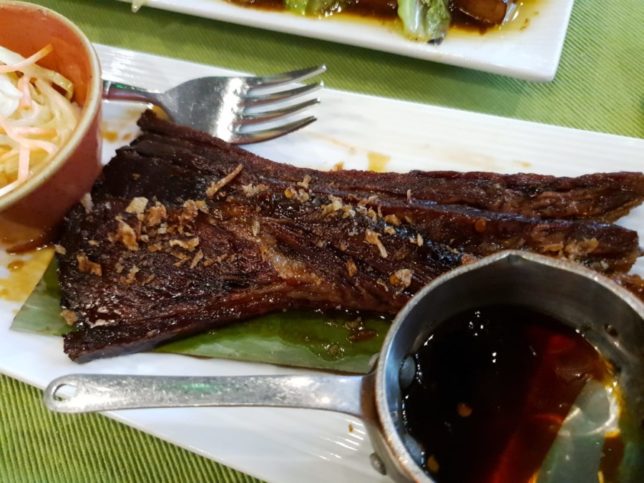 Vegetarians are not forgotten at Romulo and there are a number of vegetable entrees without meat to choose from in addition to one or two meat dishes offered with vegetarian options such as the "Sinigang" Stew and Tito Greg's Kare-Kare. One of the nicest vegetable dishes is Grilled Aubergine sautéed Adobo Style in soy sauce and vinegar.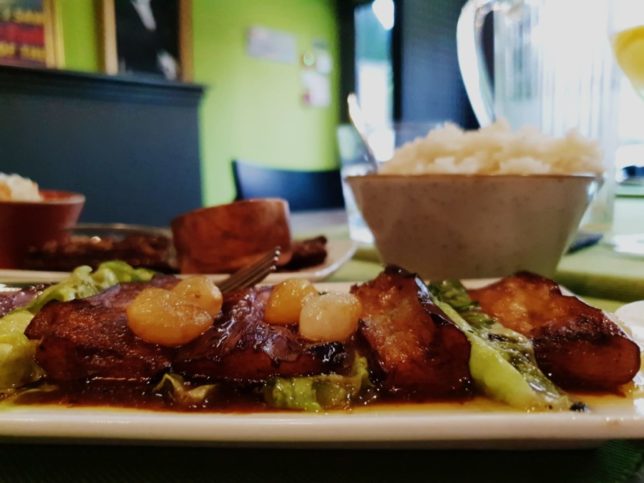 For dessert, try the Filipino Banana Split for a interesting twist on a well-known sweet treat. Scoops of creamy and colourful ube, mango and coconut ice cream are nestled in grilled plantains and crushed pineapple then topped with whipped cream, nuts and yummy chocolate sauce.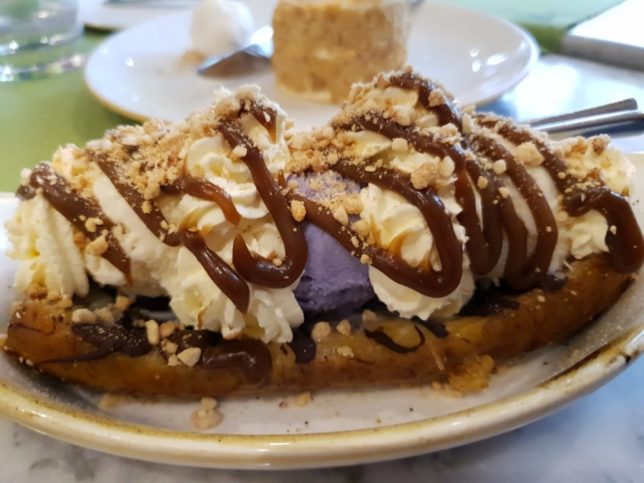 Also on the dessert menu is the famous Filipino dessert cake called Sans Rival which literally translates as without rival. Nothing quite compares to the delicious modern interpretation of this scrumptious cake made with dulce de leche buttercream, chewy and sweet meringue topped with cashew nuts.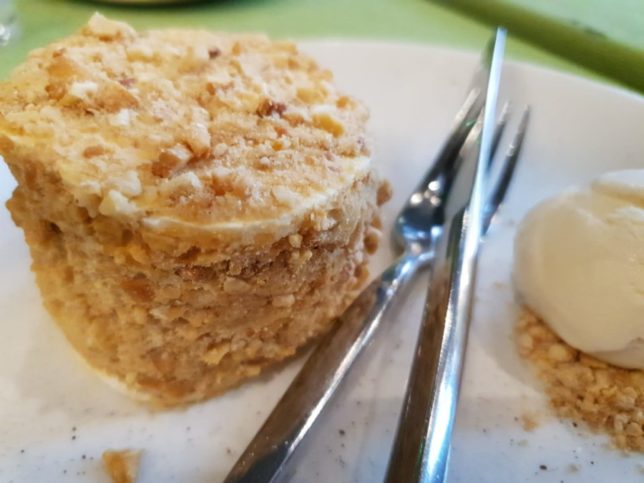 Filipino food is fast becoming the last word in global cuisine, with its combination of the delicate, fresh flavours of Asia with an American zest and European sophistication. For those who are new to the delights of Filipino cuisine, Romulo Café offers the best introduction to the vibrant flavours of the Philippines in a romantic cosy setting.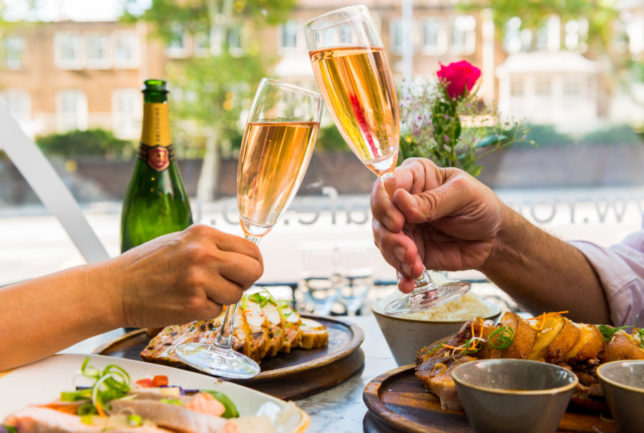 Click here to check out our first review of Romulo Café celebrating the news that Meghan Markle adores Chicken Adobo, the national dish of the Philippines.
Romulo Café & Restaurant
343 Kensington High Street, Kensington, London W8 6NW
www.romulocafe.co.uk
romulocafelondon